Interview with Samantha Mash
Today we're gonna present another great young talent to you, Samantha Mash it's a illustrator just starting out on the creative area, but already have a great porfolio. We talked about her path, expectations and ideas on illustration, hope it you like it.
You can see more from Samantha on the following links:
1) First of all I would like to thank you for doing this interview, it's an honor for us to present more about you to our readers. I would like to start asking you about when your interest for art and illustration?
I feel like everyone has a similar story; we all drew a lot when we were young and so on. Even as my peers started to grow out of drawing, I continued--it sort of became something that allowed me to have a skill that a lot did not have. I wasn't exactly a popular kid and drawing gave me space to express my dislike of social solitude, it was even a bit of a pacifier for the loneliness. I started to realize that art was one of the few things that made me happy, so I decided to pursue a career with it and go to school at Pacific Northwest College of Art where I just graduated this past month.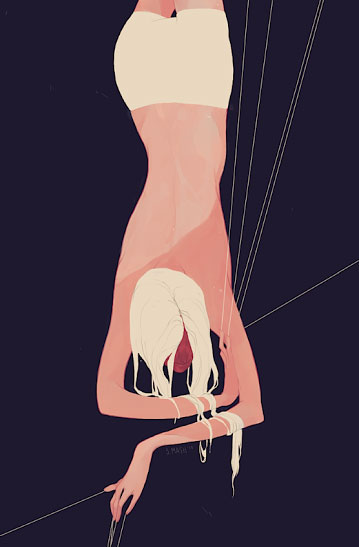 2) Which artists do you use as reference?
I don't reference other artists, but I have a number that influence me. Through and through James Jean, Emily Carroll, Jillian Tamaki, Edward Gorey and John William Waterhouse. More recently though I have been really into modern Japanese animation from the 80s onward and have been referencing it in my style and subject matter in many places.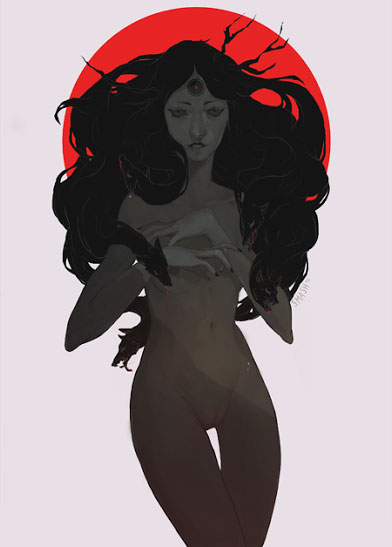 3) Your style is quite influenced by realism. How did you develop this style and how would you describe it?
I have always felt the push and pull between a more realistic style and a more stylized one. I love animation and comics and have always wanted to work within the field, but for the longest time all I could draw was realistically because I was still learning and I really do like anatomical drawings. Going to PNCA and getting into life drawing classes for all four years really helped me flex and grow my skill sets. After getting down human and animal anatomy pretty solidly by my Junior year of college I have been able to experiment more and reach a happier medium between my two stylistic loves. I actively try to push myself towards the ideal exaggeration of the human form I see in my head and practice a lot; I wish I could say it came easily. I see my style as being a mesh of influences including what I like from realistic oil painting, shape based art, and anime style animation. I wish it had a specific style name! That would be a lot easier for me haha. Digital painting I suppose is the easiest way to classify it.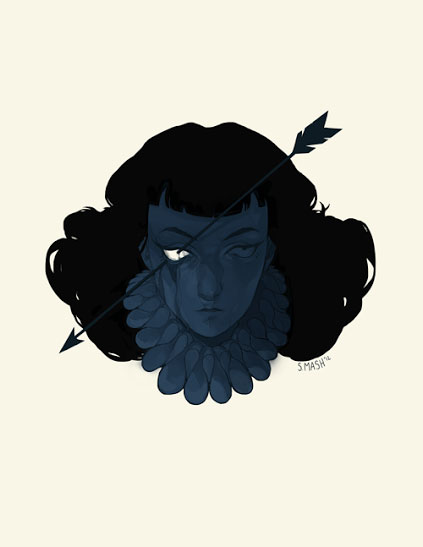 4) Describe us a bit about your creative process while creating a piece.
My process if pretty slow. I start with a hand drawn graphite sketch on paper and scan it. From there I re-outline the whole piece and fix anatomy and some other basic problems. I fill in these lines with the base color I will be using and start to lay in simple shadows and highlights. From here it is all about refining, adding and taking away line and painting. They take anywhere from ten to thirty hours to make sometimes.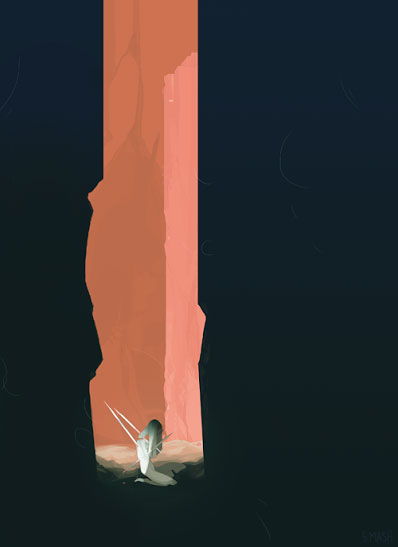 5)What's would you consider the best moment on you career till now and what would be the worst one? Please share with us more about your path.
I'm not sure I have a best moment in my career yet because I've only been an official freelance artist for maybe a month. I am really excited about an illustration I've done coming out in the New Republic soon, and in the winter I will be publishing an art anthology with many other artists to start my way into art direction and a publishing career. I don't think I've had any terrible moments, everything is about learning and growing and all my clients have been a part of that.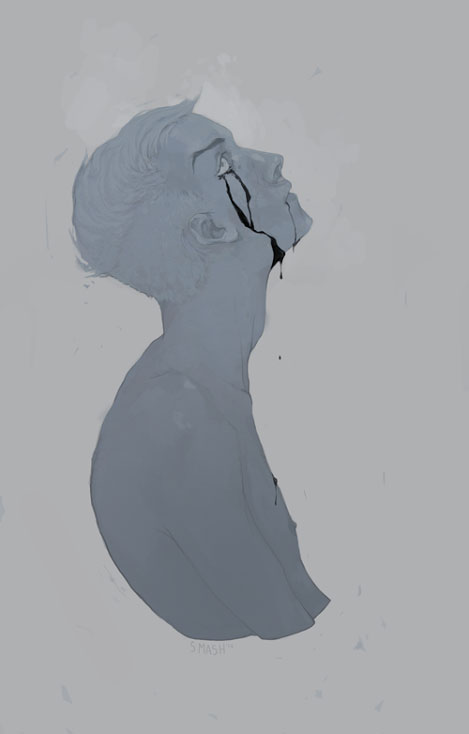 6) How do you describe your daily routine?
Well I wake up, check my emails and contact clients about what I've been working on for their projects. Check a few social media sites, sketch a little maybe play a video game. I head out to work in the afternoon, as I have a supplementary job, come home at night, draw, eat, play more video games or read--then go to sleep and repeat the next day!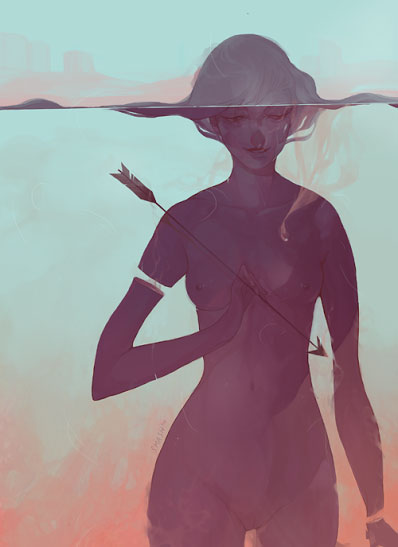 7) What's your favorite media to work with and why?
I didn't have much money to fund an art habit when I was younger, however I realized if I could get a tablet and maybe Photoshop for cheap I could make as much art as I wanted for free. I was able to buy a second hand old Wacom tablet for less than ninety dollars, and I got a copy of Photoshop for free from a family friend. From then on I drew digitally and became quite comfortable with it. I love the medium and truly it is the only way to express how I want my art to look. Now I have been able to afford a new tablet and a much more updated edition of Photoshop thanks to selling my art, I feel like that is very full circle.
8) Tell us five lessons you believe are really important for every illustrator.
1. Always draw new things, never get stuck with one subject matter.
2. Explore your childhood interests, they will never fail to influence you and your style.
3. Try not to compare yourself to others, it is hard and I struggle with it myself but really you are the only person with your exact style and flair and it is unfair to yourself to try and compare your work to someone else's.
4. Market yourself, learn about your audience and never be afraid to contact people you'd like to work with or for. It all helps later on when you start out on your illustration career.
5. SLEEP. Seriously not enough artists sleep and eat on a regular schedule, manage your time and always get in some shut eye.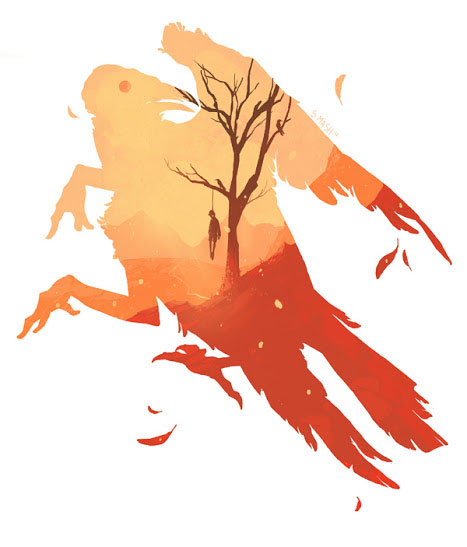 9) Tell us five websites that you like to visit.
http://theartofanimation.tumblr.com/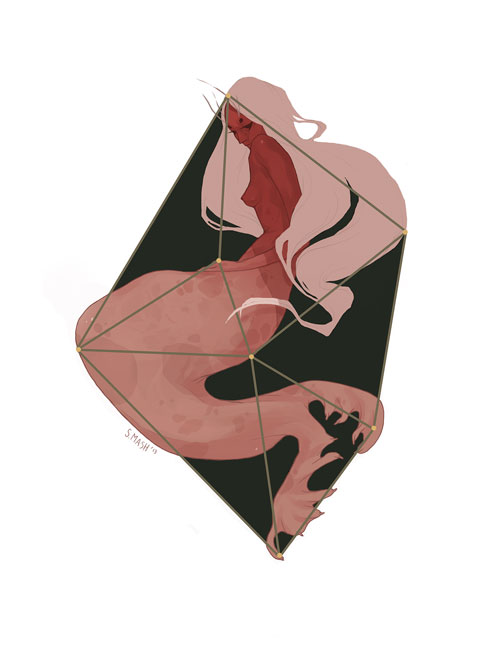 10) Thanks again for your time, please leave a final message for the ones who are starting out on this kind of business.
Thanks for interviewing me! And to everyone out there who is working to be an artist, I wish I had something really cool to say. All I can think of is work hard, put yourself out there, and never be afraid to start contacting people--this business really is about the connections!