Sonudos Case Study by Jennifer Cirpici
The image of this Study Case I'm about to explain is made for the client Soundos. She's a comedian in The Netherlands. I worked on it at work for 2 days, around 13 hours. It was a fun project and the client was very happy with it when it was done. And when the client is happy, I can consider it done.
First version
Here is the first version. Nothing special about it yet; basically I've rendered her and searched for a nice background to put her in. It was important that the whole image was capable for her site (www.soundos.nl) and that the perspective was right.
The first idea was that she was boxing in a ring and that she knocked out someone... I couldn't find any good stocks for that though. Later I came with the idea of street fighting and a depressing ghetto area.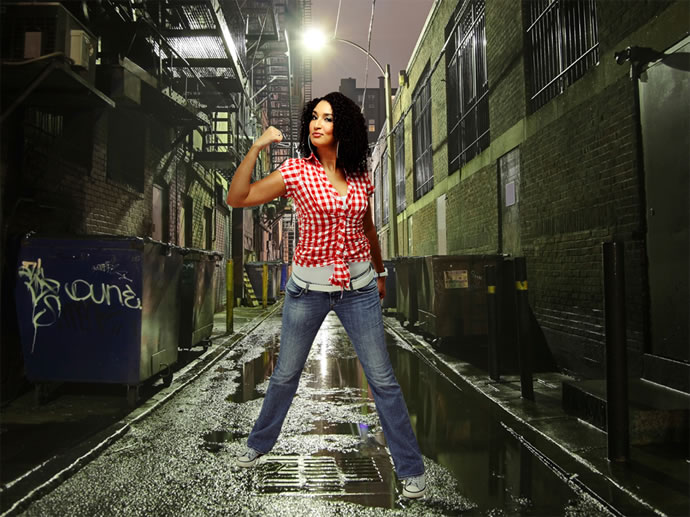 Adding lighting
Because the light comes from behind her, parts of her body and clothes need to have a lot of lighting and other parts need to be dark. I also added reflection in the rain water, although that still isn't 100% perfect, the rest will come later when we take care of the details.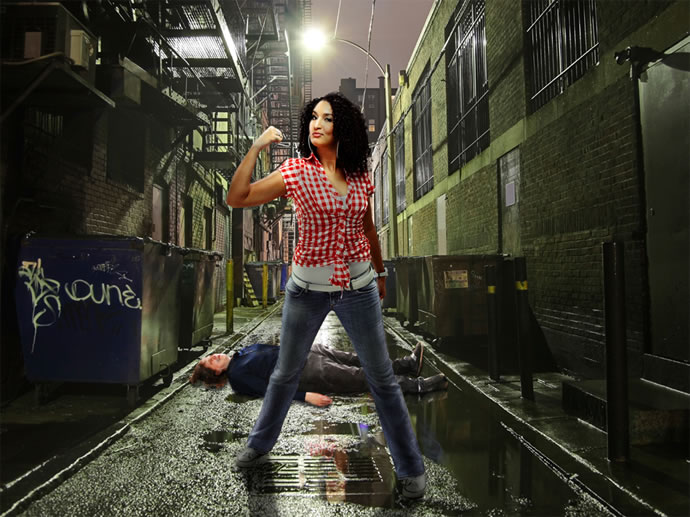 Welcome to Sin City!
I made everything black and white and took care of more lighting.
To create more depth I pasted a dumpster and blurred it a bit.
Also on the top of the dumpster I took care of the lighting and shadow.
Nothing has to be perfect, so I did the dumpster in a way that you cannot read ''Trash'' fully yet, or maybe you wouldn't read it at all and you would notice it the next time.
It's always good to leave your work as it is and to look at it the next day. You'll notice mistakes or get new ideas then! So I decided to add the rain the next day of work.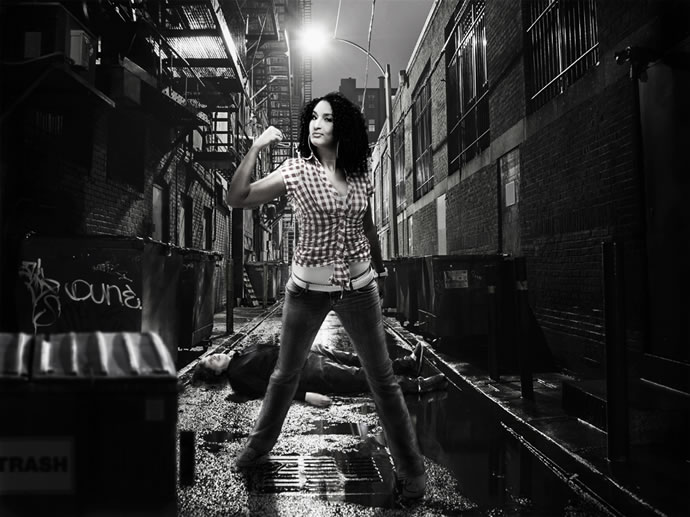 Adding rain!
We came to the part I love the most!
I created my own rain brush and brushed rain. I also painted rain on top her head, clothes, the background and the dumpsters.
It's starting to be nice! But we're far from the end result yet (to give you an idea how far we are: we're now at layer 136 and the end is 389).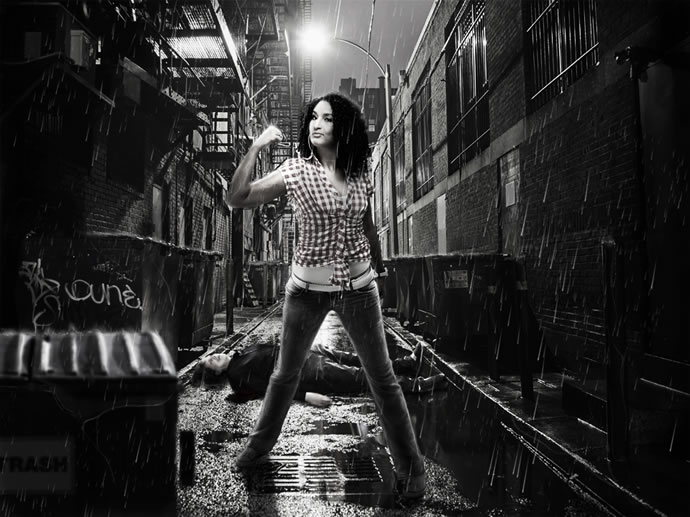 Blood and lots of details!
Sometimes black and white and just 1 colour works and sometimes it looks really ugly.
In this case it works fantastic; it gives the whole image the extra touch it needed. To make the image a bit scarier, I only gave the blood colour.
I created blood splashes on her arm, her clothes, her shoe (like she also kicked him), on the ground and on the body of the man she knocked out.
Details are very important to finish an artwork. You really should take the time for it.Small details like 1 blood line on her arm or lighting on the blood on the ground, splashes of water under her chin, ripples on the rain water etc. really makes your work stand out. Don't be lazy and just take like 8 hours or more for the details.
Look back at it at the end of the day and notice the difference!
I also played with Noise and did it on soft light to create this old movie effect.