9 Awesome Web Comic Series
The internet is a wonderful and beautiful thing. It used to be that if you had the talent to draw your own comics you were still limited by the avenues of distribution like newspapers and magazines. Now all you need is a computer and a small chunk of change (some web design skills wouldn't hurt.). Here are 9 of my favorite web comics that I think you will also like.
Diesel Sweeties
You 8-bit graphic lovers out there will like this one because it's illustrated in an 8-bit style, but the videogame nostalgia ends there. It takes place in a world were robots exist and even have relationships with humans. It's very witty and fun to read.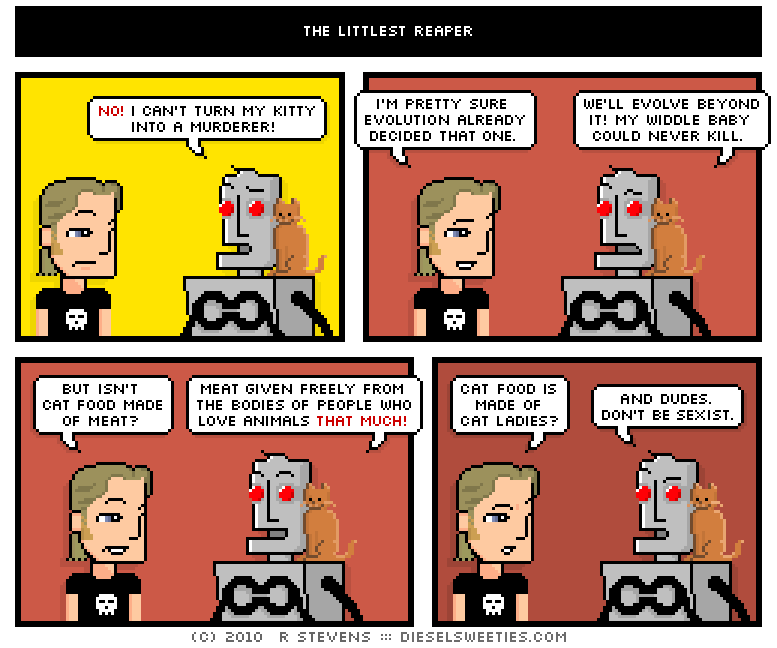 Cyanide & Happiness
This is one of my favorite web comic series. It's very simply drawn and so dark in its humor. They also produce animated versions of their comics which are incredible as well
.
Freak Angels
A very popular web comic written by Warren Ellis, an experienced writer who has worked with Marvel, DC, Image, and others, and an amazing illustrator named Paul Duffield. It's a more classic comic-book style.
The Brads
Brad Colbow is web designer and illustrator. He also releases a web comic series titled "The Brads" which is about two web designers making fun of the issues that some designers face with their clients and technology. If you're a designer you will certainly enjoy this comic. You might have seen his work in Smashing Magazine or Vector Tuts.
Octopus Pie
Octopus Pie is an ongoing comic series about two women living in Brooklyn, NY - their jobs, social circles, and some problems.
Ctrl+Alt+Del
A sci-fi/geek/videogame culture comic in the same vein as Penny Arcade. One awesome thing that they do is a choose-your-own-adventure style mini-series where they ask readers to email which decision should the character make.
This one is similar to Cyanide & Happiness. Dark humor and simple drawing style.
Creased Comics
It's really a bunch of comics and video-comics in one. They are weird, dark, and funny.
Penny Arcade
And last but not least, Penny Arcade, the godfathers of web comics. A geek-culture comic strip about videos games, role playing games, movies, and even fatherhood. They've expanded into a little geek empire with an online TV series, an animation series, and 3-day gaming festivals held on both coasts of the U.S. WIRED magazine even did a nice profile on them in 2009, read it here.