Amazing Obama 3D
This is a personal project that I've been planning for quite some time, and will be part of my demo-reel. Being aware of the amount of work ahead of me, the hours spent, and considering this will last for only a few seconds on the video, I decided to go ahead and model with all there is to it, starting on concepts, then on a simple but functional Basemesh, refining it on ZBrush, Multipass rendering and post-production in Photoshop.
It is all part of the pipeline on character development, and there are many other steps in Maya that weren't necessary on this case, such as rigging for animating the model as a digital puppet, blend shapes that form the face expressions, and all the animation process with timeline, manipulation of animation curves, trax, etc. After going through all these steps, there's still rendering, post production, sound editing, final edition, etc.
This is such a demanding, long lasting and complex process, that animation studios and producers have groups of professionals, specially trained for each part of the process, and a 30 second TV ad can easily take 12 hours - or more - a day of a hard working staff, for about a couple of months.
Heavy stuff, but extremely gratifying, and considering the investment on mastering all techniques involved, this kind of job is often well payed.
Let's get to the point, Obama's making of.
Step 1
It all starts on the model sheet, a basic planning on how the figure will be modeled, usually drawn from the front and one side.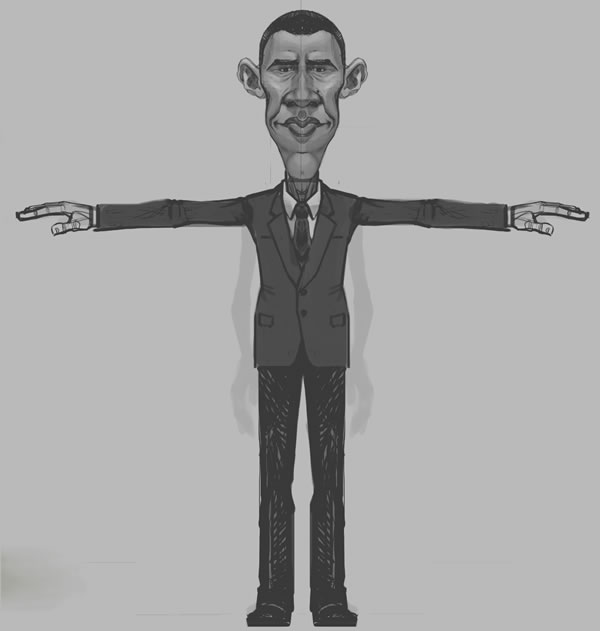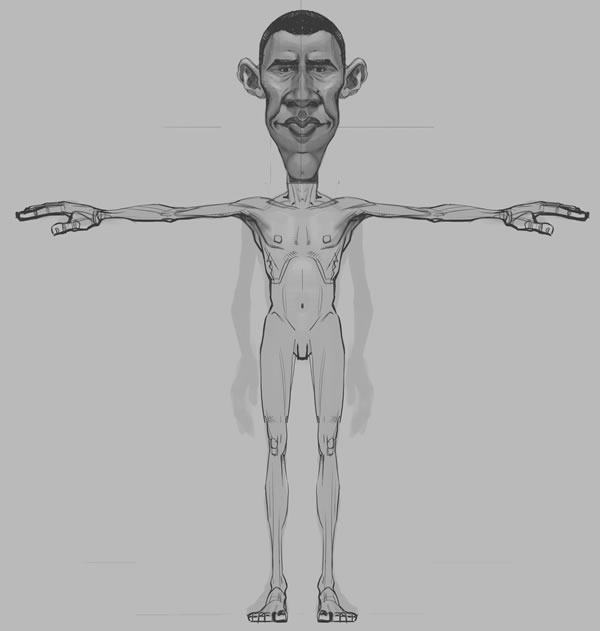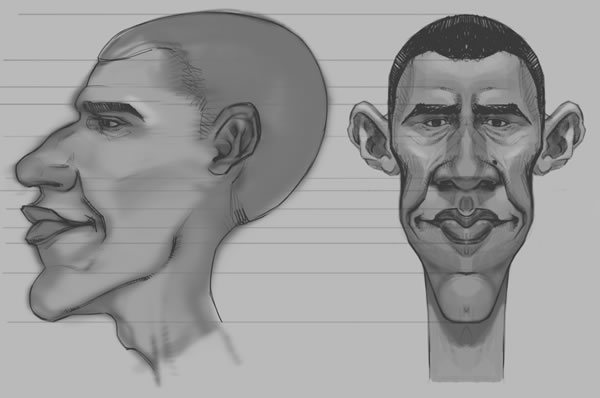 Step 2
Over the model sheets I started modeling the basemesh, using ZSpheres on ZBrush.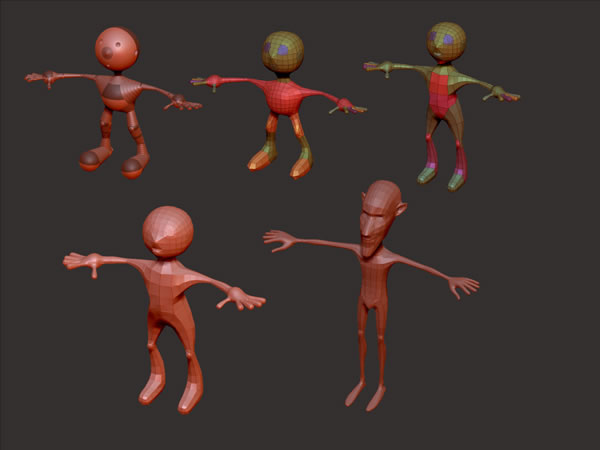 Step 3
During the mesh edition in Modo, even though I liked the results on the body, I still was not satisfied with the head.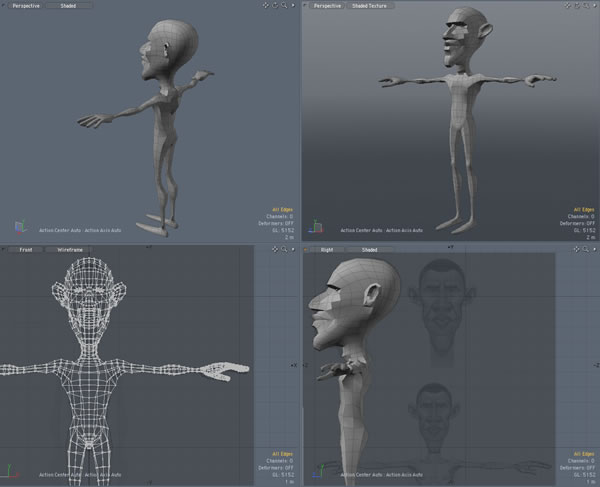 Step 4
I decided to make another model sheet, more on the caricature side, a bit exaggerated, exploring to a higher extent the character features, trying to avoid the trap that exists halfway between realistic and cartoony styles.
Step 5
Following the new drawing, I repositioned the vertices on the low poly mesh, and kept on modeling the skin with pores and expression marks, based on reference photos.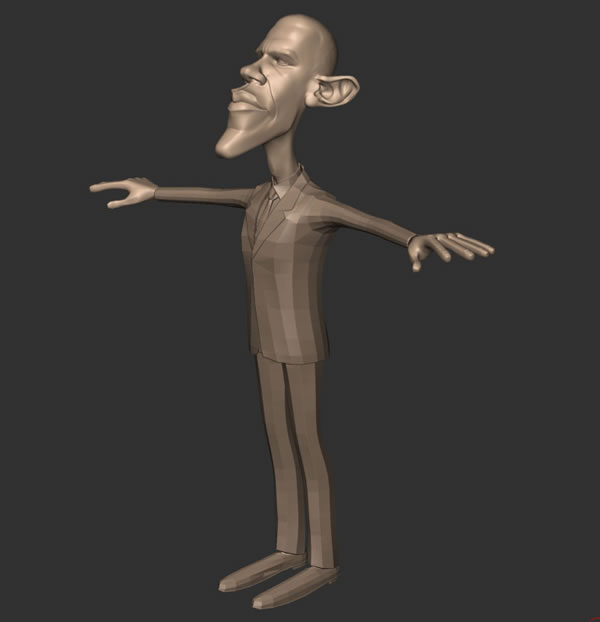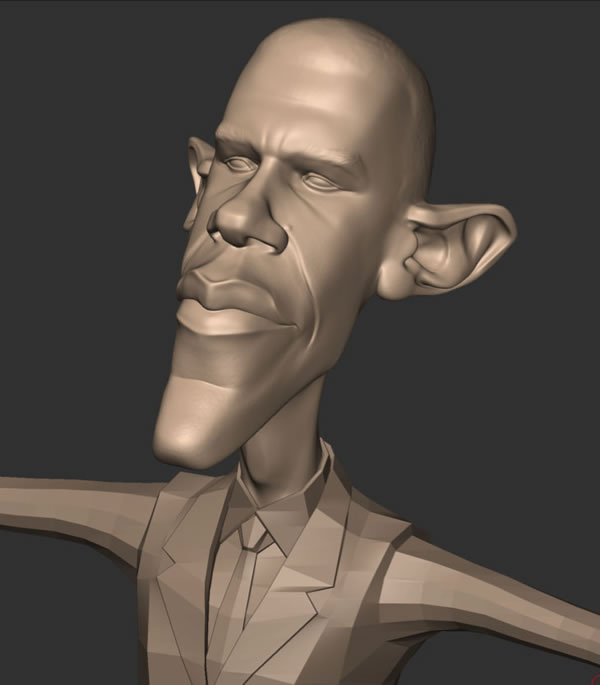 Step 6
With the modeling finished, I used the polygonal painting feature on ZBrush, as if I was painting straight on clay, instead of creating a bitmap texture, that would then require UVs, displacement and bump maps, in a more elaborate process, usually required in an animation, but unnecessary on this case, because the final rendering is done straight on ZBrush, using a multi-pass rendering technique. This kind of rendering has no SSS - Sub Surface Scattering - that is the natural translucency on human flesh and semi opaque objects, effect created with the use of more powerful rendering engines, such as Mental Ray, VRay and others, that would eventually bring more realism to the figure, but for this personal project the result fulfilled my expectations.
I may eventually go through the other steps, and do a short animation with this Obama model, and that's the reason why I took the time to modeling the hands, and keeping in mind that all the work done this far may be deformed and reused in other characters, saving some time and handwork in the future.
Many different render passes are generated on the same position, edited in Photoshop, each one with its own blend mode and transparency, exploring as much as possible the effects of light, shadow, volumetry and depth of field, as it would be done in a photographic studio.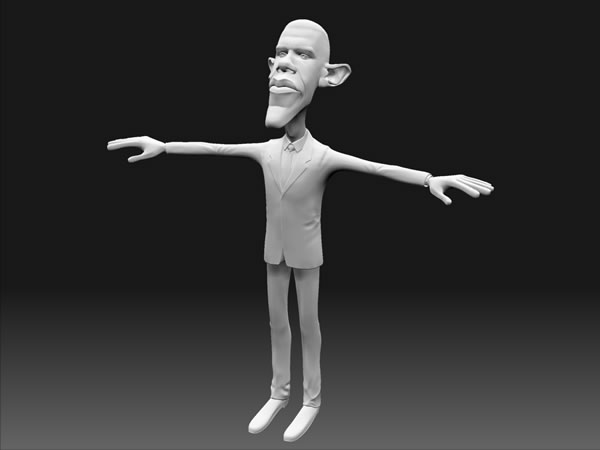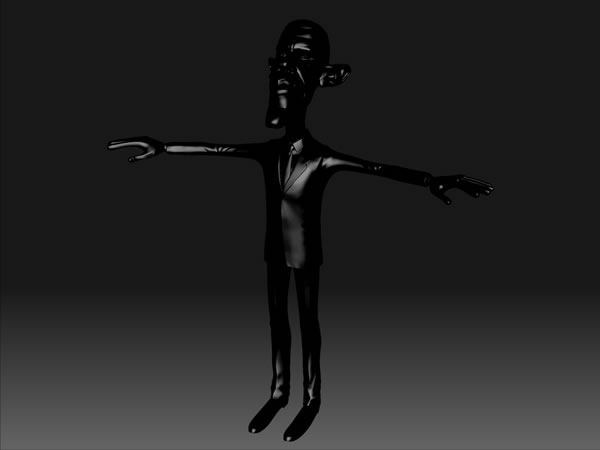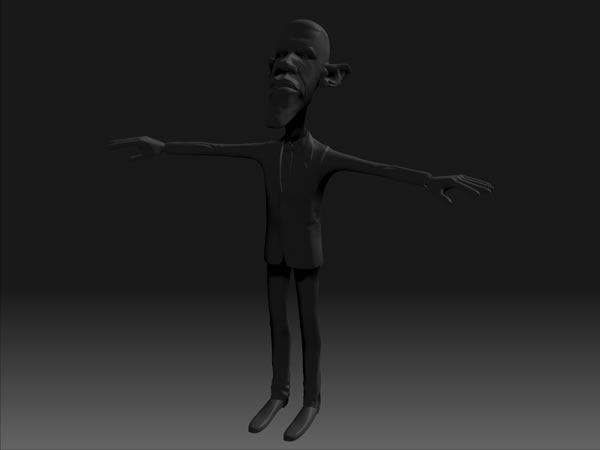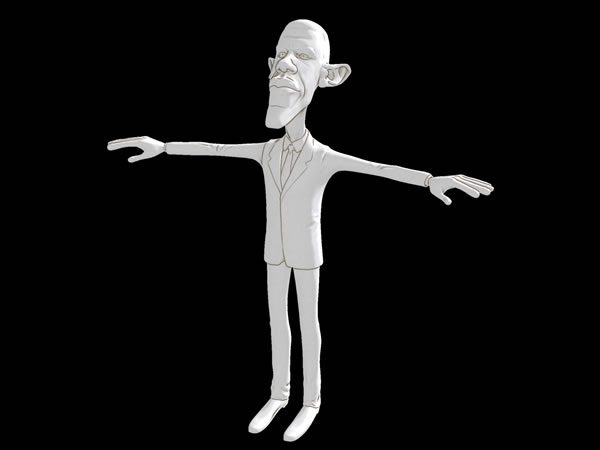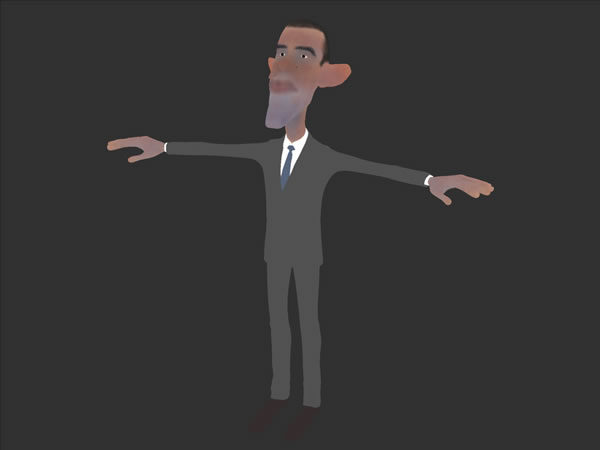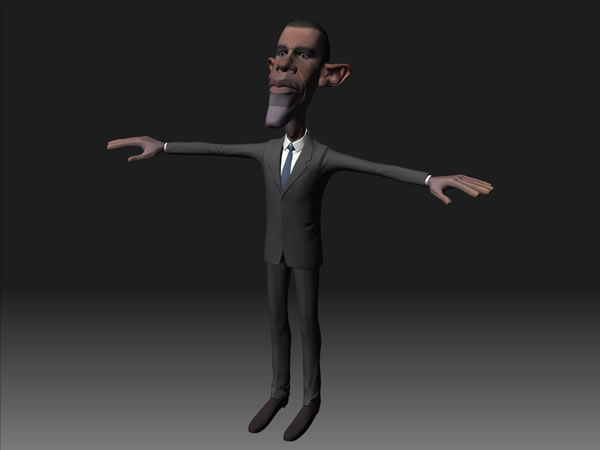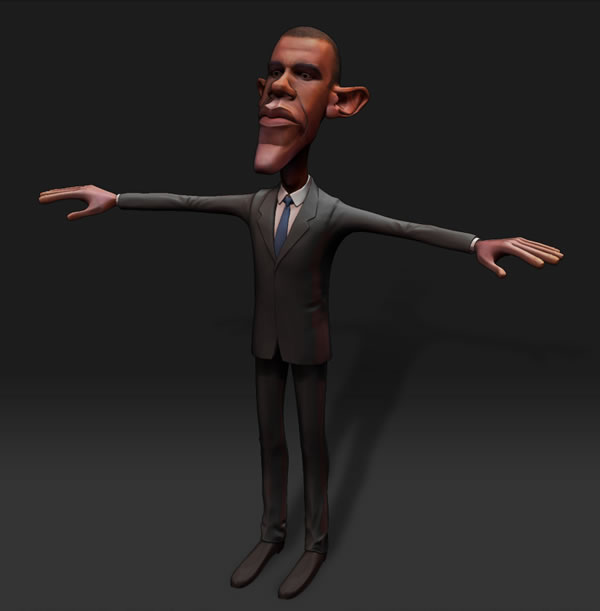 Details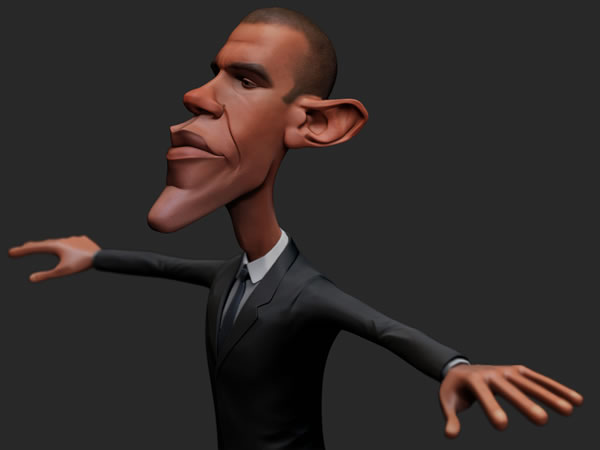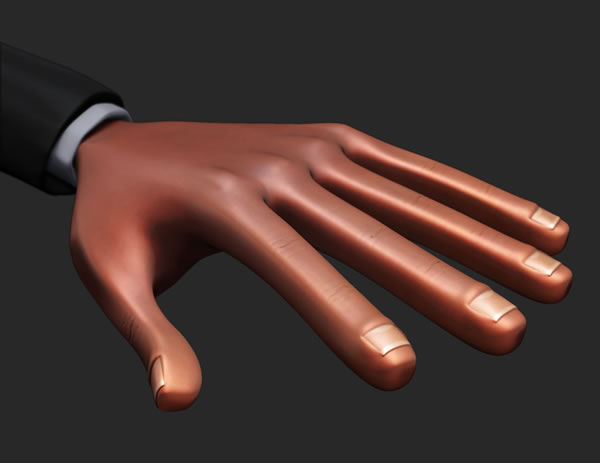 Conclusion
For those who are living in Brazil and are interested in knowing more about ZBrush, I recommend you to stop by at DRC (www.drc.com.br), a training center specialized in digital arts, in São Paulo.
For more about my work, and to see conventional and digital images, sketchbooks, texts and other stuff concerning drawing and painting, please check out Sketcheria (http://www.sketcheria.com.br) in Portuguese, and I'm working on the translation and updating the English version of the blog at http://www.sketcheria.com .
Thanks for your time.
Cheers,