Create a Wheatpaste Poster
The Abduzeedo team is always worried to bring to our readers and followers the best content of the creative businesses. And when I mean best content, I'm not talking only about the articles, collections and portfolios that we bring to you, but also about the tutorials.
Other day while talking to Fábio, I found that we really needed to try some more tangible tutorials and by tangible I mean tutorials not so related to softwares. We did a lot of photoshop, illustrator, Fireworks and other softwares tutorials, but when it comes to illustration tutorials, we can't just get locked in a software like illustrator or Corel Draw, we got to expand to other areas. So from now on I will start a new series of tutorials at Abduzeedo and I hope you support us.
So, what are we going to learn today?
Today we're going to learn a pretty simple Street Art technique (I'm not a street artist, before someone ask), some people call this technique Wheatpaste, Big Sticker, Cutout or just Street Art Poster. You may know a lot of Street Artists who used and use this technique like Shepard Fairey (from Obey the Giant), Swoon and D Face. Basically we're going to do all of this without a computer and with less than 10 bucks. Posted some examples of this artists bellow:

Shepard Fairey
May Day with Shepard Fairey from hypebeast.tv on Vimeo.
Swoon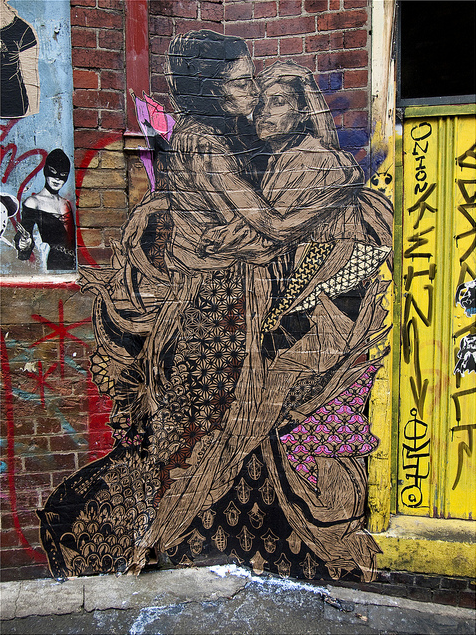 D Face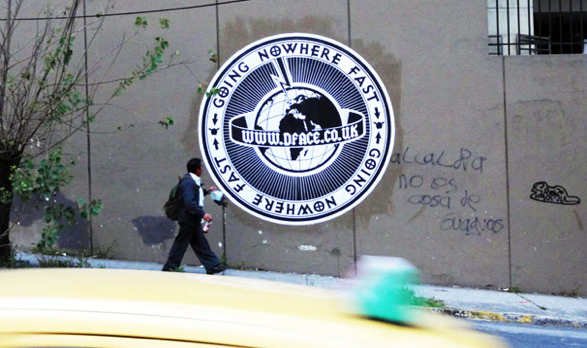 What stuff I'll need in order to do it?
This is pretty basic stuff, since you probably may already have those tools at home:
1- Masking Tape
it don't have to be a huge one, a thin one can easy handle the job
2- Razor or Scissor
3- Bucket
to put the Flour glue
4- Big brush
5- Posca pen or whatever you wanna use for painting it
6- A4 (11,69 x 8,27 inches) sheets of offset paper
please don't buy it! Get some old or used ones, save trees :)
Step 1
First of all, get the sheets of paper and try to figure out the size of the drawing that you're going to do, then using the masking tape unite them, but do it slowly watching to always get together the borders correctly or it going to end up in a mess.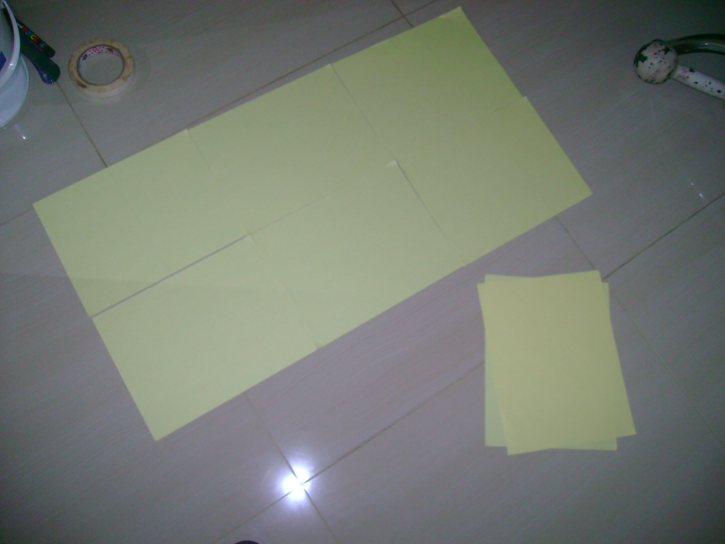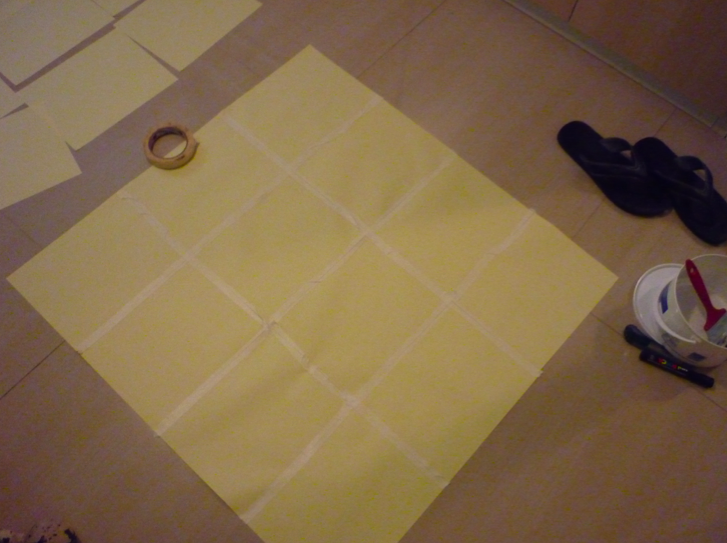 Step 2
Now this part is really important, after getting all sheets together in one canvas you'll have to see if it fits on the place your going to paste it.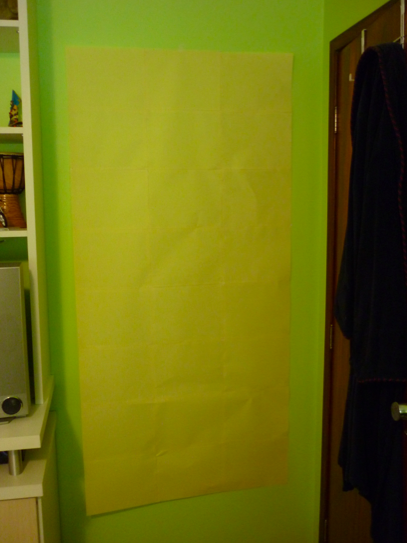 Step3
Now let's cook the glue! Yes, the Abduzeedo team are teaching designers how to cook too hehe just kidding. The glue that we're going to use can be made with just too ingredients:
1- 750 ml of Water
2- Three spoons of Flour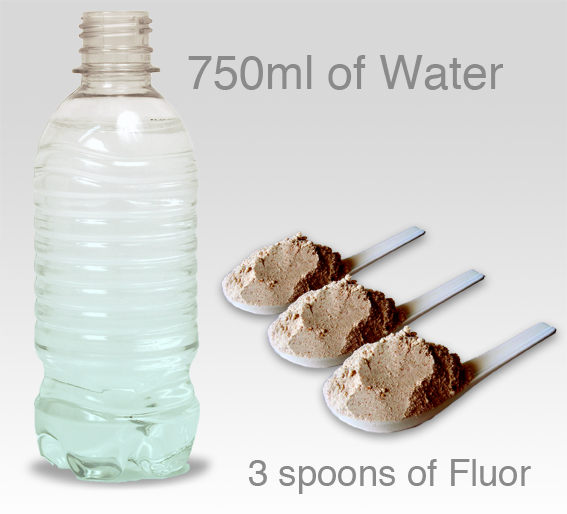 First boil the water for 10 minutes, then add the three spoons of Flour, mix it and dont let it create flour little balls, so stir it really well. Wait 10 minutes and you should get something like these:
Now let it get cool so you can use it, but don't store it more than 2 days, it starts to stink. If you wanna store it for more time, put it on a refrigerator. Some people will suggest you to add some white glue to get more sticky, that's ok, there are plenty of recipes of how to do homemade flour glue, but the one I described is the most simple and it will work well with light things like offset paper.
Step 4
Now that you have all setup let's start drawing, draw in the side without the masking tapes. Feel free to draw wherever you want, but I suggest you to don't create hairs or complex shapes, since you're going to cut the drawing after. For my first wheatpaste I tried to create this little happy worm, bellow i posted some pics of the process.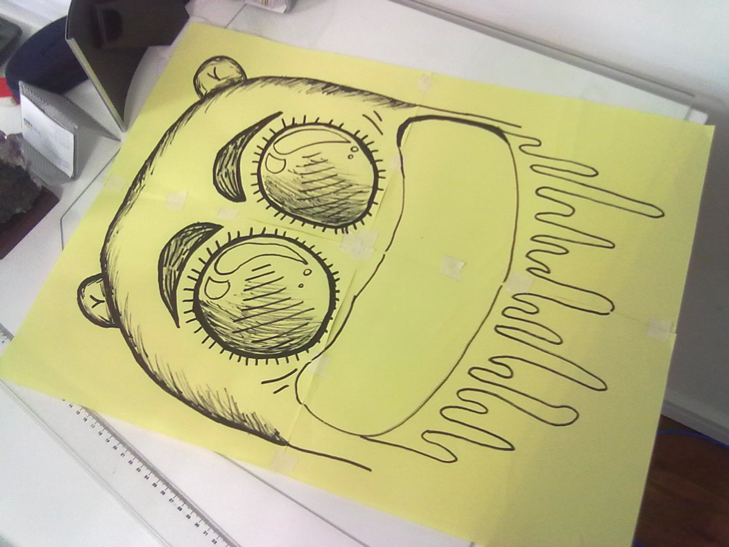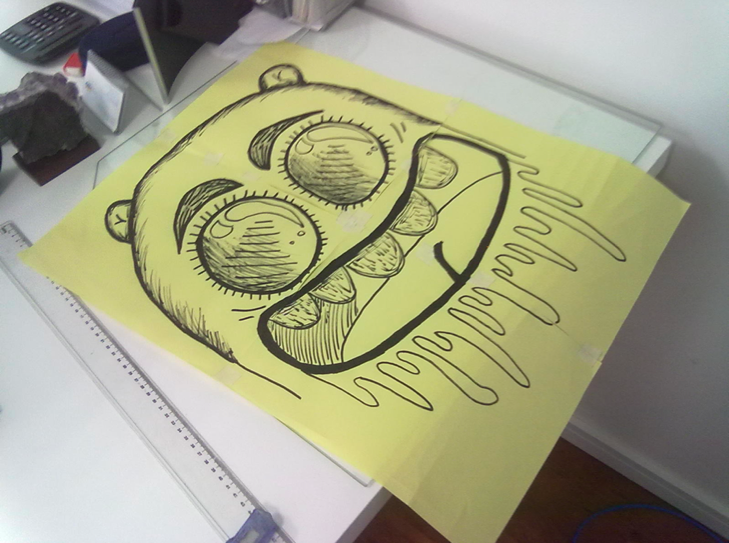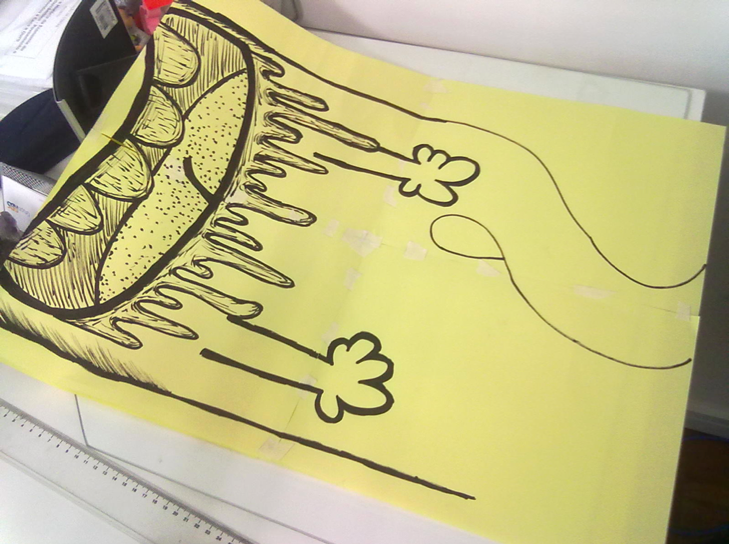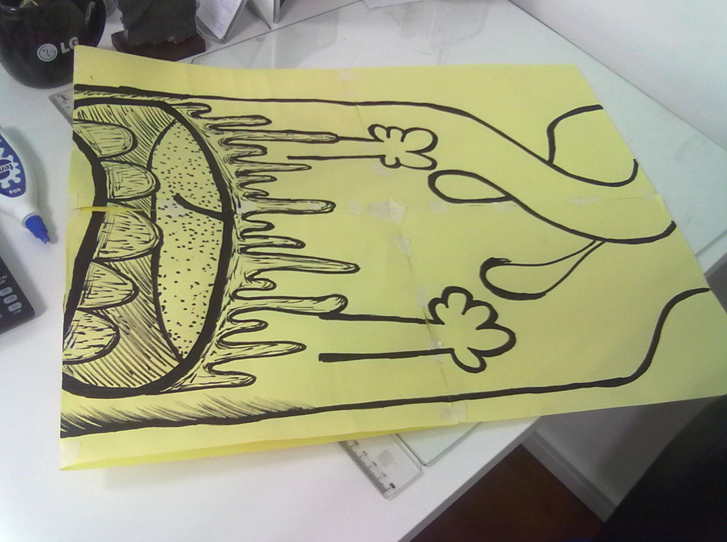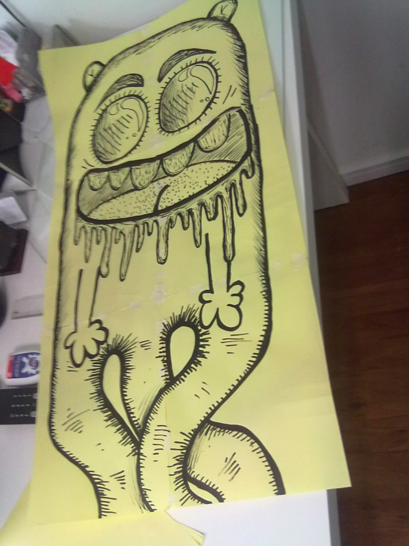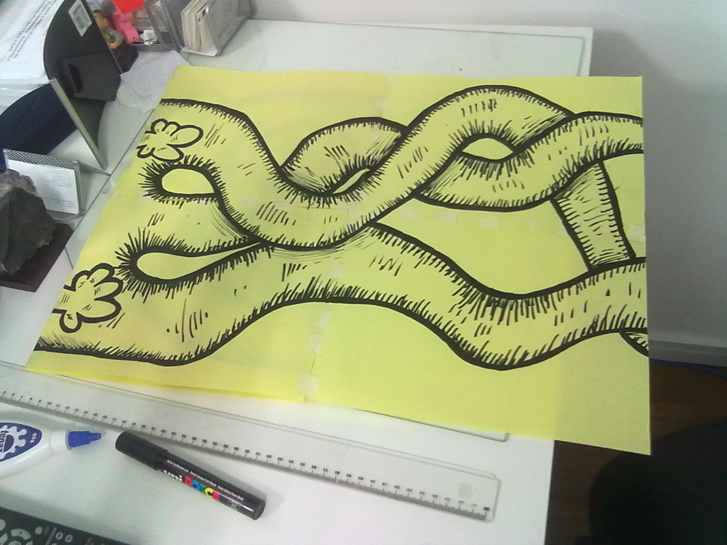 Step 5
Just a little reminder before we can proceed:
Warning: We know our readers are quite responsible for their acts, but we just advise you to don't paste your artwork on other people property (I mean walls, fences, gates, wherever), use it on your own property or you going to have some big troubles (trust me).Thanks for your attention.
Now with the artwork finished, go for the spot you choose to paste your artwork, I'd suggest you to choose a less texturized wall, it will be better to paste the artwork.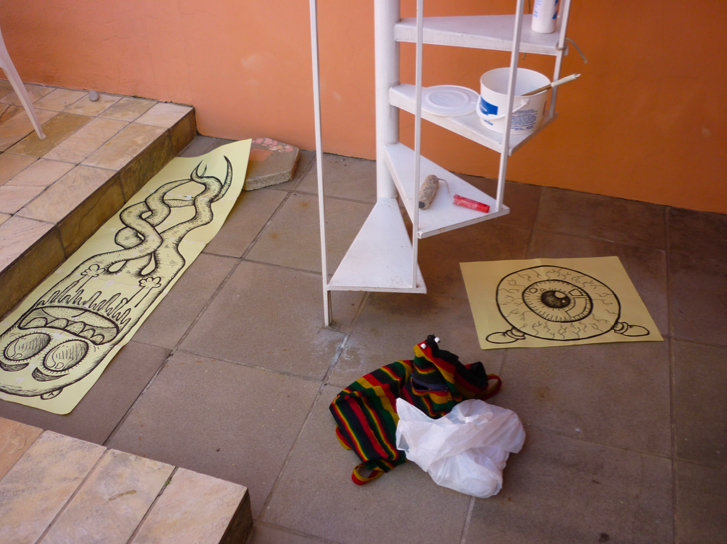 Using a razor or a scissor, start cutting your drawing, this should take sometime depending on the shapes you've made.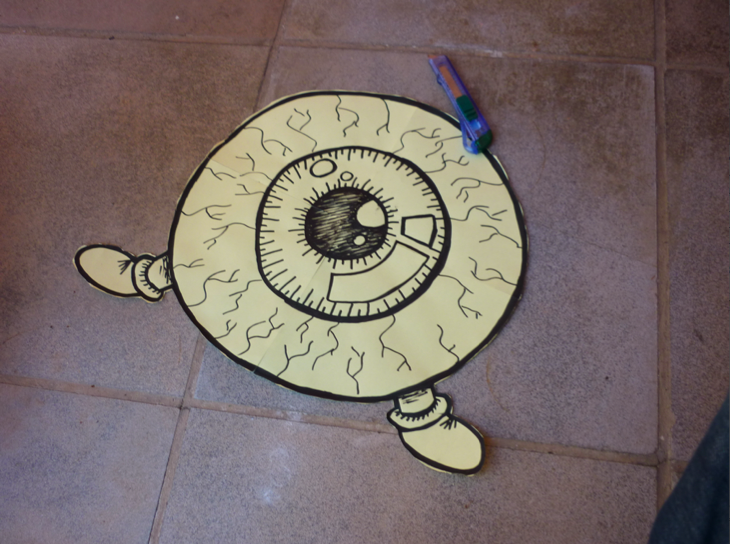 Make sure the masking tape on the other side is fixed good, we don't want to paste it the wrong way after all this work, so if necessary add some more tape lines.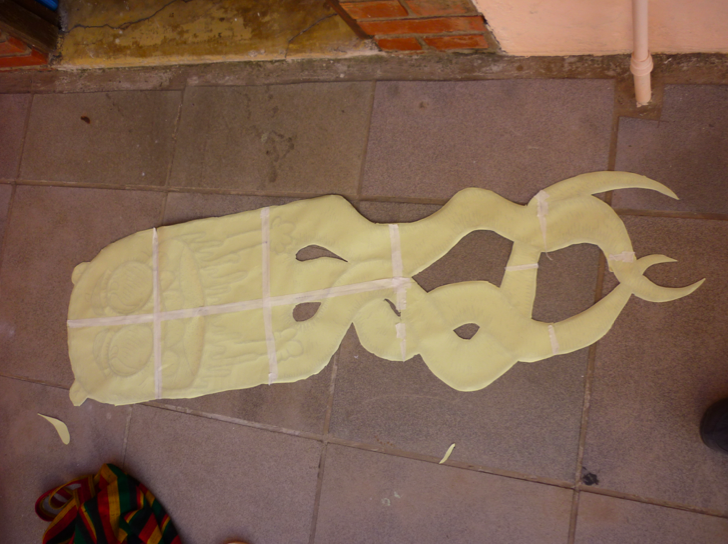 Finally, start pasting it by first adding the flour glue on the place you're going to place the artwork, then paste the artwork (do it slowly or the paper may get ripped). Add another layer of flour glue upon the artwork, it should get pretty sticky.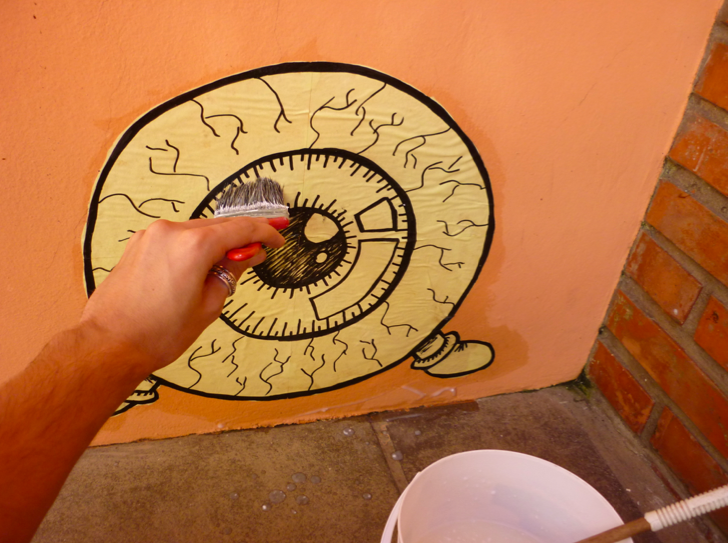 One of the best things about this kind of collage it's that you can think about it as softwares layers and start adding elements, try it and have fun!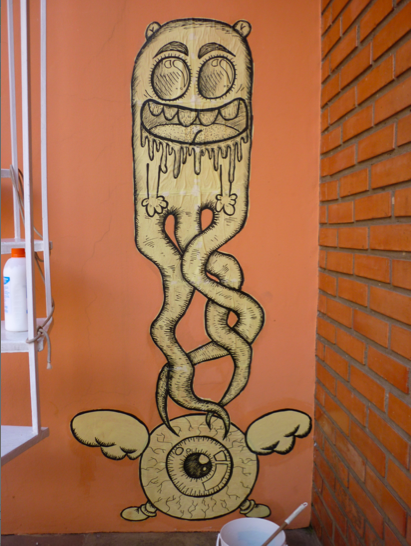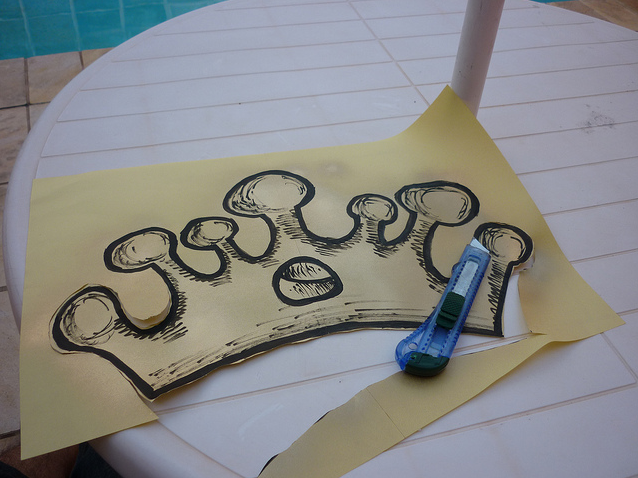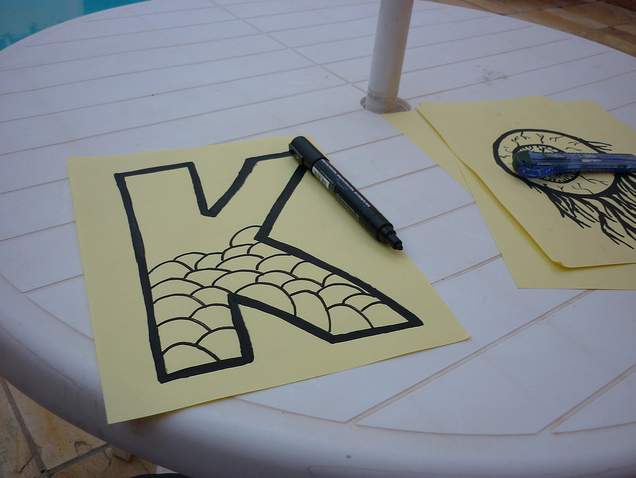 Final Result
Well, I guess that if you tried this you had as much fun as I had. Don't get upset if your wheatpaste don't get perfect, remember that street art it's not about perfectionism, but about expression. To make easier the things I posted a making of bellow so you can see that it's pretty simple, hope you like it guys and warn mom before pasting it on the wall :)
Broken Heart Wheatpaste Making of
Broken Heart Wheatpaste - Time Lapse from Marcos Torres on Vimeo.