The Incredible Evolution of Pixar
No one makes animated movies quite like Pixar. With 23 years, 10 films, and 22 Academy Awards under their belt, the incredible guys over at Pixar Animation Studios keep getting better and better with each passing year.
Last week we received a suggestion from one of our readers about doing a post on Up, their latest masterpiece. I thought this was an excellent idea, but I also think that their other films deserve some recognition too. So here I bring you a collection of all the Pixar feature films to date plus some of their shorts at the end. My all-time favorite Pixar short is Presto!, so definitely be sure to check that one out ;) Actually, now that I come to think of it, Toy Story 2 was the first film I ever saw in theatres (to my memory). I was seven :)
Have an idea for the next post? Send me your suggestions via facebook or twitter!
Feature Films
Of course everybody remembers the classics like Toy Story. I should probably admit that I wasn't too crazy for The Incredibles and Cars though. But after Ratatouille they just get better and better.
Toy Story, 1995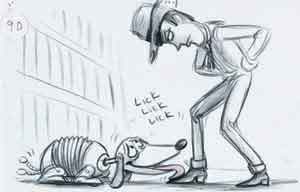 A Bug's Life, 1998
Toy Story 2, 1999
Monsters, Inc., 2001
Finding Nemo, 2003
The Incredibles, 2004
Cars, 2006
Ratatouille, 2007
WALL-E, 2008 (came out on my birthday :D)
Up, 2009
Short Films
It's seriously amazing to see how much these guys have evolved and how much emotion they're able to portray in a few short minutes of little to no dialogue. Enjoy!
The Adventures of André and Wally B., 1984
Tin Toy, 1988
For the Birds, 2000
Boundin', 2003
One Man Band, 2005
Lifted, 2006
Presto, 2008
Partly Cloudy, 2009 (preview)