Inspiration: Comics and Graphic Novels - Part One: Superman
Comics and graphic novels feature some of the greatest and underrated works of art in the world of design. In this article, I will attempt at showing you just a glimpse of the wonders from the likes of Superman, Batman and Spider-Man.
For the older generation, reading comic books was the ultimate pass time, well before TVs and computers became easily accessible. Unfortunately, I'm a member of the modern generation, where comics just aren't what they used to be. Targetted mainly for younger kids now, pages are splashed with lots of colours and the stories are lacking in gripping plots. It seems Marvel have gone down this route considerably more than the likes of DC, who have kept tradition with darker and more adult storylines for their legendary characters, such as Superman and Batman. This can be seen as half the tandem, with the film industry pedalling on the other end with recent renditions of the superheros' pursuits.
But don't feel despondent. Much can be praised and remembered from the past. They weren't called the Golden and Silver Age for nothing. Superman, without a doubt, is the most famous superhero in the world and has become part of our reality, as well as on paper. He first appeared in Action Comics back in 1938, a year before the Second World War had begun, which could be seen as poignant timing.
A mint condition copy of this first issue can fetch up to a massive $350,000, due to its rareness. Be careful not to pick up yourself one of the reprints; they aren't worth anywhere near as much as the originals. It is claimed that there are only 100 left in circulation.
Superman took different routes during the 40s, 50s and 60s, featuring in a number of different publications, some good, some less so. By 1986, 48 years after his creation, Superman saw himself relaunched (due to the Crisis on Infinite Earths series). With the relaunch came a slightly darker personality and also his unfortunate death at the hands of Doomsday.
However, his death wasn't permanent (well, he is Superman!) and he returned, with longer hair and later married Lois Lane in 1996. Since then, Superman has reprised his role as savour of the USA, as well as the world, adhering to his strong moral code and helping to protect the planet he has called his new home.
I'll leave you here with some more pictures of the Last Son of Krypton. See you later for part two!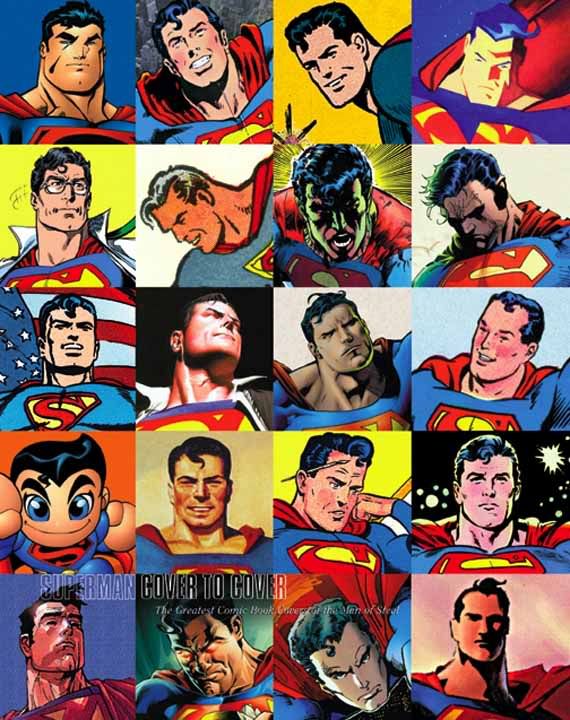 The many faces of Superman.
The classic "S"
Related sites
P.S. While I'm here, I'd just like to mention, I'm thinking of starting a comic of my own and need some artists and writers. If you're interested, please feel free to email me at munchester2cool[at]hotmail[dot]com or tell Abduzeedo to pass on the message. Thanks!