Interview with Aleix Gordo Hostau
Barcelona was the main stage for many street artists to shine on the last decade on europe. Aleix Gordo Hostau was part of this group of talented spanish artists that emerged. Besides his street work, Aleix is multidisciplinary illustrator with a great taste for graphic design, today we have the pleasure to show this interview we did recently with him.
You can see more from Aleix on the following links:
1) First of all I would like to thank you for doing this interview, it's an honor for us to present more about you to our readers. I would like to start asking you about when your interest for illustration and street art started?
First of all thanks to you guys for the interview, the honor is mine.
I started to draw when I was months old. There was tradition on drawing in the family so my grandmother put a pencil in my hand when I still was in my high chair... I haven't stopped since then. I started earning money from drawing when I still was at high school. Back then I never thought that being an illustrator was a profession so I studied History in the University. When I was 25-26 I started having a lot of work as an illustrator so I quit the University and became a full time artist.
Street art was different... I always was surrounded by graffiti writers when I was at high school (some of them where famous in the city) but I was practicing martial arts in a high level so I hadn't time for that. Barcelona was a hot spot on graffiti in late 90's, it was impossible not to see graffiti on the walls because it literally was covering the whole city. At that time my brother-in-law was a graffiti writer too so I started drawing characters as graffiti writers in my blackbooks...
A few later I decided to create the first comic about graffiti in Spain. I wanted it to be realistic so I decided to contact as many artists as possible from the graffiti scene asking to collaborate with their work in the walls that appeared in my comic boxes. I contacted 32 for the first issue. I made a lot of good friends and they invited me to paint with them once... and I got addicted. It's probably the weirdest way to get into street art I've heard so far... hahaha.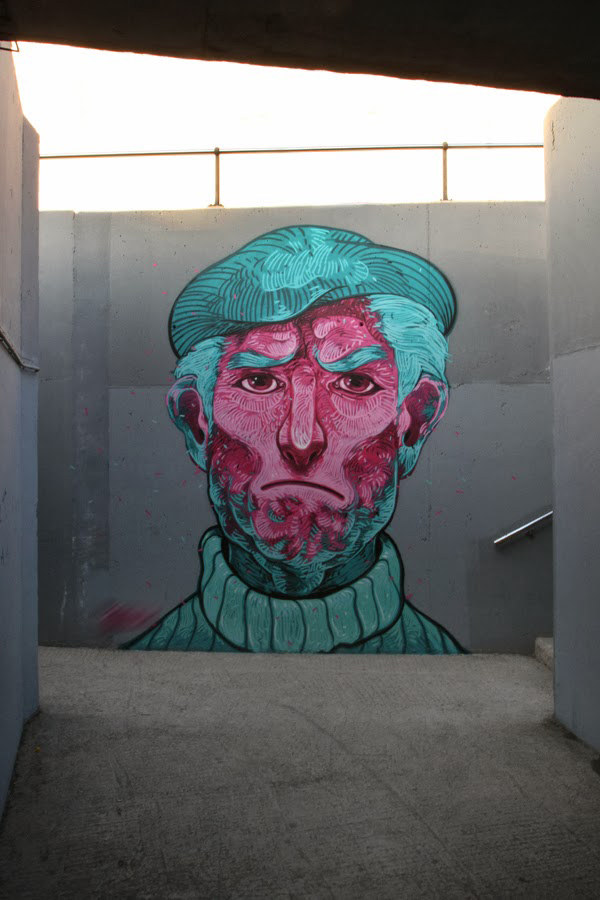 2) Which artists do you use as reference?
That is a really difficult question... I have hundreds of them. I'll try to make a summary.
James Jean, Katsuhiro Otomo, Jamie Hewlett, Akira Toriyama, Moebius, Sergio Toppi, Mike Mignola, Kim Jung Gi... In the street art world would be Aryz, San, Sainer,...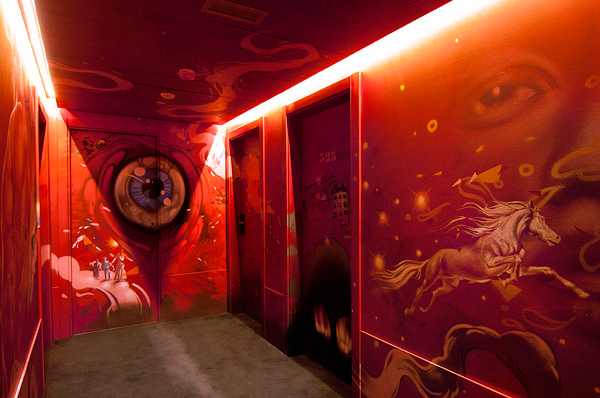 Mural Painting - Hotel Vincci Bit Barcelona - Aleix Gordo Hostau from Aleix Gordo Hostau on Vimeo.

3) Your style is quite influenced by graffiti culture and comics. How did you develop this style and how would you describe it?
Well, when I started painting canvases for fun when I was 19, I was very influenced by Japanese old engravings from the XIX century (the Ukiyo-e, a style with clear lines and flat colors). I applied some of that in my early comics and street art pieces... but time passed by. I changed my style (or developed it) twice in between what I do now and those clear-lined works I used to do. I think Moebius, Sergio Toppi, Aryz and lowbrowers had influenced me a lot since then.
My style now is not that clear-lined, it focuses more on strokes to give volumes and depth and, in all of its facets, is more colorful. When I did my first comic one of my problems was (or I though it was) that all the characters seemed to be really stiff, without any movement. They didn't have a flow. So I got obsessed on giving my works a sense of movement. I think I partly mended some of that…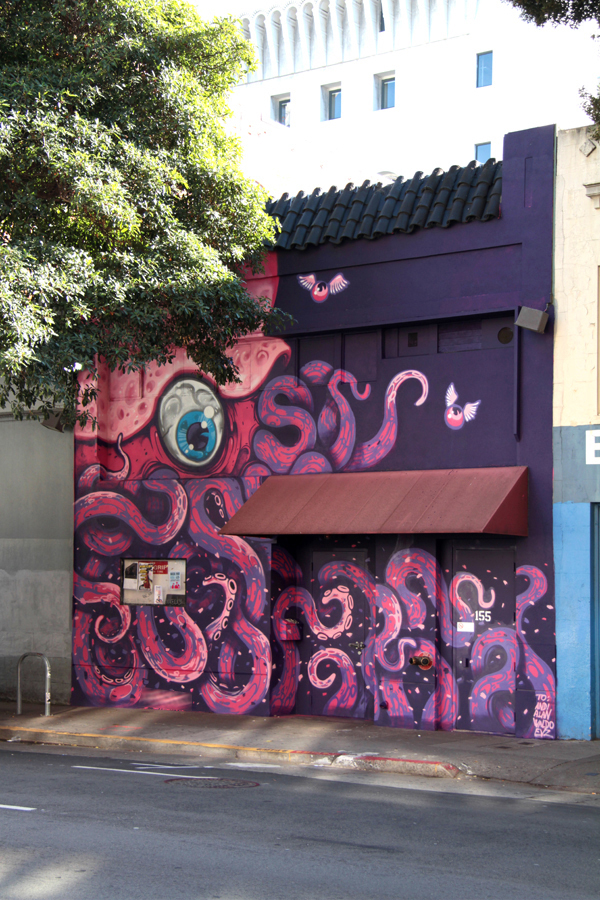 4) Describe us a bit about your creative process while creating a piece.
I always begin with a pencil and a piece of paper no matter what will come next. What comes next really depends if there's a client or not.
If it's a wall and there's a client I take measurements, I make a sketch with an appropriate scale, and I try to transport the sketch into a final work on the wall.
If it's an illustration it works more or less the same. I draw a sketch and if the client likes it I make the final art (vectorizing it, painting it in acrylic, watercolor or color pencils, scan it and photoshop it or directly colored with Photoshop with my Wacom tablet.).
If it's a personal work, everything is not that formal, I can avoid or add some steps in between… depending on my time.


5) What's would you consider the best moment on you career till now?
My family knew Marino Casas for a long time. He is one of the best interior designers in the fashion business in the world. I had his cell phone number and I started to call him once or twice every month to convince him to come to my studio (at that time settled at my mother's garage). I did that for two years. One day I received a call from him saying: "Hey, are you in your studio? I'm just around the corner...". I panicked, he came by, he liked my stuff but that was it. Only one month after that I had my first solo exhibition in a beautiful space that the government of my city has to promote young artists (I got selected to exhibit there).
I invited him and, miraculously, he also came by. A month after that he called me and said: "I have a job for you.". The job was to decorate with my drawings all Pepe Jeans London's stands in the biggest fashion fairs all around the world. I was only 25-26. My life changed, I became full time illustrator and I had to begin to pay taxes...hahaha.
Apart from that time, when everything seriously started, I consider the last two years the best moment in my career. By the time being, and the crisis we are having in Spain, I can't complain.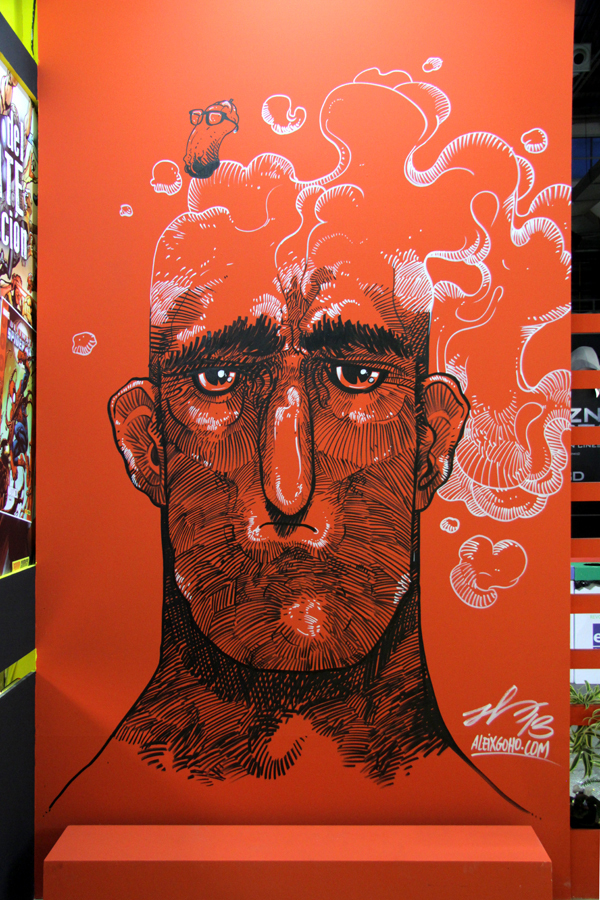 6) How do you describe your daily routine?
I wake up, have my breakfast, go to the gym, answer all my lost calls, mails and social network interactions. Have lunch and go to the studio. Work for six-seven hours and back home to have supper. Rest for a sec and work for another four-five hours. Read newspaper or books. Sleep and dream of electric sheeps…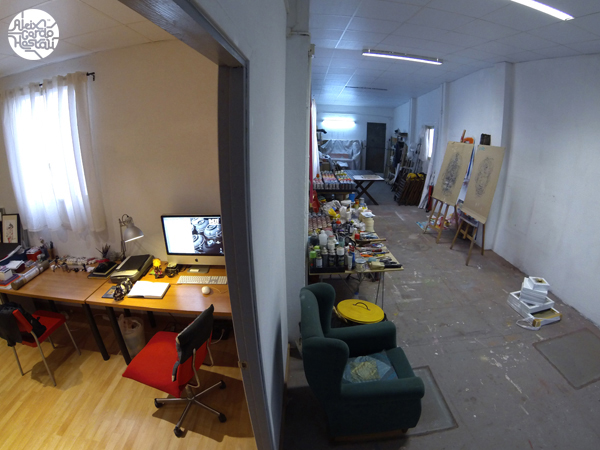 7) Being a multimedia artist, please tell us what's your favorite media to work with?Why?
Definitely pencil on paper, but I love Illustrator and spray cans. It really depends on my mood or if I feel like I want to make something more physical (painting a mural is very tiresome and I'm getting old!!;-)).
I've been drawing on paper all my life so I take it as breathing or blinking. The scale it has and the immediacy of the tool helps to perform everywhere I go, that's why I like it so much. It's the minimum kit you need to draw. The other two media requires more resources and proper spaces like a computer or a big bag full of spray cans and a big wall (normally out of town).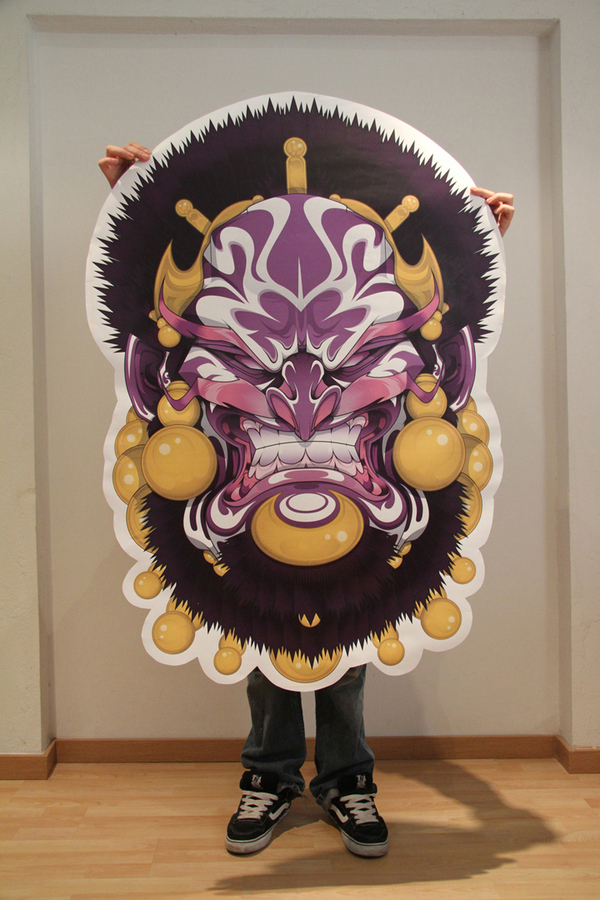 8) Tell us five lessons you believe are really important for every illustrator.
I'll give you ten:
Work.
Work.
Work.
Work.
Show your work to the world.
Pray to any God.
Hire an accountant.
Work.
Work.
Work.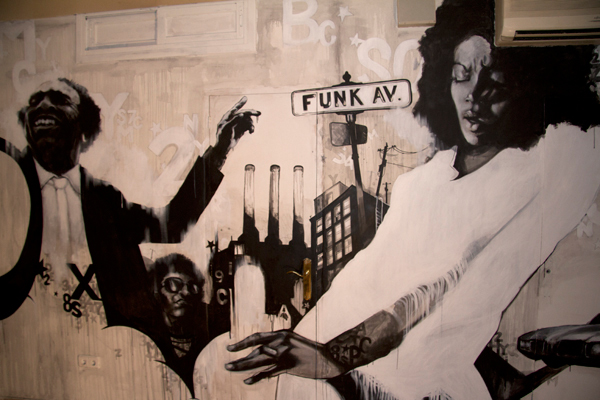 9) Tell us five websites that you like to visit.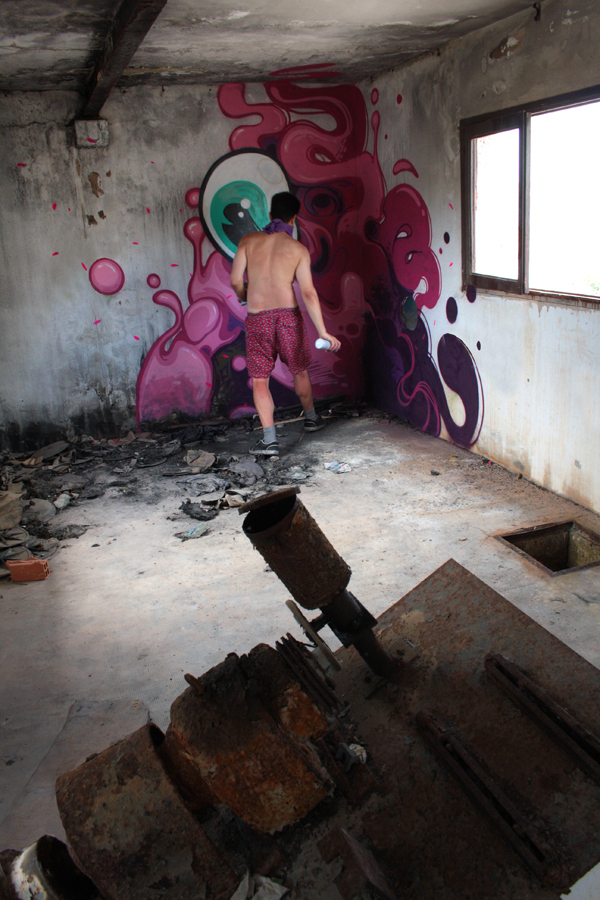 10) Thanks again for your time, please leave a final message for the ones who are starting out on this kind of business.
I fortunately know really important artists from a lot of different disciplines and none of them succeeded without having a period of time in their lives where they were enclosed working on their stuff like junkies. Unless you're a super-genius and have the proper contacts or a "four-leaf clover" luck, there's no other way to do it.
Sorry for being a little bit too rough but, if you don't really know if drawing, illustrating, painting or whatever… is not your real thing, better quit and invest your time on something more profitable.
Above anything else, enjoy what you do!