Interview with Palehorse Design + WINNERS
Chris Parks, best known as Palehorse Design, is a emergent illustrator on the last years. With a remarkable style, he already worked with brands like Hasbro, WWE, 7-Eleven, Wired Magazine, Computer Arts, Blizzard Entertainment, Dean Guitars and many others. SO, hope you guys enjoy this interview with this great artist, have fun.
You can know more about Chris on his Official Website.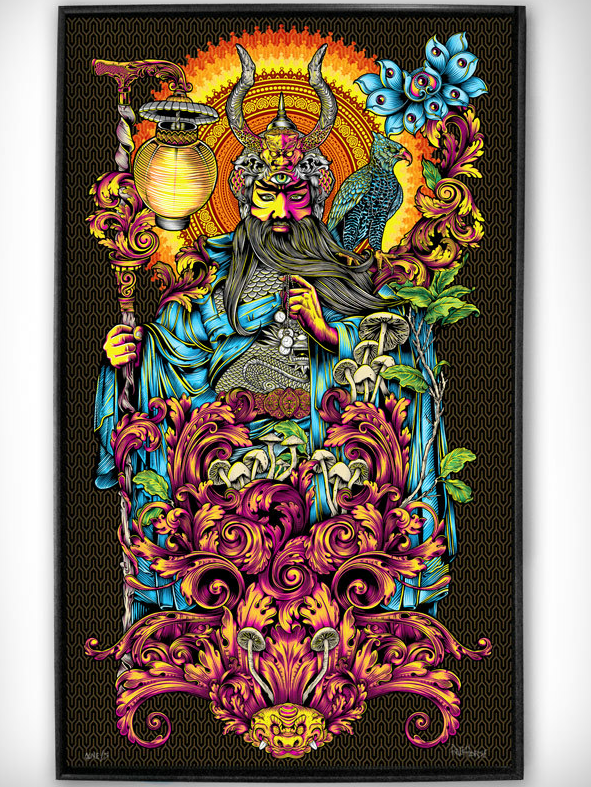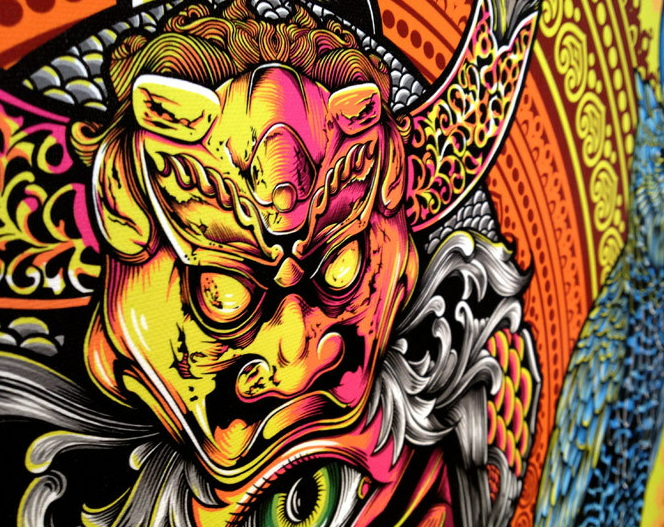 First of all I would like to thank you for doing this interview, it's an honor for us to present more about you to our readers. I would like to start asking you about when your interest for illustration and art?
Thanks guys! I'm happy to have the chance to share with everyone. I initially got my start as a graphic designer way back in '96. I was taking graphic design classes in high-school and creating album art and t-shirt graphics for my band at the time. One thing led to another and I got my first job doing pre-press work and design for a print company that produces album covers and posters for punk, metal, hardcore and indie bands. After that time, I got my degree in graphic design from 'Ringling College of Art & Design'. After graduation, I worked at a killer, product design studio near the campus for about 4 years.
This was a great experience that taught me to work with clients, keep deadlines and refine my work. During my nights and weekends, I began creating freelance artwork for surf / skate companies and anything I could get my hands on. I felt really strongly about wanting to branch out on my own and decided to take the leap to open a design / tattoo studio with a friend of mine who was tattooing and splitting rent with me. We also hosted gallery exhibits in our space, bringing in artists that we wanted to share with our community. After hosting gallery exhibits for a while, I became more and more inspired and started to create illustrative work as opposed to just graphic design. A few years later, I went solo as a commercial illustrator and took on the moniker of Pale Horse and hired a full-time assistant to help keep things running smoothly.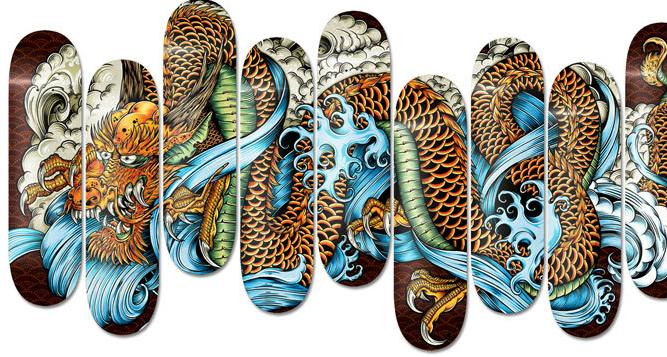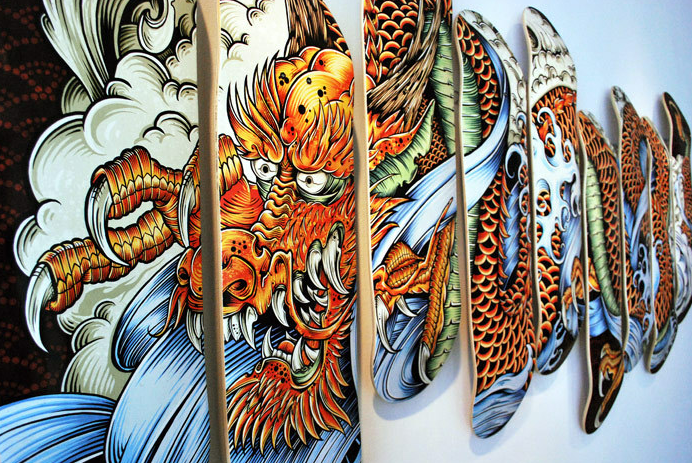 2) Which artists do you use for reference?
There are so many artists that I look up to. Probably too many to name, but some of my favorites would have to be: Aaron Horkey, John Dyer Baizley, Ken Taylor, Pushead, Skinner, Mike Giant, Tristan Eaton, Craola and Godmachine. (I'm sure I'm forgetting a ton of others) Also, lately i've been really into these bootleg movie posters from Ghana. Check 'em out. You'll be glad you did :) Though I enjoy looking at other contemporary artists. I make a conscious effort to create work that has my own voice and style. I'm mostly inspired by ancient civilizations, mythology, religion and culture. I take those various inspirational concepts and mash them up to create pieces that are hopefully new original. It's such a liberating opportunity to have concepts in mind and get the chance to bring them to life on a daily basis.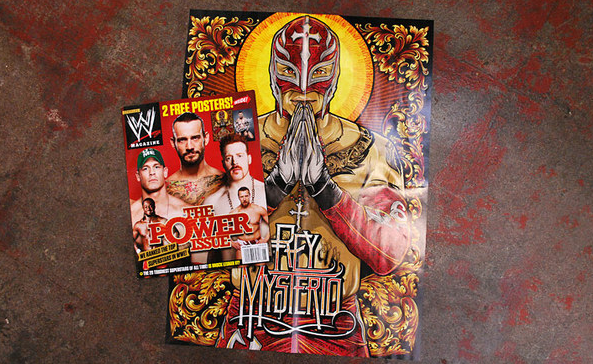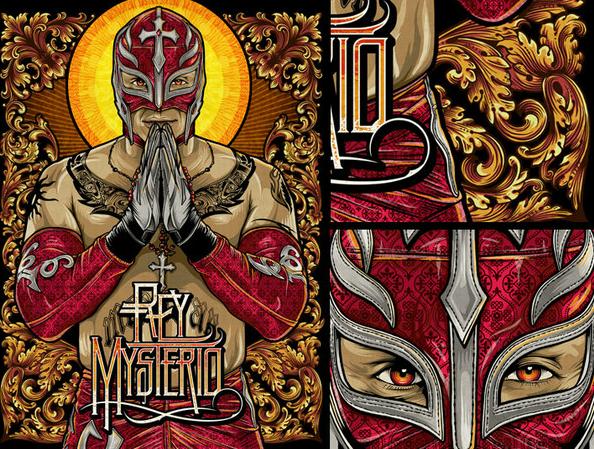 3) Your style is quite influenced by old school skate illustration, tattoos and mexican art. How did you develop this style and how would you describe it?
I think my style is pretty unique in that it kind of tells a story of my progression through different stages in my life. I really value layout and composition in my work, which comes from my graphic design days. I do a lot of pre-planning to make sure each piece will be worth the effort. My work is really just a combination of all the things that excite me. When I travel, I really take things in and can't wait to return to the studio to create my own versions of what I saw. Skateboarding, and tattoo/thrash/hardcore/metal culture has always been a big part of my life as well and it definitely continues to show itself in my current work. I've always liked bold, graphic-style artwork for some reason. There's just something about it that draws me in and feels less serious than traditional artwork. (Which I like) My goal, I guess, is to make as inspired and detailed illustrations as possible and keep pushing myself to get better each time, but never take myself or my work too seriously.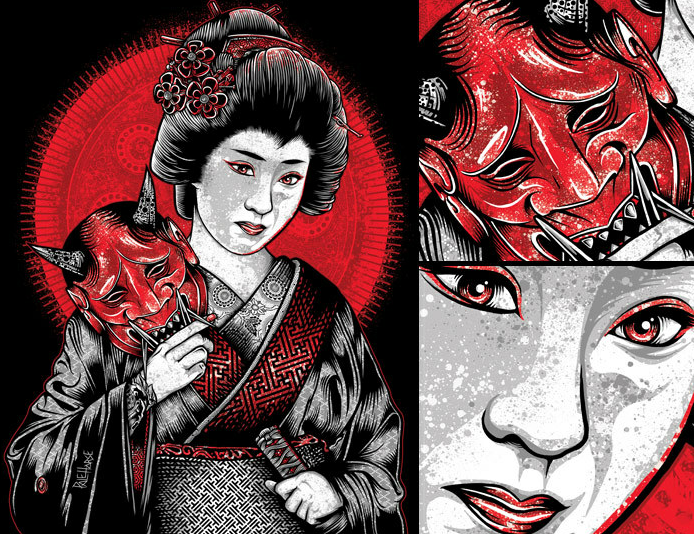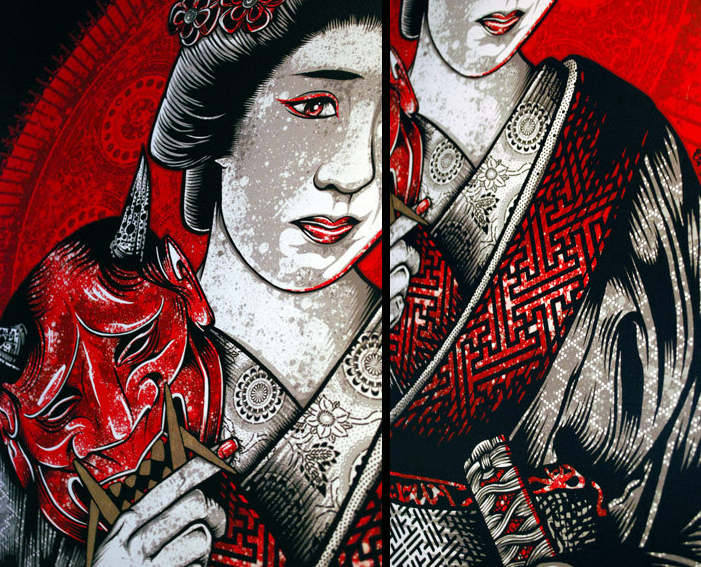 4) Describe us a bit about your creative process while creating a piece.
My creative process usually starts with an idea that has been nagging at me or something that I've always wanted to draw. From there I do a ton of research, I like to learn about different subjects as I develop a concept and try to create something that brings new life to historic subject matter. I recently uploaded a time-lapse video that walks you through my process in detail. Click here to check it out. I usually start with gradual sketches or Photoshop collages to quickly rough out a concept. Then, I go straight into Photoshop with my Wacom Cintiq tablet and start drawing the black line art, followed by layers and layers of color.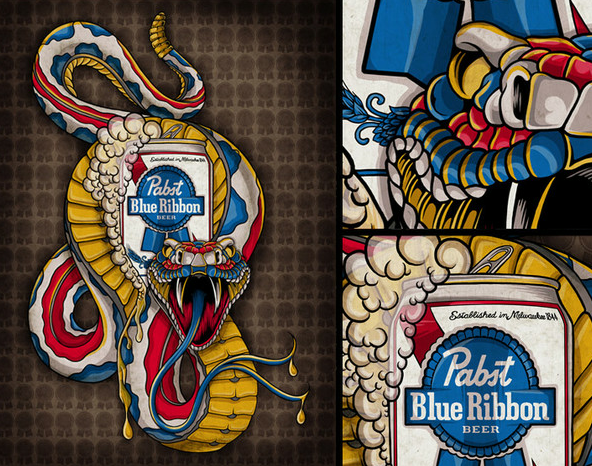 5)What's the best thing about working with vectors and what is the worst?
I used to create all of my work in Illustrator as vector work. I like how clean the lines that are created in illustrator look, but once I started using the tablet in Photoshop, I never wanted to go back to mouse clicking vector lines again. Drawing with the pen gives me so much more freedom and has allowed me to create the type of images that I want to make. I like to try and keep the, clean, graphic, style from my vector days, but with added detail and flexibility that comes from the tablet.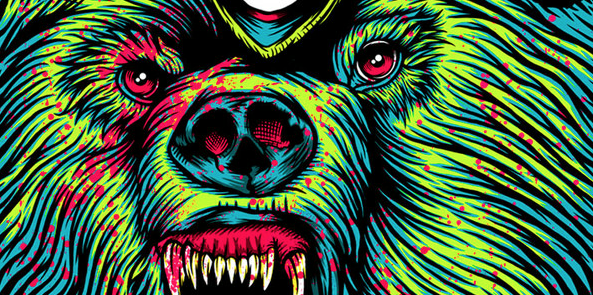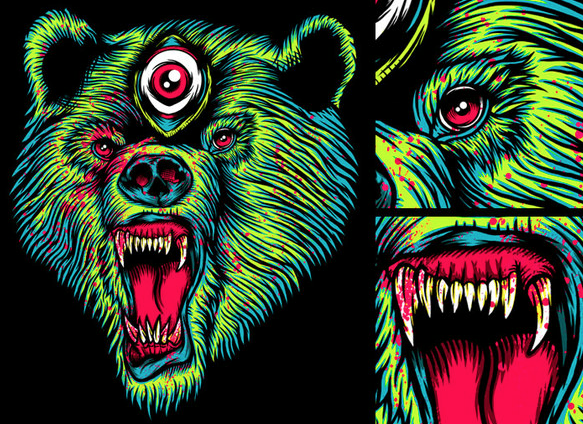 6) How do you describe your daily routine?
I get into the studio around 10-11am, 6 days a week and usually work 'till at least 11pm (or all night during deadlines). During the day I spend most of my time, answering emails, sending estimates, and talking with client over the phone. I tend to get most my actual drawing done at night, when there's less email and distractions. I really enjoy listening to podcasts & audio books while working. This def helps make the time go by faster and keeps my brain from totally melting onto the floor.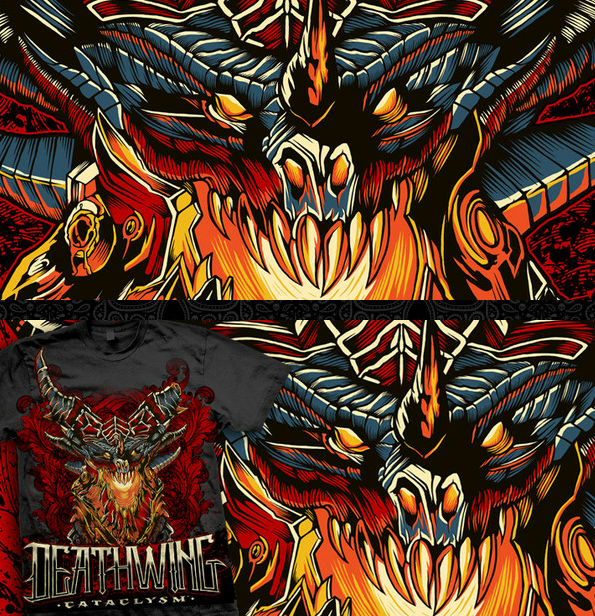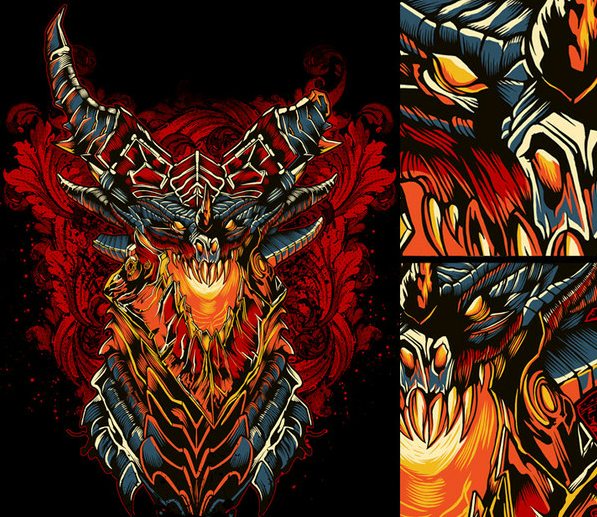 7) Which is your favorite piece so far?
My favorite piece to date is my latest print called "The Sage". This one is inspired by the incredible, spiritual teachings of Lao Tzu, called the 'Tao Te Ching' mixed with a love for those rad, metal statues of the Chinese emperor Guan Gong, that can be found in almost every Asian gift shop. In "The Sage" the character symbolizes a ruler that operates within pure awareness and not out of greed or ego. I'm fascinated by various states of human consciousness and wanted to portray the role that psychedelics have played as teachers throughout history. I also get really stoked on psychedelic, black light stoner posters and wanted to make a piece that had that vibe and begs you to stare at it for a while without boredom. http://palehorsedesign.com/58523/589811/personal-work/the-sage-fine-art-...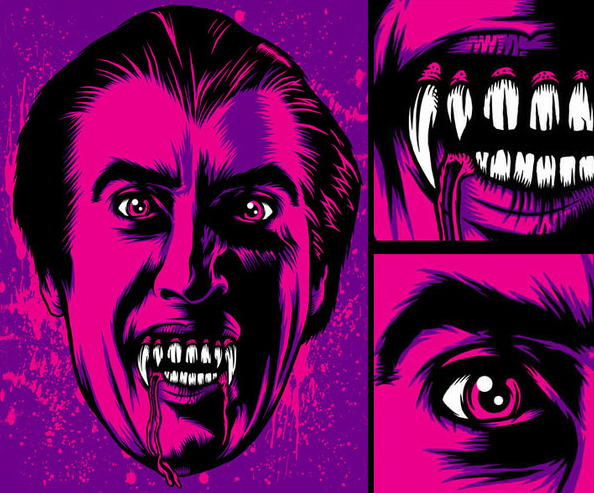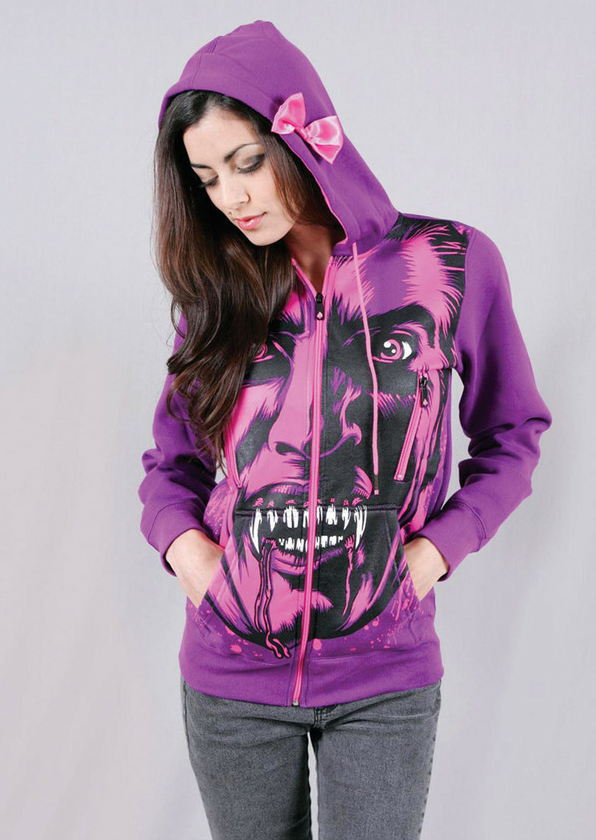 8) Tell us five lessons you believe are really important for every illustrator.
Develop your own style and don't be afraid to experiment.
Get inspired by other places then the internet. Go to antique shops, bookstores, museums and travel whenever you can to stay motivated and hungry.
Don't make it a competition. Meet as many other artists and connect with as many people as possible. It's priceless to learn from artists you respect and it's always rewarding to share what you've learned with others.
Make personal work whenever possible. As commercial artists with deadlines and trendy client briefs taking up all of our time, it can be very difficult to develop a unique and original voice. Even though it's challenging to find the time, creating artwork purely for the fun of it, is always worth it for me.
Enjoy the process. If you don't love it. Do something else.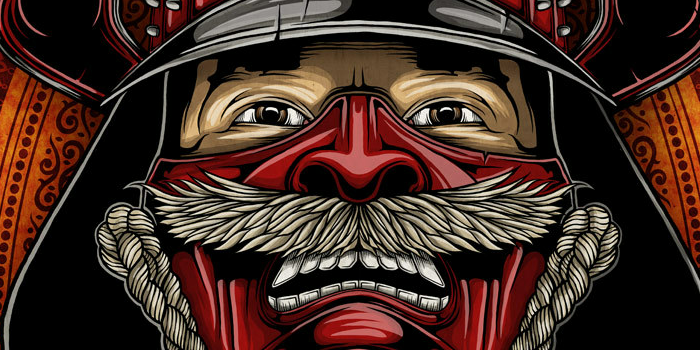 9) Tell us some websites that you like to visit.
I really don't do a ton of web surfing, but one sites that I can get lost in for a while is Behance.net. So many great artists in one place to connect with there. Def. get on it if you're not already. I also really love Vice.com. Some of the most legit documentaries and most fearless journalism on the planet can be found there if you ask me.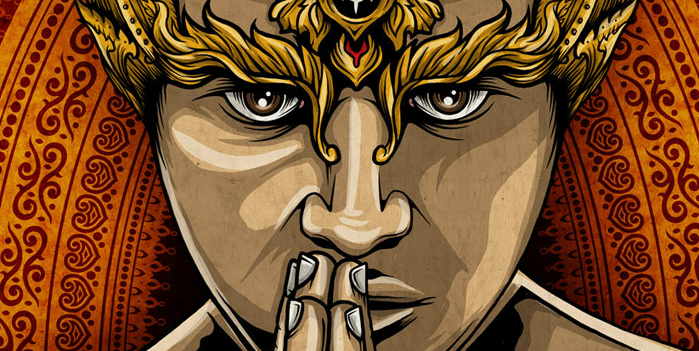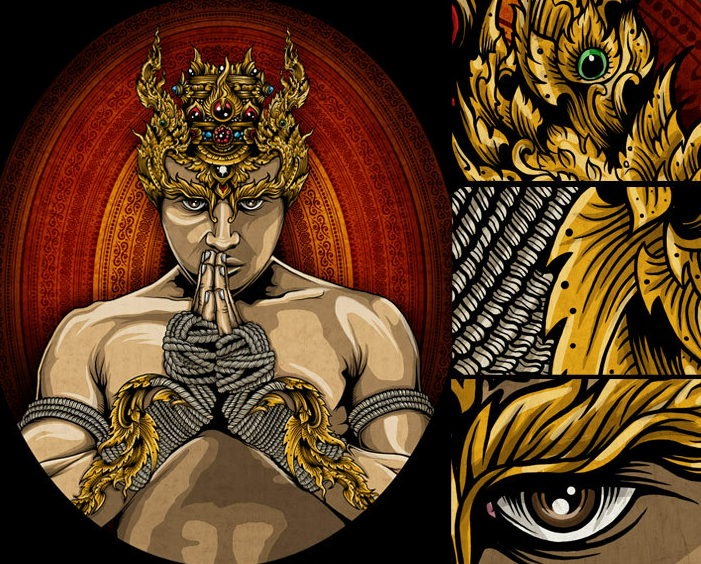 10) Thanks again for your time, please leave a final message for the ones who are starting out on this kind of business.
Thanks for reading this! I truly appreciate everyone who is a fan of my work and Supports my shit. I definitely couldn't do this without you! For those just starting out, make sure you are having fun with the work you create, because there's not always a lot of money in drawing pictures for a living. Haha :) Realize that success won't happen over night, but if you're truly motivated, patient and consistently evolving, your enthusiasm will reward you.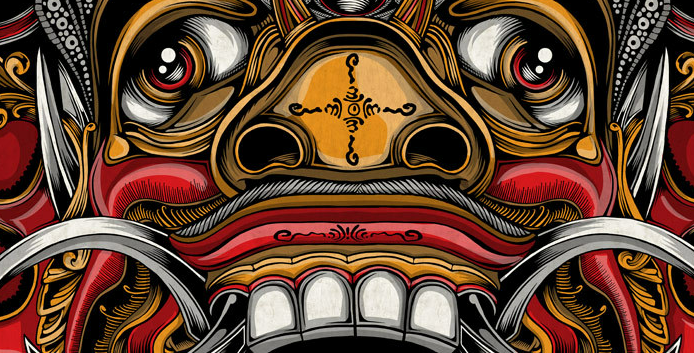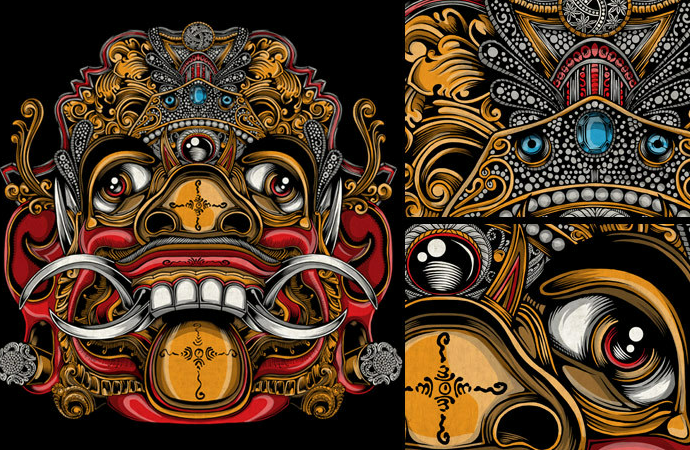 WINNERS
So, here are the winners:
Kevin Mercier (kmercier@soesoftware.com)
Weston Romero (westonromero@gmail.com)
Joshua Fryer (joshfryer@mac.com)
Thanks everyone!