A little conversation with Gerhard Human
We already featured the amazing talent of Gerhard Human on our blog and today we had the opportunity to have a little cconversation with this interesting illustrator. So please take a sit and enjoy the interview, hope you guys get some good tips and insights from this.
You can see more of Gerhard Human illustrations at his Official Website.
1) First of all I would like to thank you for doing this interview, it's an honor for us to present more about you to our readers. I would like to start asking about how was the beginning of your career? Please show us one of your early artworks.
My first attempt at a music video for my friend's band. I think it was 2003 or somewhere around there. I did all the drawings on paper and scanned them in individually... then painstakingly layered it in photoshop haha. I had some basic after effects skills... which didn't help much! Was a fun project but I had a lot to learn.
2) Please share a picture of your workplace and tells us more about your daily routine.
I get up very very early to go to work. I work in Cape Town and stay all the way on the Cape Peninsula, so traveling takes a while. Driving along the beautiful mountain passes more than makes up for it though.
I work at Masters & Savant, an animation studio. We do a variety of work, mainly advertising and TV. After work, twice a week I go for a climb or a run (if it's raining) in the mountains.
I usually only get to drawing and working on my own projects quite late after my son goes to bed. I don't have a formal studio or work place, so basically just draw where ever I get a space...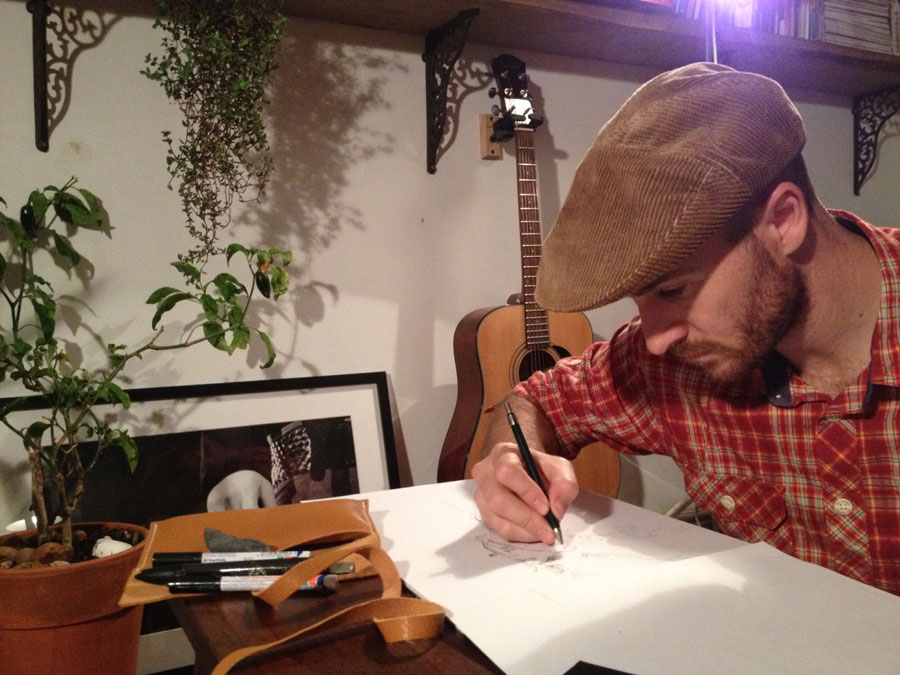 3) Beside your daily work, do you have any hobbies? Please share it with us.
I never liked the term "hobby", kind of feels like something you do to kill time... I hope I never get to a point where I have to kill time. I do enjoy lots of stuff though; Rock climbing, Downhill mountain biking, mountain climbing and trail running.
The best thing about living on the peninsula is being surrounded by mountain reserves. I go exploring by myself at least once a week, running, bouldering or just scouting for new routes to attempt.
I also enjoy tending to my bonsai trees and other plants in the garden.  And of course watching films and reading books!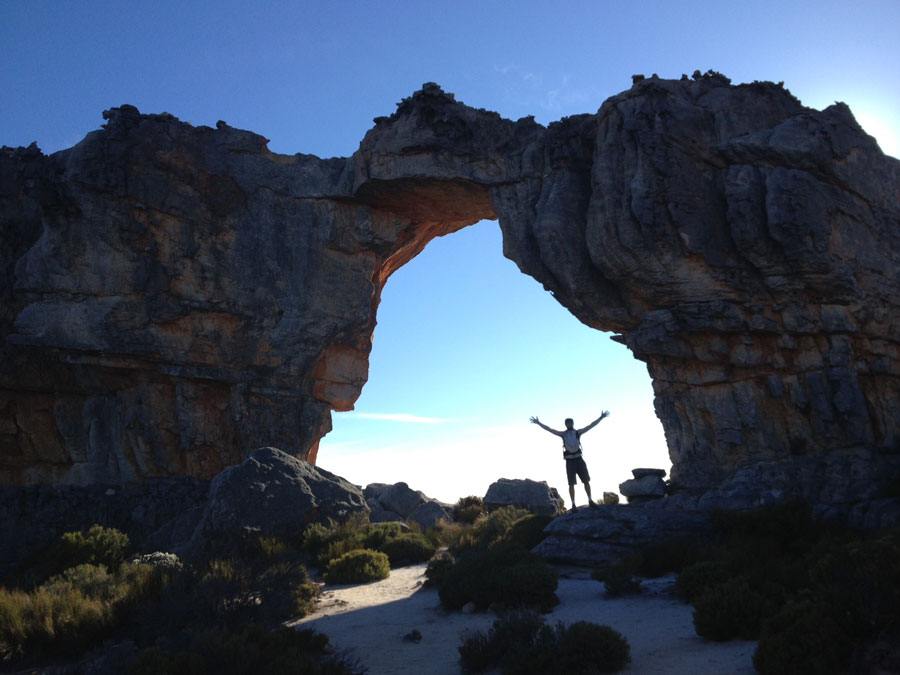 4) What you think are the next steps for you as a professional and as a person? And how do you see your creative area on the next 5 years?
I would really love to do more of my person work. I'm working with brushes and ink on large water color paper now, love working on paper again. And I've always loved the finality of putting ink down on paper. There's no room for error and also no room for doubts.
I really want to do an exhibition or 2 overseas, I'm searching for some galleries where my work will fit in.
Would also like to do more animation projects, character based short stories or a music video... it's important to link up with the right artist though...
5) Please share five golden lessons you learned to this point.
1. Very few can relate to what I appreciate
2. Don't ever think you're good enough. There's always more to learn. And someone better than you.
3. Do epic shit.
4. If you can't do something original. Do something AWESOME.
5. Surround yourself with inspiring people.
6)What's the best thing about working on your business and what is the worst? Why?
The best: Telling stories and portraying my thoughts.
The worst: Having to do commercial work to pay the bills haha
7) Do you have any heroes? What make them your heroes?
Yes, there's lots of people that inspired me along the way: Bob Dylan, Jean Giraud, Katsuhiro Otomo, Philip K Dick, Tom Waits, Frank Zappa, Wes Anderson, Jim Jarmusch, Quentin Tarantino, Thom Yorke, Haruki Murakami...
My friend Daan du Plessis inspired me a lot with his amazing comics and wisdom.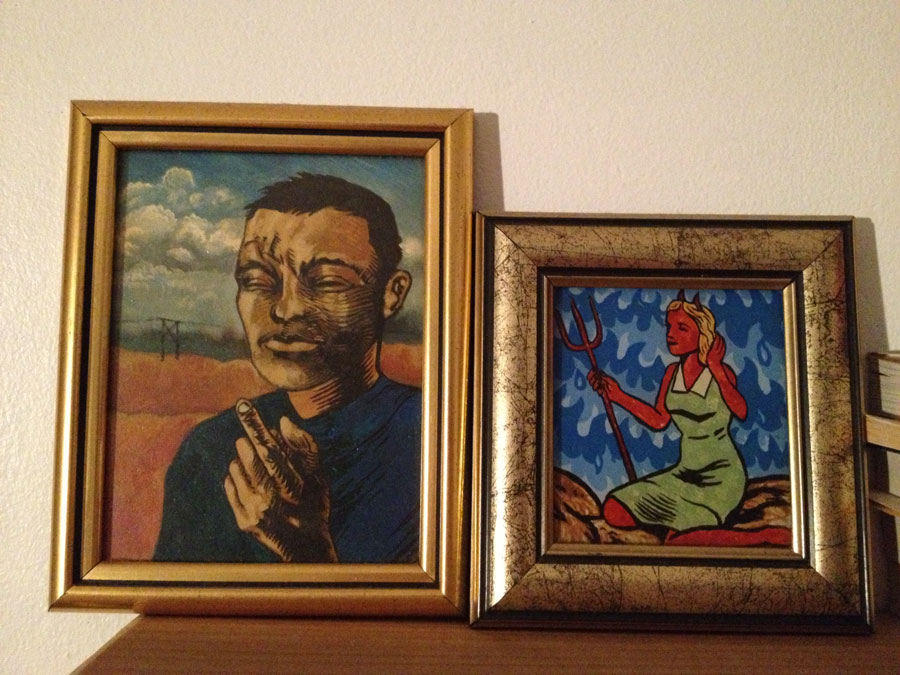 8) Tell us in one picture how you're feeling about your life right now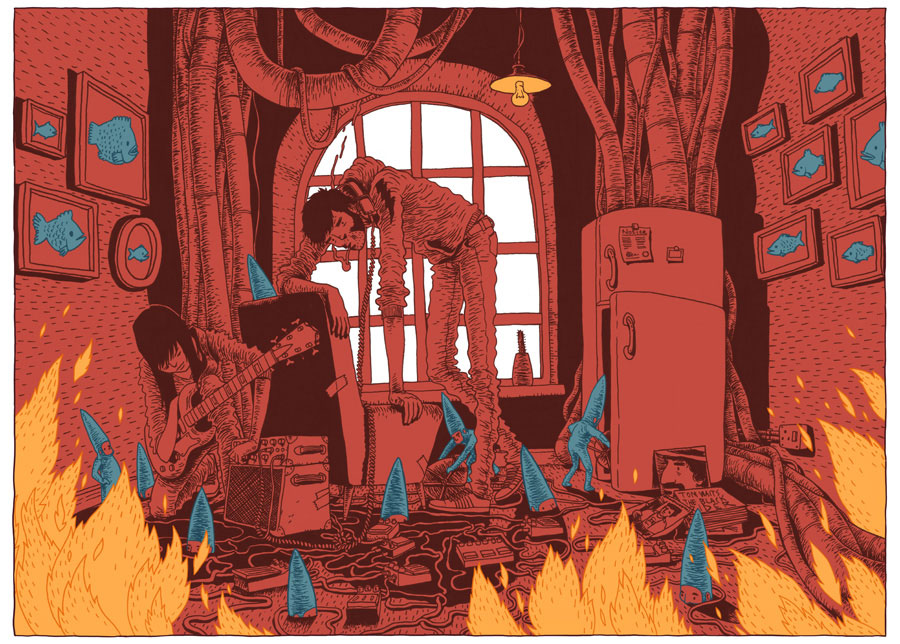 9) Now for some quick and short answers:
- A Food: My wife makes the most amazing pasta
- A Animal: Weazel. They're awesome
- A Color: blue
- A Tool: Swiss army knife
- A Person: My son Edzard, such a rad dude!
- A Place: Rocklands, Cederberg, South Africa
- A Song: "Gun street girl" by Tom Waits
- A Movie: AKIRA by Katsuhiro Otomo
- A Book: Man in the high castle by Philip K Dick
- A Quote: "He not busy being born is busy dying" - Bob Dylan
10) Thanks again for your time, please leave a final message for the ones who are starting out on this kind of business, tell us something we should expect.
Everyone experiences it differently. The creative community is growing with the help of the internet, so that's a good thing. It means there's now a larger audience for alternative media. Hopefully the days of relying on gallery curators and TV networks to promote good work is coming to an end :)