A little conversation with Raku Inoue
I stumbled across the work of the impressive visual artist Raku Inoue through our editor's event, Montreal Meets. Raku it's a Canadian multi-media artist with a beautiful skill with sculpture. Today we had the opportunity to have a little conversation with Raku, so please take a sit and enjoy the interview, hope you guys get some good tips and insights from him.
You can see more from Raku at the following links:
Official website: www.rakuinoue.com
Behance: www.behance.net/rakuinoue
Facebook: www.facebook.com/rakuinoue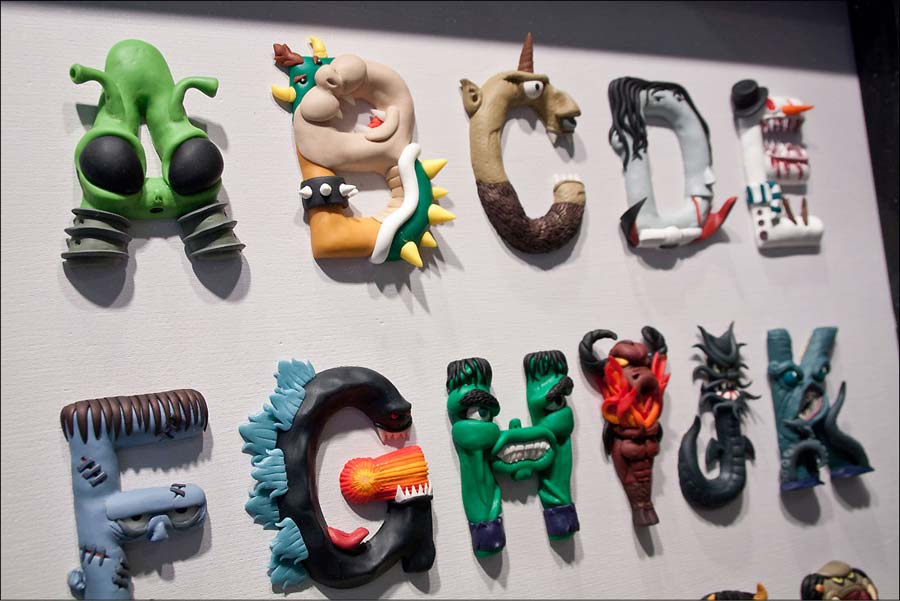 Raku's Sculpture artwork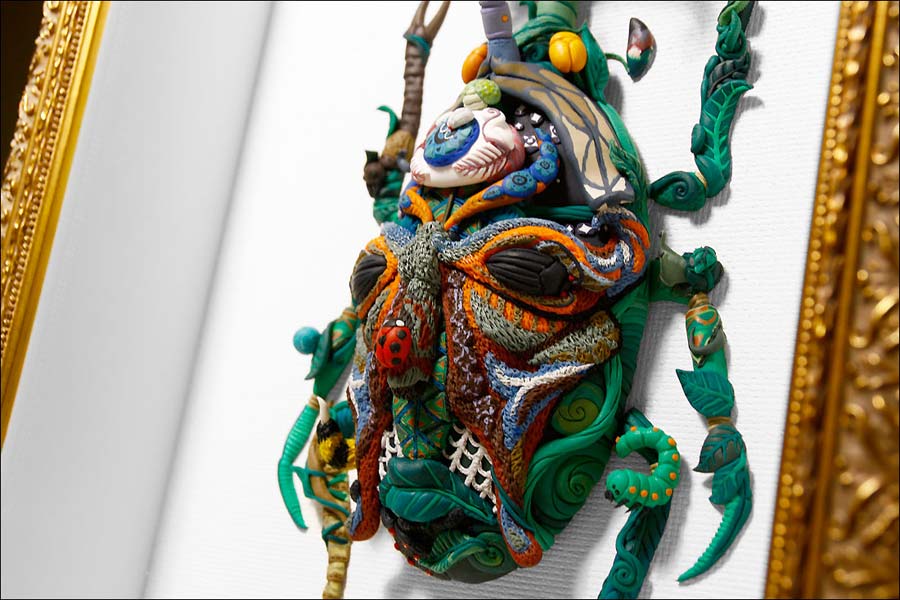 Raku's Sculpture artwork
1) First of all I would like to thank you for doing this interview, it's an honor for us to present more about you to our readers. I would like to start asking about how was the beginning of your career? Please show us one of your early artworks
It's an honor to take part of this interview. Thanks to you guys for thinking of me. So let's get it started!
Before I started using clay as my primary medium, I really didn't have a preference. At that time, my focus was into discovering new things. I was constantly switching between art forms like paintings, pencil art, photography, paper art, digital art and sculpture to name a few. But, in order to make a living, I knew that I had to see myself, to a certain degree, as a product for sell.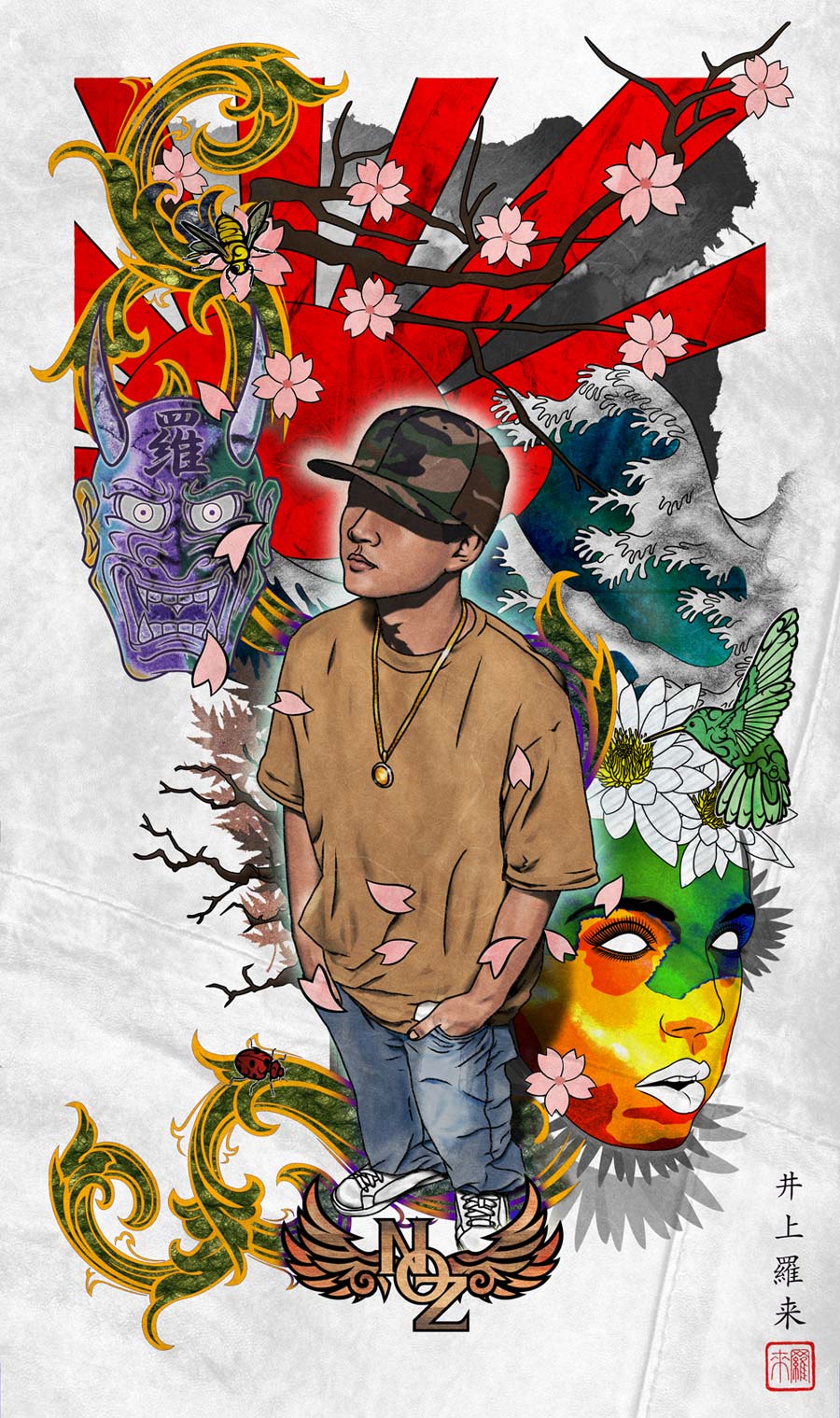 Earlier Raku's artwork
I am not talking about selling your soul to the devil for the fame and glory, but rather finding an identity and promoting it. If someone saw a beautifully wrapped box of milk chocolate next to an more than ordinary nameless one, I am pretty sure that that someone would choose the first box even if what's inside are exactly the same. I needed that identity but the constant drifting between media made it hard for me to choose one. Until one day, clay found me and we've been together ever since.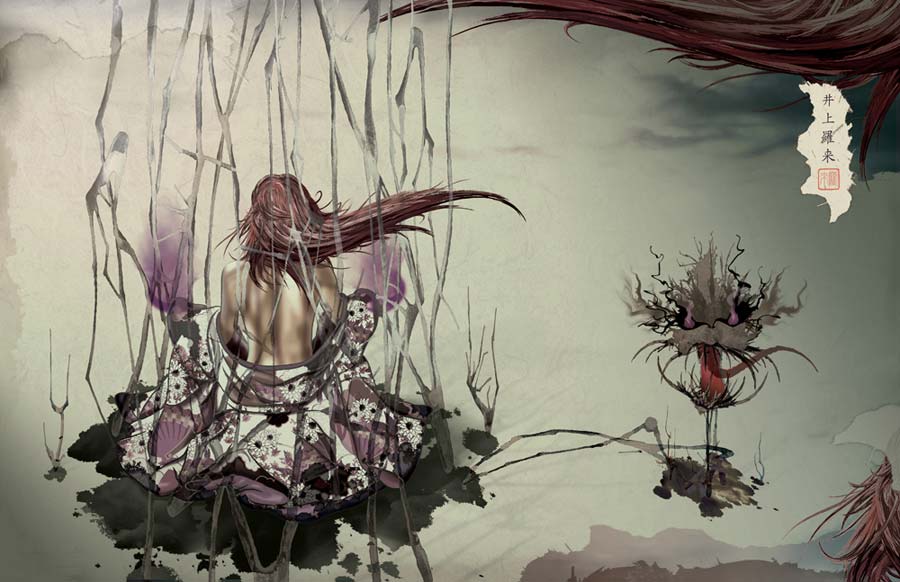 Earlier Raku's artwork
2) Please share a picture of your workplace and tells us more about your daily routine.
My routine consists of: getting up, eating breakfast, taking a shower, and start working. There is no time frame…sometime I get up early sometime not and other time, I don't sleep at all. The advantage of working as a freelancer is that you have the total control of how to manage your schedule.
But the downside would be that it's easy to lose sight of your personal life so my golden rule is to take at least 2 days off during my week. But more than often I end up working over night after my girlfriend is sleeping. It's not because I need the money or that I like to overwork, it's because I LOVE what I do.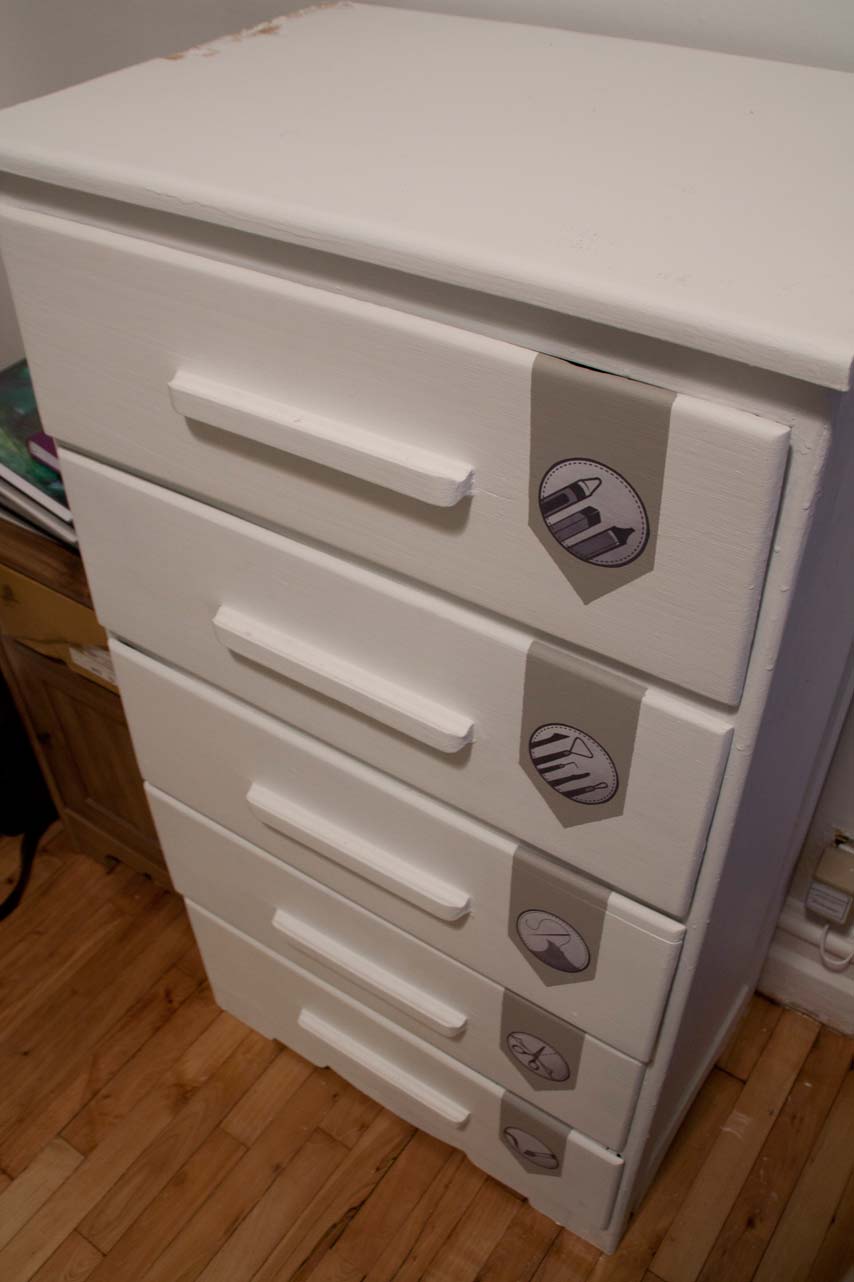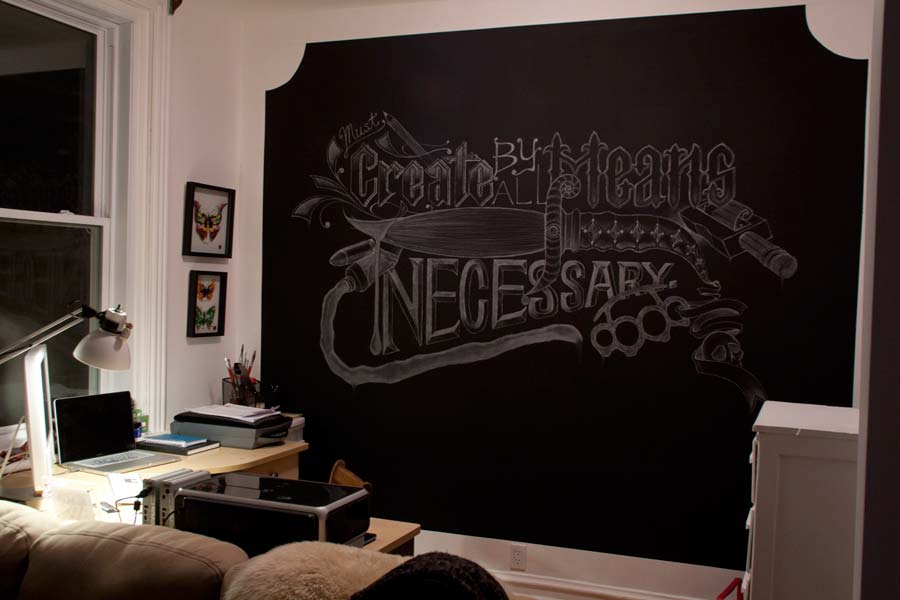 3) Beside your daily work, do you have any hobbies? Please share it with us.
I love to eat. Anything from gourmet foods to fast foods and I will even accept leftovers. I like to hit the gym as well. Creating is for the mind and the exercise is for the body. You need to take care of both in order to feel total harmony.
4) What you think are the next steps for you as a professional and as a person? And how do you see your creative area on the next 5 years?
There are just so many things I want to achieve but developing and directing a music video is on the top of my wish list. I always push myself to do more and this kind of project is certainly a welcomed challenge. I am really into web designing as well. My interest in designing websites is a fairly recent discovery: when I teamed up with one of my good friend Glen Maruska from The Web Tech Guys to program my new website which I designed it myself, I realized how much I loved the process of creation.
Again, it is the challenge that gets me into this kind of projects. There are so many things to understand, as many things to implement and capturing the delicate balance between functionalities and the visual become almost addictive.
One thing I can say for sure: I will never stop evolving as an artist and as a person because for me, it is the key to longevity. People might get tired my work if I re-do the same thing over and over, but if I keep evolving, they will never feel that way. And if I can help a single person to evolve along my side, then I think I have achieved part of my goal.
5) Please share five golden lessons you learned to this point.
LEAVE YOUR PRIDE AT HOME and be open-minded to comments. There is no such thing as a negative comment if you can learn something from it.
LOVE WHAT YOU DO but don't love it to death…nothing should worth that much.
BE ORIGINAL! AND BE CREATIVE! don't be a sheep…Its ok to inspire yourself by other's work but make sure to put your personal touch into it. Have some self-respect.
IT'S A SERIOUS BUSINESS. Expect to work hard if you want to succeed. Be organized and be professional, keep in mind that no one wants to hire a newbie.
EVOLVE CONSTANTLY. If you are painting the same thing using the same brush over and over, then I recommend you to get out of the cave and search for what else's out there. If you don't evolve, people might get tired of your work and eventually you will be a thing of the past. At that point you will be forced to re-invent your artistic identity.
6)What's the best thing about working on your business and what is the worst? Why?
Obviously the best thing about my work is that I love what I do. Honestly, I don't consider it as work. The worst part is the economic instability that freelancing can cause at times. Save and stash some dollars for the rainy days.
7) Do you have any heroes? What make them your heroes?
I really admire the pure-hearted good people who do things even when they're not obliged to. I, myself, am the kind of person who does things for a reason. Don't get me wrong; I am not a bad person. If someone needs my help, then I will help out but I will know exactly why I'm helping so pretty much everything I do, has a reason. So I am, in a way, fascinated by those kinds of people who do things just because.
8) Tell us in one picture how you're feeling about your life right now
Tried…but I am feeling really good right now. Many projects on the way, moving into a new house, re-launching my new website, preparing my speech for the upcoming Montreal Meets 3 event which I'm sure you guys heard of from one of your editor, François Hoang and I also have collective projects on the way as well: development of the new website of the "The Web Tech Guys", launching of the blog-site "Ah-futé!" which should be ready later this summer and some other projects, with my friends from "Tout'nou" creative. I love to work with other creative because the experiences I get out of it are so enriching.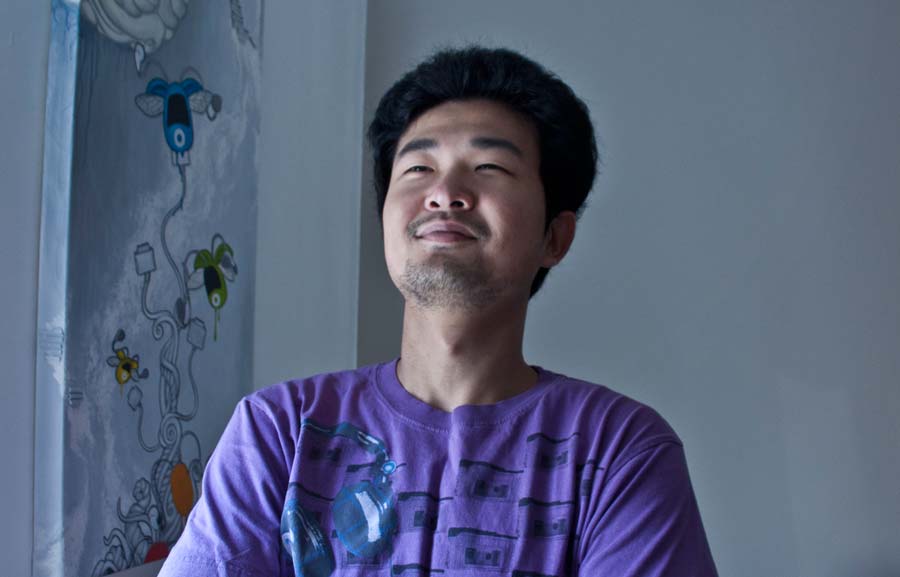 This might be a good timing to introduce my creative happening "I Want You For Collabo". It is a platform where I invite artists to collaborate with me to create a piece of art. You can see what it's about on my website or you can visite the "I Want You For Collabo" Behance page.
9) Now for some quick and short answers:
- A Food: shoyu ramen (Japanese soy-sauce noodle)
- An Animal: -on my plate: duck / in the wilderness: shark
- A Color: it depends of how I'm feeling that day but usually aqua blue
- A Tool: No, I'm not!
- A Person: Morgan Freeman (seriously, who doesn't like Morgan Freeman)
- A Place: Hino (my birthplace in Japan)
- A Song: I like when birds sing.
- A Movie: The Matrix
- A Book: Art books…ex: the Art of Avatar, The Art of the Matrix…etc
- A Quote: "You turn on the water, the water goes down."(It's about making peace with what you cannot change.)
10) Thanks again for your time, please leave a final message for the ones who are starting out on this kind of business, tell us something we should expect.
For those who create as a hobby, I suggest to you to always follow your heart. Whether you do it to relief stress by taking a break from the normal weekly routine or just for the fun of it, do what you feel like because the feeling you get from what ever you're doing is what counts.
For those who want to make it a living, I suggest to you to strategize the way you approach the business. You MUST find something unique to offer the world. Whether it's your medium, your subject, your style or your color palette, anything that will separate you from the rest. I will never tell you to sell your soul and go POP but you must see yourself and your work as a product from the moment you want to make ends meet. Be creative, be original and stand up to be somebody.
But in both cases, be sure to evolve constantly. Don't be shy to try new medium, new methods and keep searching for a way to out do yourself every time.
And I would like to add one last thing, persevere. Don't expect people to hand you anything. If you want it bad enough, then work hard for it because if you don't, I will and I just might get it instead.