A lot of people think that graffiti and street art already reached their maximum potential after the 2000's boom and so are slowing dying. But I gotta say that some artists are fueling the flame with new ideas and perspectives, one of them is certainly Bond Truluv, we had the opportunity to talk to this visionary, check it out.
You can reach Bond on the following links:
1) First of all I would like to thank you for doing this interview, it's an honor for us to present more about you to our readers. I would like to start asking you about when your interest for illustration and Graffiti started?
Around 2000 I spent a year in Savannah, Georgia (US) where I started to recognize the mysterious signs in skateparks and halfpipes that I used to skate at that time. Back in Germany I joined together for my first crew with guys from my school. I was hooked pretty instantly and eagerly pursued to style my name "menace2000" as diverse as possible.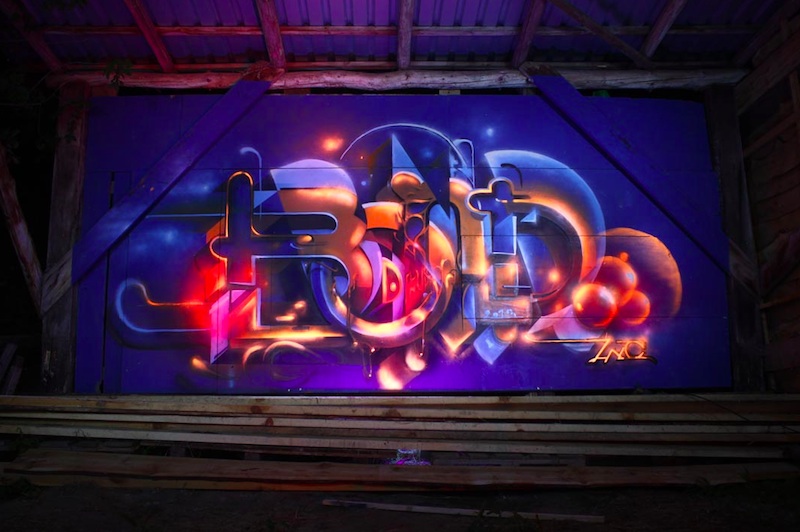 2) Which artists do you use as reference?
I was always interested in a lot of different ways of input, visually as well as through music. It would be impossible to name accurately my influentials as many of them quite subliminally influenced my artistic development in ways not visible from my point of view. I guess for the different styles I use, there are different references all together...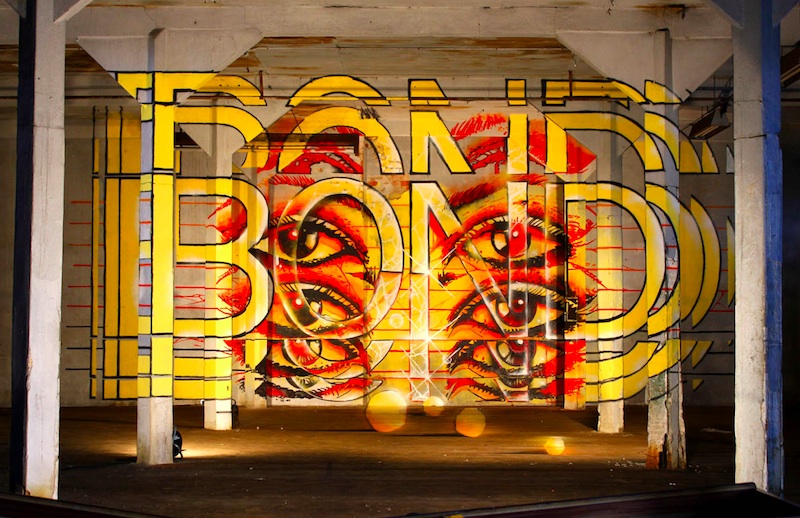 3) Your style is quite influenced by neon lights / futurism / geometric patterns. How did you develop this style and how would you describe it?
Generally I was always drawn to the use of lights, glows and shiny blingbling effects, I admit. Surreal, spherical, dream-like moods and the illusion of depth always held an undenieable attraction for me.
I rather see myself as changing my style quite often without thinking too much about the theoretics of it. Whatever I feel drawn to at the moment, I use more or less instantly. There are so many interesting visual ideas and ways out there, I keep listing them down and one after the other rework them in my four letters. Right now for me there is nothing more boring than artists who keep reproducing their work over and over again to play it safe. Taking risks and stepping on unfamiliar terrain is the real task to be performed.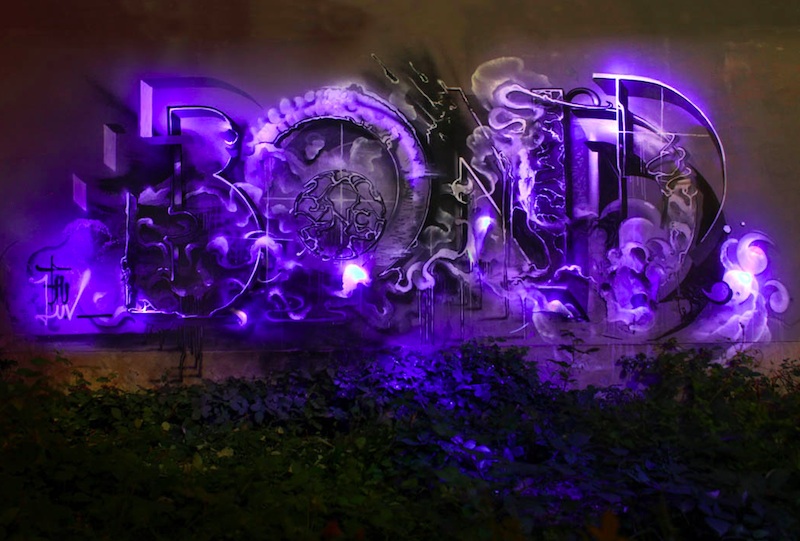 4) Describe us a bit about your creative process while creating a piece
This of course absolutely depends on the characteristics and context of the wall. Usually I have a brief idea of which kind of style I am going to start with. Or at least for one letter or single element(s) I want to use. Sometimes I have small black and white sketches too, but usually I dont. The color-combination is set before starting the work of course. From then on its usually 80% freestyle, one element defining the next one, jumping from one letter to another, or sometimes finishing a complete letter before starting on the next. Pieces I did copying a sketch usually come out stiff and liveless. The really graphic and clean stuff is planned more thouroughly and close to a concept drawing, also sometimes using digital tools too. I believe in whatever works.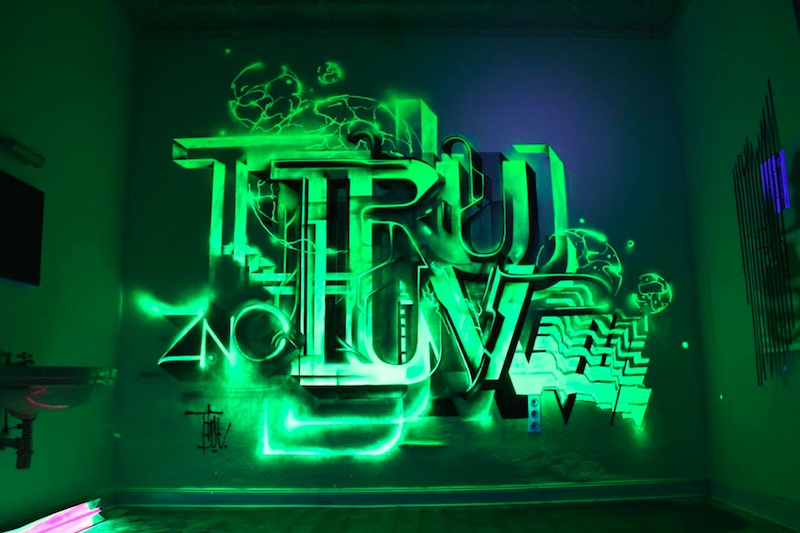 5) Photography has a big role on your work, tell us more about the importance of making a good record of your street work.
Usually I never see my pieces again, due to its location in abandoned places or different cities/countries so its very important to have a clean final photo as it will be the only memory that remains for me. At some point I found great joy in carefully orchestrating the compositions of the pictures using basic knowledge of photography and the locations I paint at. These places are also carefully selected and searched for. I prefer scenic locations/settings and those that carry a good or interesting vibe before ones that are actually seen by real people.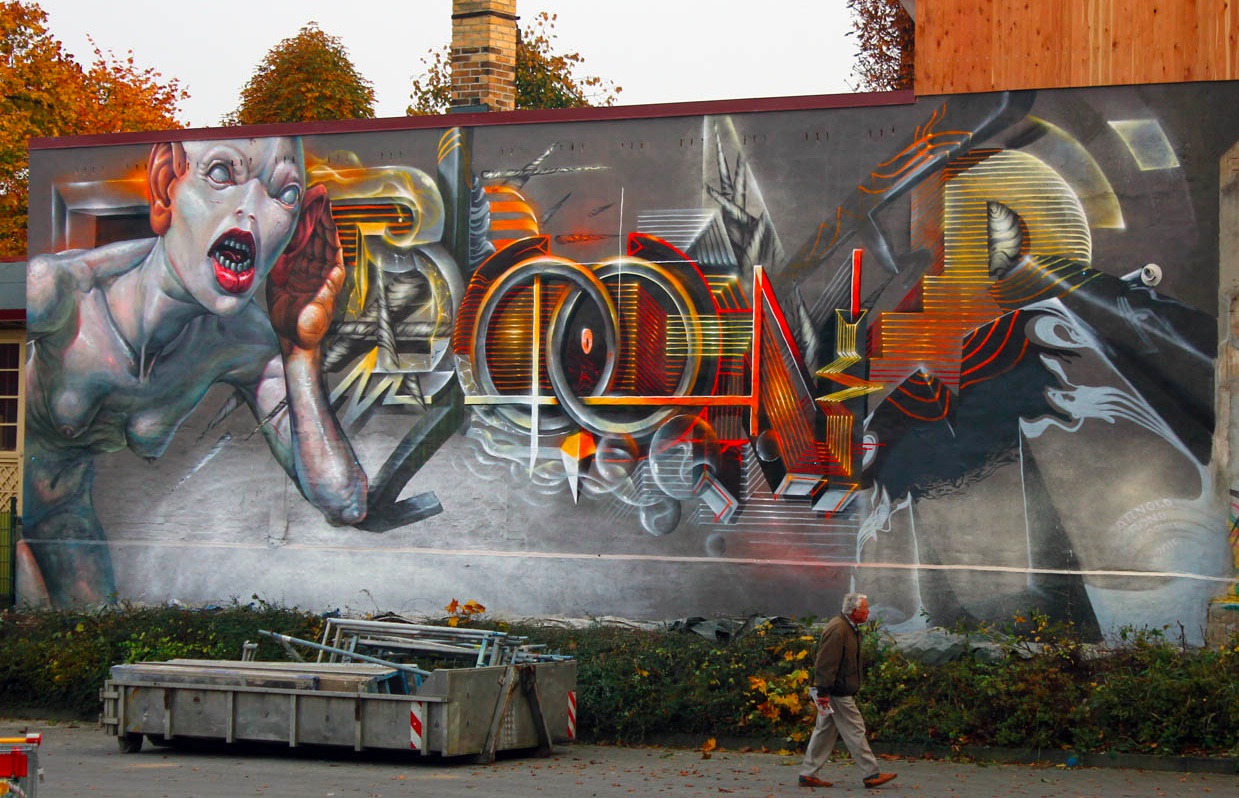 6) How do you describe your daily routine?
If Im not travelling (around 4 months a year) I´ll get up around 7.30 have a coffee and breakfast and sit in front of the computer, planning my day. Then its either working in the studio/pc or go out to paint or follow up whatever project is on. Since Im an independent artist and do not follow a fixed jobscheme, I usually have the luxury of spontaneously deciding what to work on or not. I try to keep myself quite busy, though, executing the scratch-catalogs of ideas I collect through the time.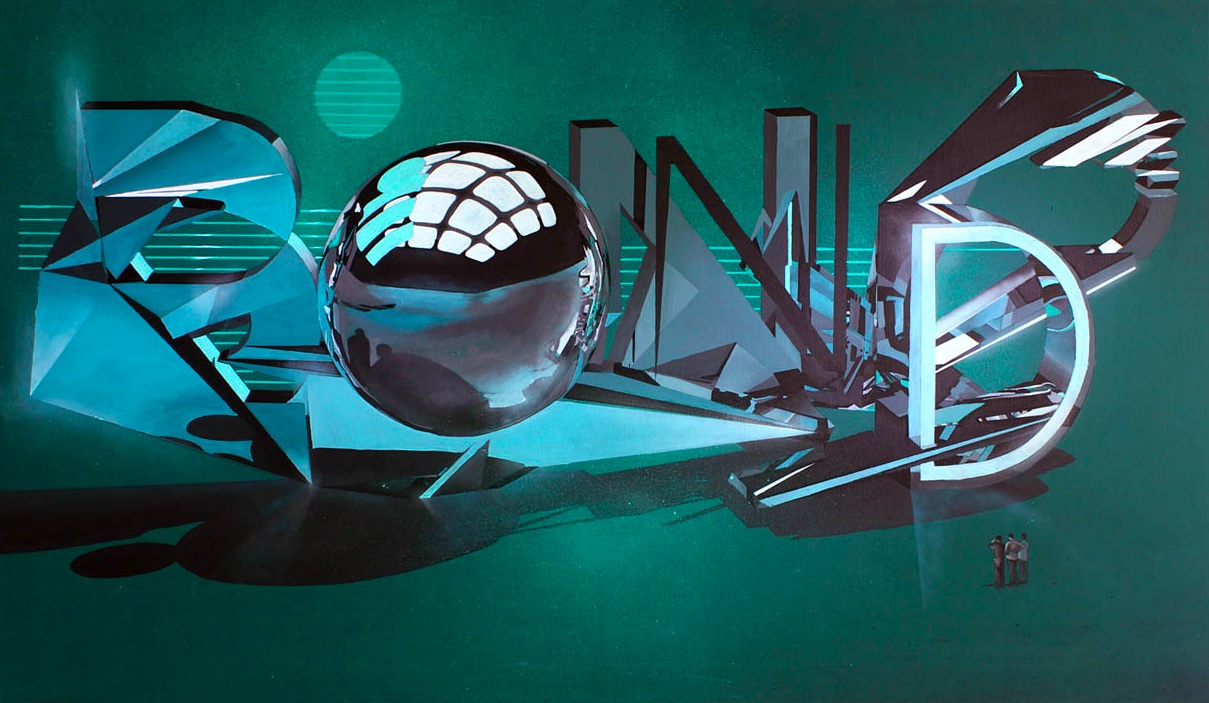 7) Being a multimedia artist, please tell us what's your favorite media to work with? Why?
I guess I´ll always be in love with the freedom and handling of a spraycan. Its just the best feeling to hold a full can, no strings attached. Over the time, cans became just so natural to me...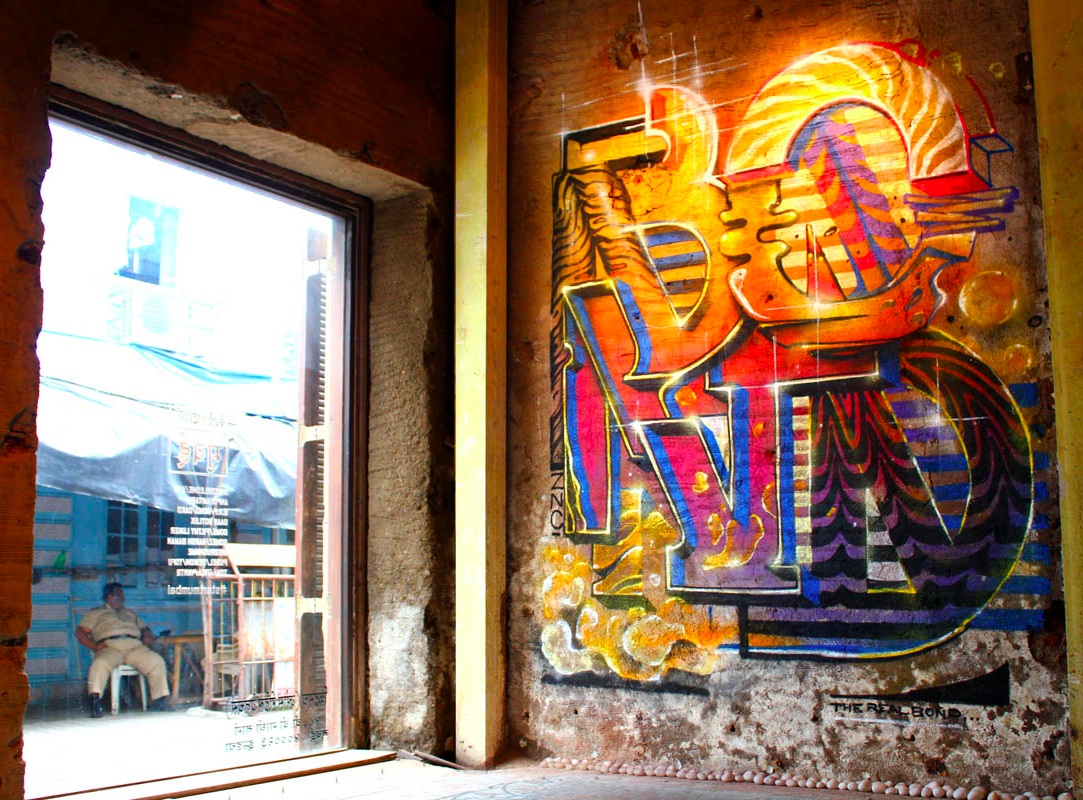 8) Tell us three lessons you believe are really important for every graffiti artist.
1. Opposing to what most people think (even many writers themselves) Graffiti is superhard work and requires lots of focus. If you aim at high quality-output that is, of course.
2. There is a life besides the Graffiti-cosmos and its rules and realities that needs careful attention and handling. Don't take this game more serious than it is. If it hurts you, leave it.
3. What goes up, must come down.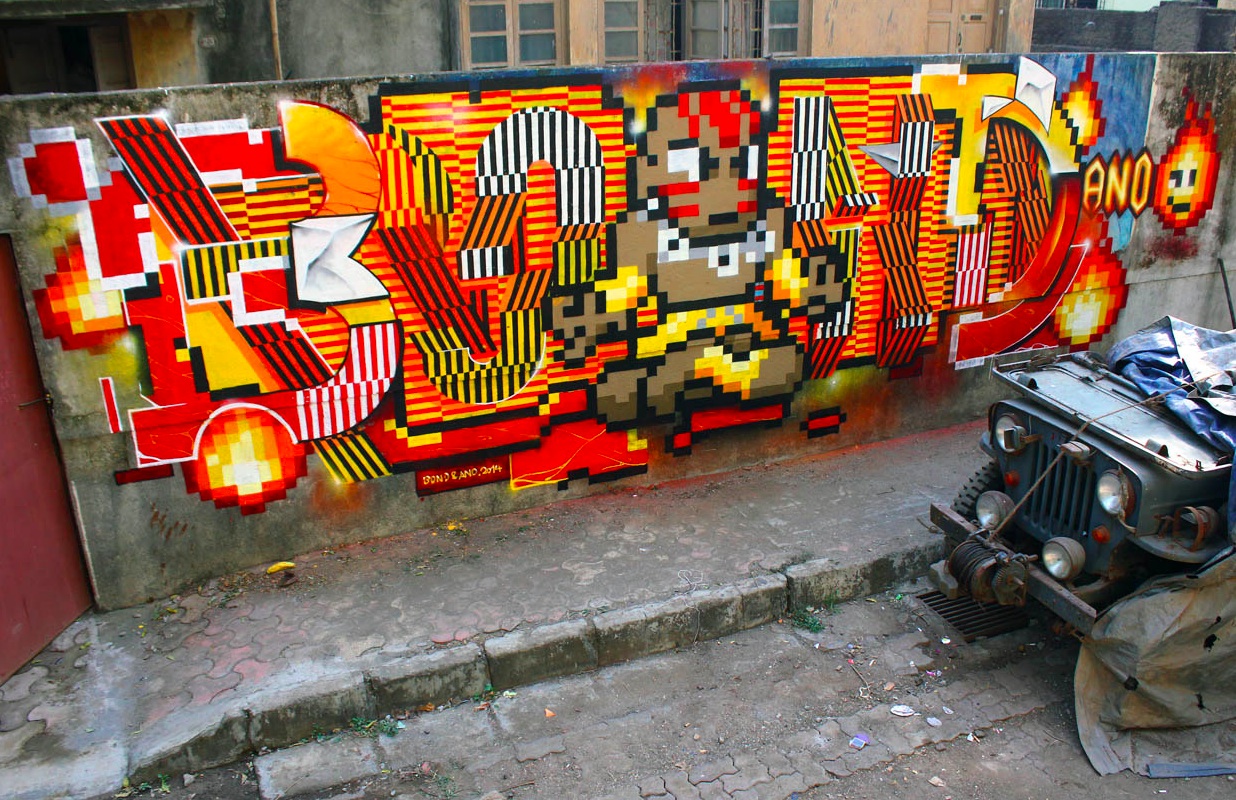 9) Tell us five websites that you like to visit.
I really don't browse much.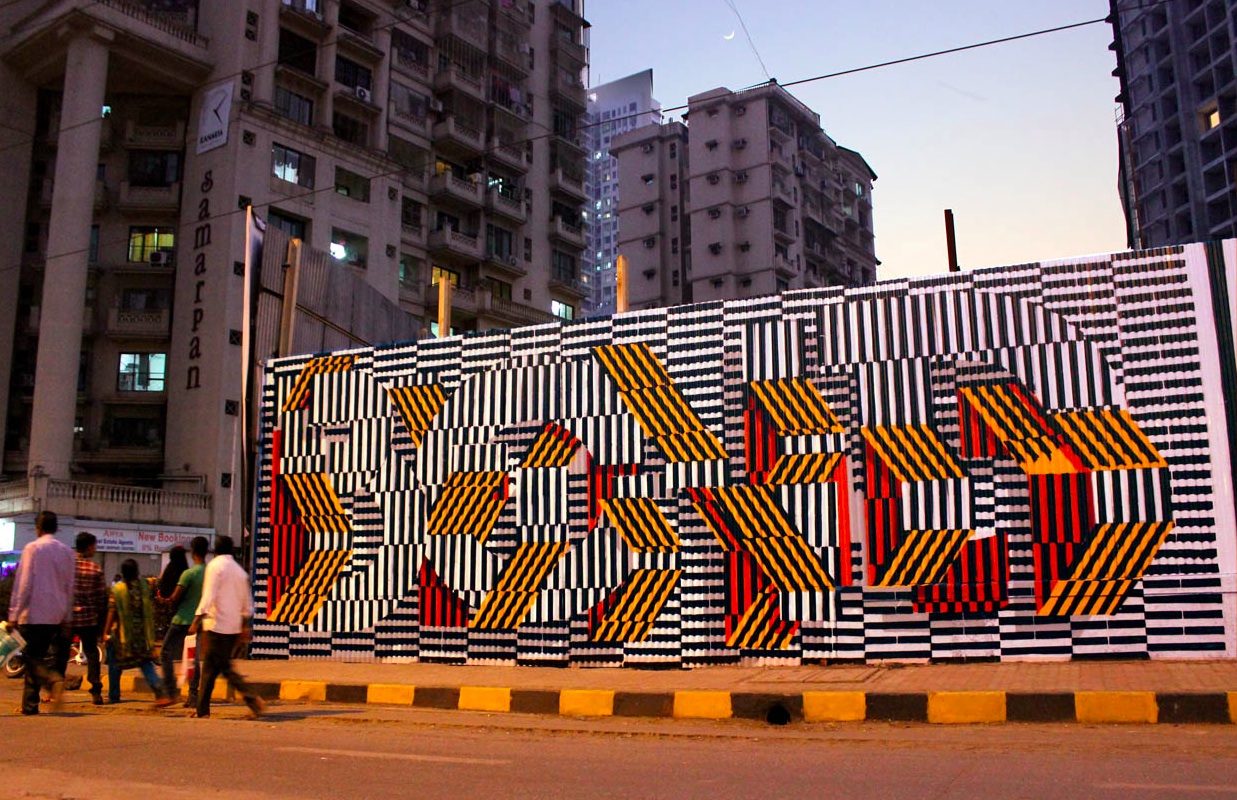 10) Thanks again for your time, please leave a final message for the ones who are starting out on this kind of business.
Hang in there, kitty. Its just paint...