I think that everyone into fashion art and design must know illustrator Raphael Vincenzi, probably one of the biggest name on the fashion illustration in the world, we already featured his artworks several times on Abduzeedo. Today we're lucky and glad to receive this written interview with him, hope you guys enjoy it.
You can see more from Raphael on the following links: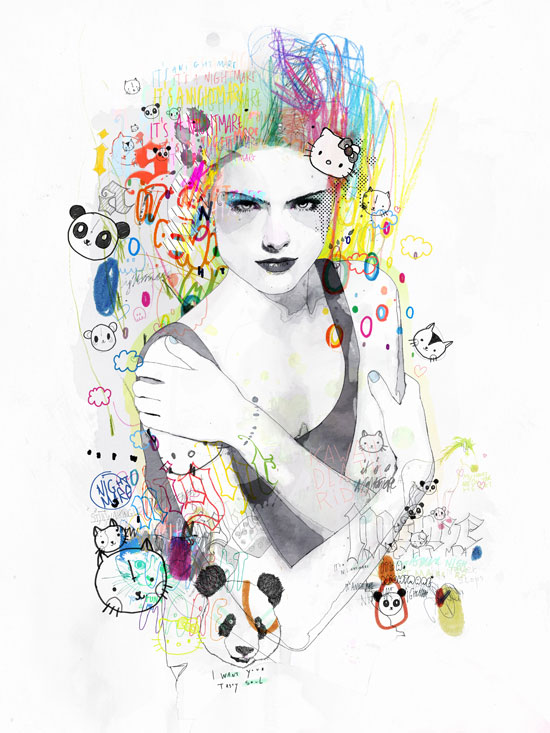 1) First of all I would like to thank you for doing this interview, it's an honor for us to present more about you to our readers. I would like to start asking you about when your interest for illustration and art?
Yes no problem, thank you for asking me to do this.
I always wanted to do something creative but I wasn't sure about what to do really. I discovered quite late in life that you could create art with a computer and I started to get interested in this. I worked my way up but I had to build some personal visual references and world and understand how to make an image.
The ability to express myself in this field has been a blessing even though it is not necessarily easy.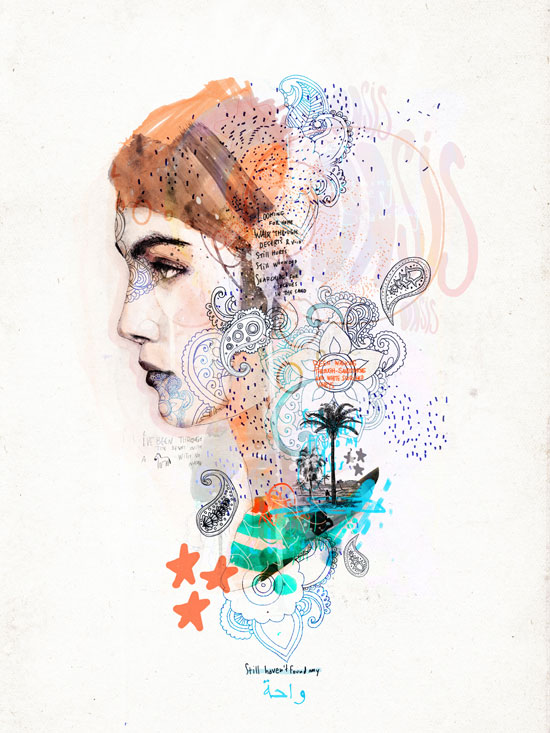 2) Which artists do you use as reference?
A lot. It is more often a loose inspiration than not.
From Banksy, Chloe Early, Bouguereau, Klimt, Stina Persson, Daniel Egnéus, Illustrators from the sixties and so on. It's all on my tumblr...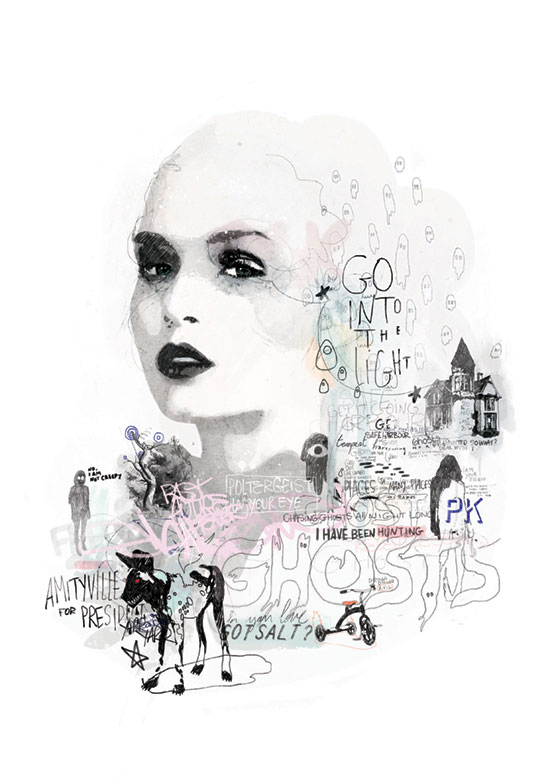 3) Your style is quite influenced by fashion design and paintings. How did you develop this style and how would you describe it?
I think it is still an ongoing process, I think at first I was looking for a way to connect my different interests in art, fashion, collages & graphic design.
As I just work in digital I found a way to combine all of this but I don't pretend to have developped an unique style.
As there is no chance I can become a fashion designer or a painter I think it allows me to do it in a rough DYI way.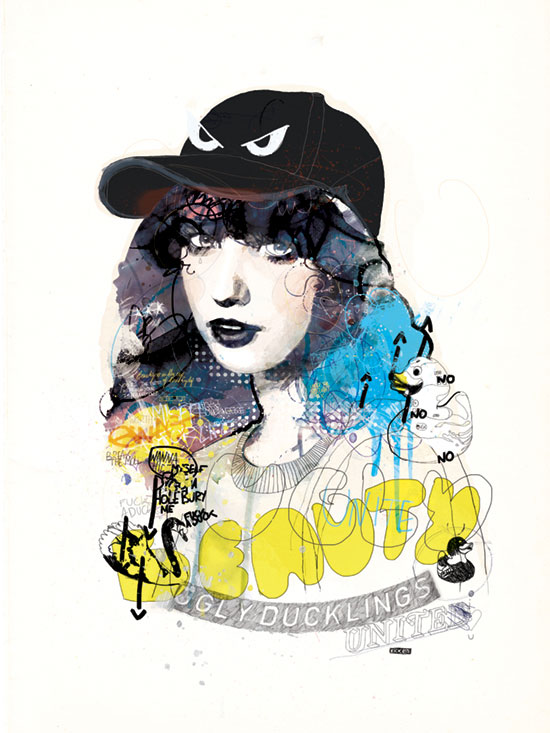 4) Describe us a bit about your creative process while creating a piece
Sometimes I have an idea that I think I will be able to realize and I start working on it before it goes away. It happens that I just start something for the sake of doing something and I manage to take it to the end.
I mainly use Photoshop, draw stuff in there with brushes I made myself, then I start adding up textures that I scanned and created with watercolours, markers, paints and so on. I've got hundreds of them so I can pick and mix what fits the mood of the piece I am working on. It's quite an unconscious process with trials and errors. Usually my errors are way better than if I try to force it a certain way so I try to accept this as part of my process.
I am building up the image bits by bits, going back and forth, adding elements, typography and so on. I trash a lot of unfinished pieces though but I suppose they help me to get to the next finished one.
I don't have control over the whole process although I am trying to keep some focus in mind to finish it.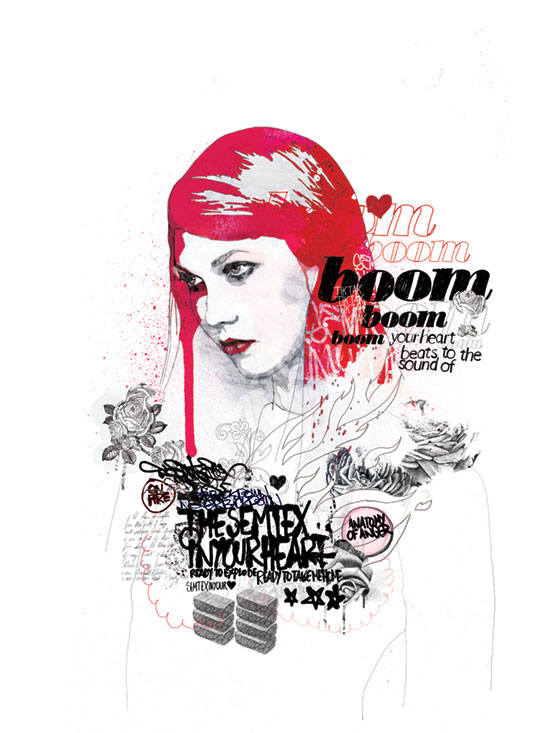 5)What's the best thing about working with illustration and what is the worst?
From my point of view it is a creative job so nothing can beat that, the ability to share what I do with people around the world is really great.
The worst is that I sometimes spend too much time in front of a computer.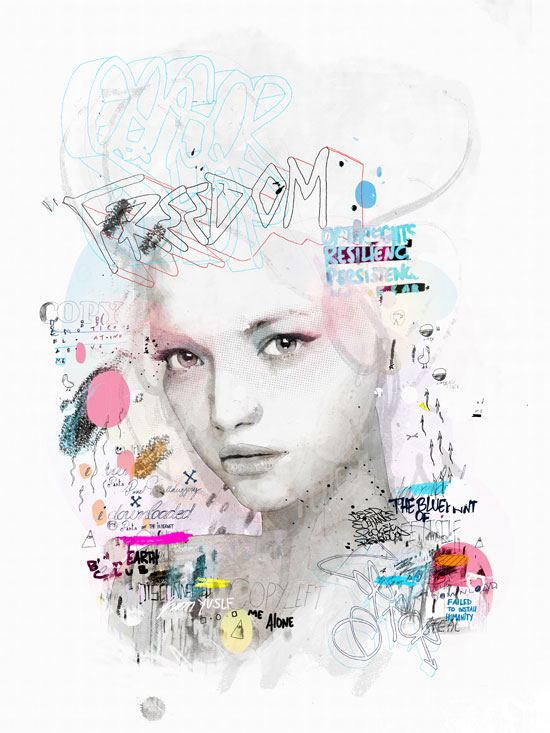 6) How do you describe your daily routine? Do you have nay hobbies?
Not very exciting, I wake up early drive my wife to work & child to school then I come home and start working. I live a dull life, the only way to be productive. I am not always very creative, sometimes I just hit a wall and it's the hardest part to get through, struggling for the inspiration to come back in every possible way by reading something, listening to music & looking for inspiring art on the web.
I am dabbling a bit into music as a hobby but I am really bad at it, I have no rythm but I keep doing it anyway, I am really into dark minimal wave music and 80's stuff. I am always interested in how people can make great stuff with very few skills and just a desire to express themselves even if it's awkward.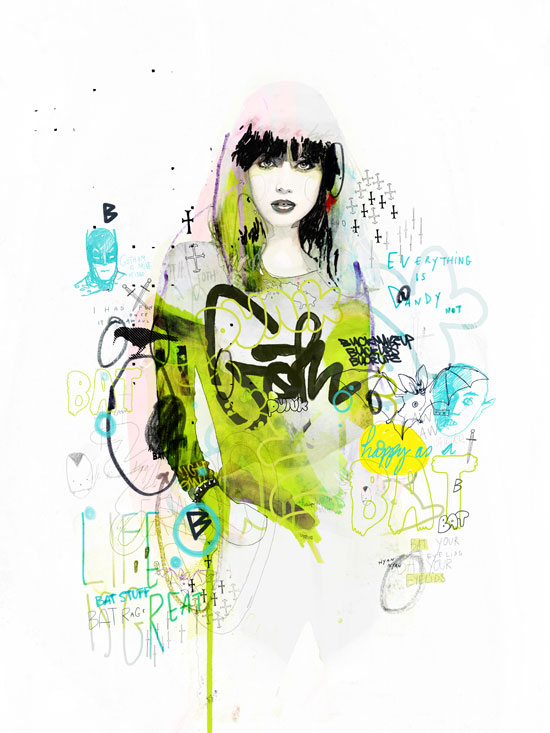 7) You're a multimedia artist, but talking about techniques, what is your favorite so far?
I am not sure I have a favorite technique so far, it's just the way I work, adding bits and pieces from different techniques and hope that I find interesting connections between them. I do like to create textures myself though, just enjoying the childish pleasure of slapping paint all over a sheet of paper.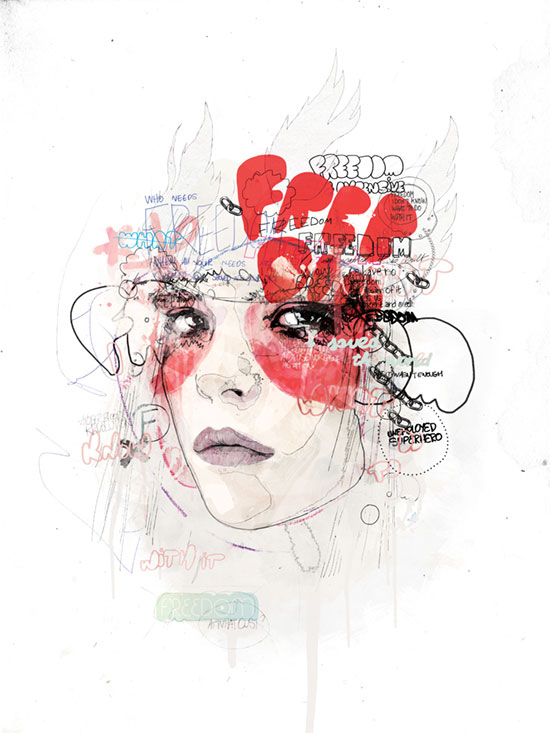 8) Tell us five lessons you believe are really important for every illustrator.
1 - Keep doing what you do best but fail a lot by doing something else
2 - Put your works online
3 - Don't bother comparing yourself with everybody else
4 - Look for inspiration everywhere ( books, nature, music, cities, yourself...)
5 - Don't think that being recognized as an illustrator will solve all your problems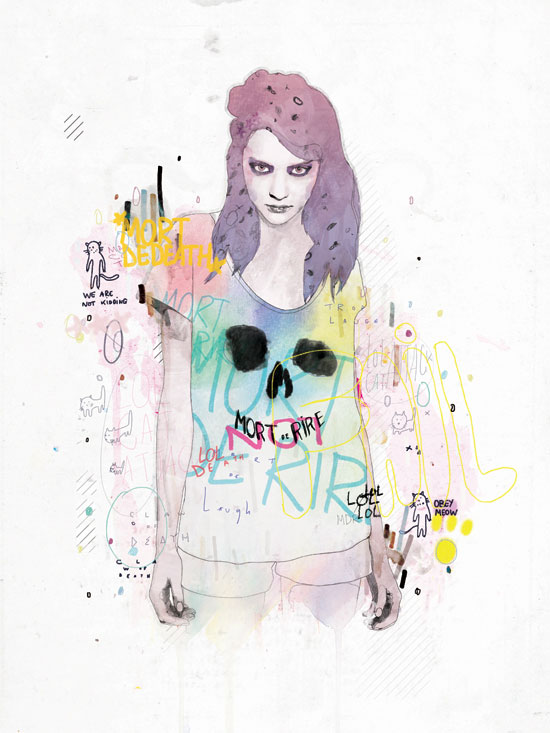 9) Tell us five websites that you like to visit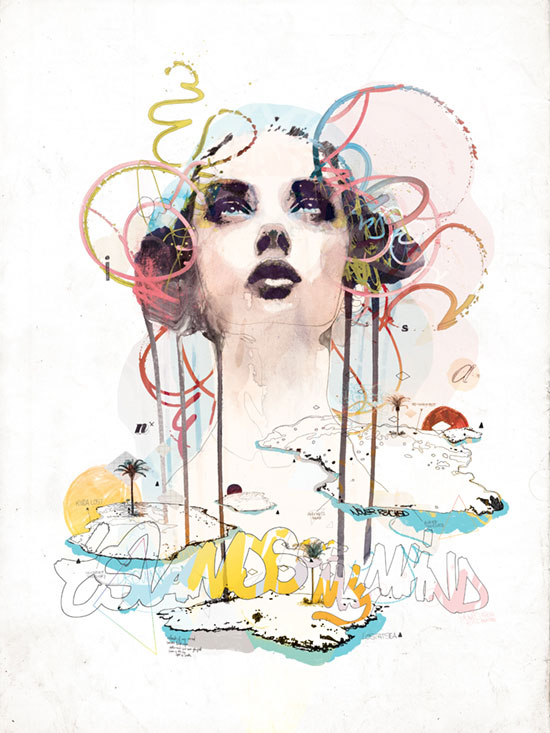 10) Thanks again for your time, please leave a final message for the ones who are starting out on this kind of business.
Just do your own thing, you never know where it might lead you.