Today we have a special guest here at Abduzeedo, I'm proud to present this interview with Sheena Aw, also known as her illustrator alias Caramelaw. She told us more about her story, her creative process and other cool topics. Check it out.
You can see more of Caramelaw's work at her Website.
1) First of all I would like to thank you for doing this interview, it's an honor for us to present more about you to our readers. I would like to start asking you about when your interest for illustration and motion graphics began?
Hello and thank you very much for having me. :)
Well, I was always a dreamer when I was young. Sketching on any possible surface I could. I love animations and cartoons, and was very fascinated by them from a very young age. I often wonder how do people make cartoons and how to make an illustration move. I wanna do that when I grow up!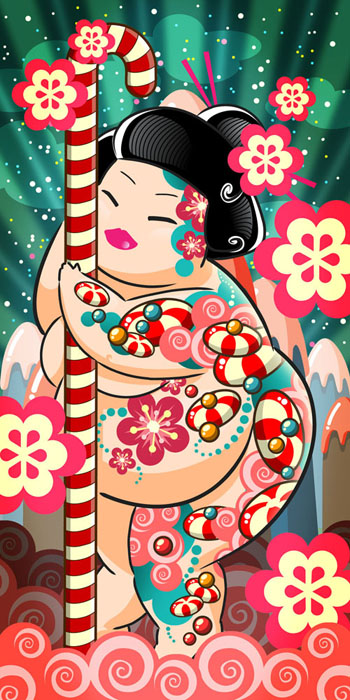 2) Which artists do you use for reference?
Takashi Murakami, Tokidoki, Tado, Pete Fowler, Friends with You, Camilla D'Errico, Mark Ryden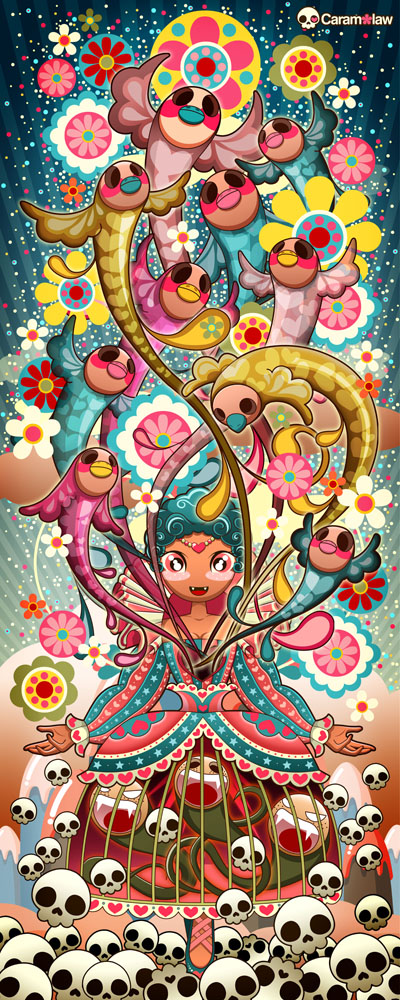 3) Your style is extremely happy, colorful and childish in some way and I must say you got some quite distinguishable characters and use of color. How did you develop this style and how would you describe it?
I was doing a lot of random stuff at first. Manga, cartoons, graphic design etc... Honestly, I knew I love art and illustration but I've got no idea what I was looking for. It's quite frustrating at first, trying out all sorts of techniques and looking at different forms of art but nothing hit me. Until one fine day, I decided to play with colours and candy, since these are the 2 most elements I am attracted to. I made the 1st piece of candy at titled "My World of Madness". It felt right, the candy colours, the whimsical characters, the flying butt, rainbows and everything I could possibly want in an art piece. That was when I knew I have found the Caramelaw style. It took me a good 5 years but I'm glad I did eventually. It had to start off somewhere, from this piece I developed my style further and became the candy-coated Caramelaw today.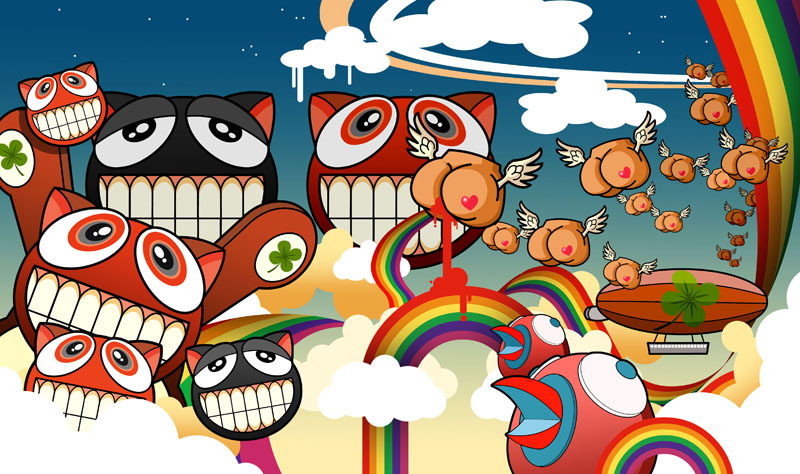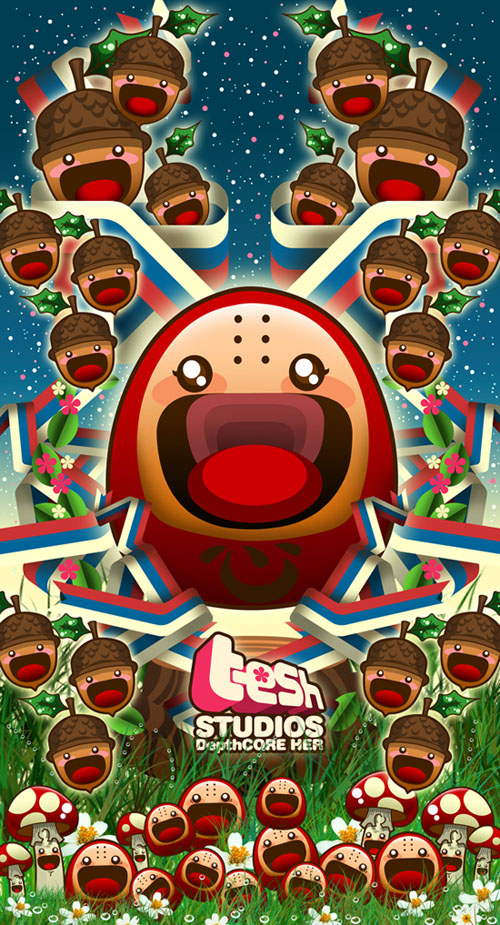 4) Describe us a bit about your creative process while creating a piece.
It starts with my handy sketchbook, a bit of a walk, see something I like and doodle it down. After which I'll bring the goodies back to the studio and do a sketch based on what inspired me that day. I like using blue pencils for sketches. After that, I'll scan the sketch into the computer and start tracing it in Flash, export out each individual element to do further com-positing in Photoshop. That's where all the magic happens. Where my individual-layered characters make friends with gradients, colours and effects. Its lots of fun, its like piecing a puzzle together.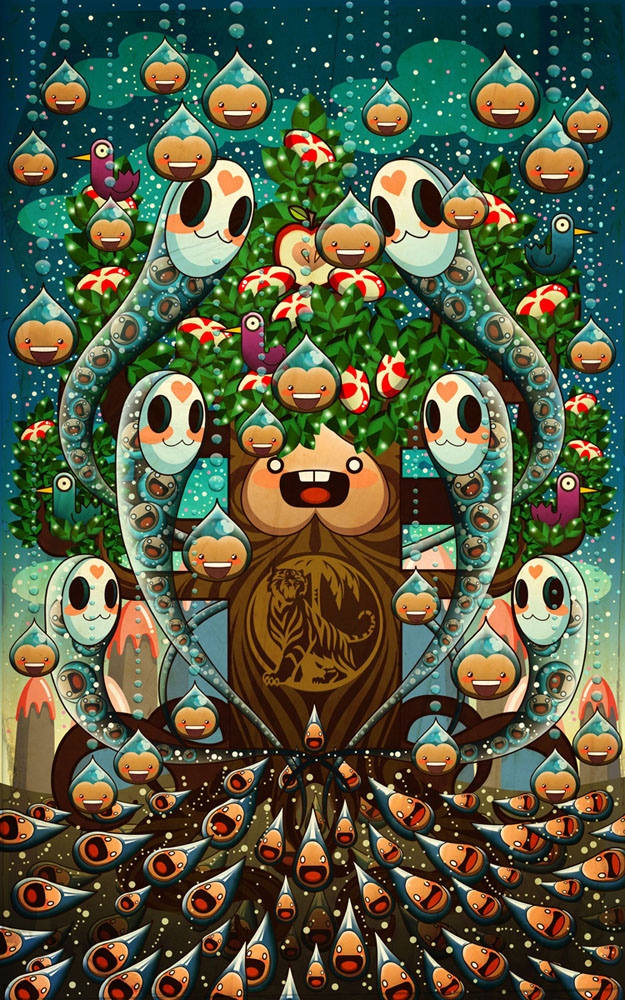 5)You've been working not only with illustration, but also with toy design. How is your relationship with this kind of media?
I'm a toy fanatic. Vinyls, dolls and vintage My Little Ponies. Since my art is a little bit child-like, what's better than linking my art to toys? I think its great to work on a different media once in awhile. Its like painting on a different canvas and the results are pretty satisfying, to see your art on a 3D object, rather than just on the computer screen. Toys inspire me and my art too. I see a toy, be it colours or just something interesting about it, I'll gather infomation from there and make it into a piece of candy art. So it works both ways and I think its brilliant.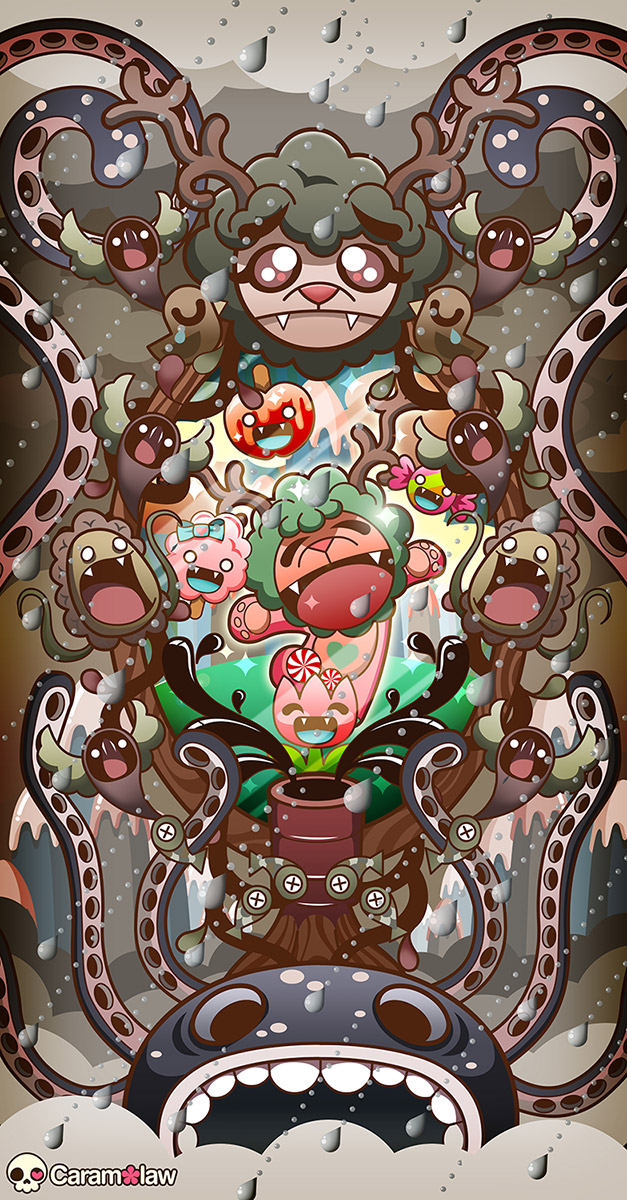 6) How do you describe your daily routine?
Alarm rings. Presses snooze. Alarm rings again. Presses snooze again. (I can go on forever, let's just skip to the main part) I go to work in the day as a video editor/motion graphic artist. After work hours, its Caramelaw time! I'll head back home and work on my candy-art or custom dolls/toys. I feel like I'm leading a double life but it keeps me sane.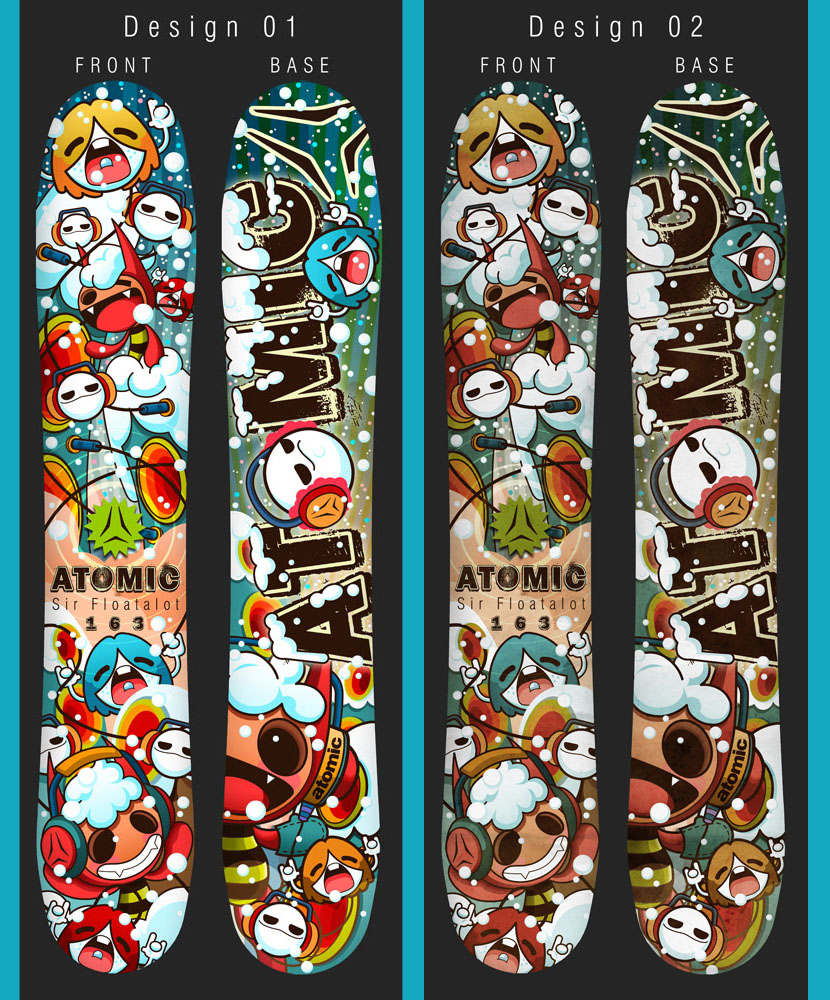 7) Which is your favorite piece so far?
My favourite piece would be "Trees in Heaven". I'm a nature lover, I believe in mother nature and my art usually reflects on that. "Trees in Heaven" was made to show that humans are just taking everything on earth for granted. Whenever I see reports on forest fire, deforestation, it angers me. For what they had provided us with no complains. They should go to heaven. Where birds and squirrels and other magical creatures would provide its every need.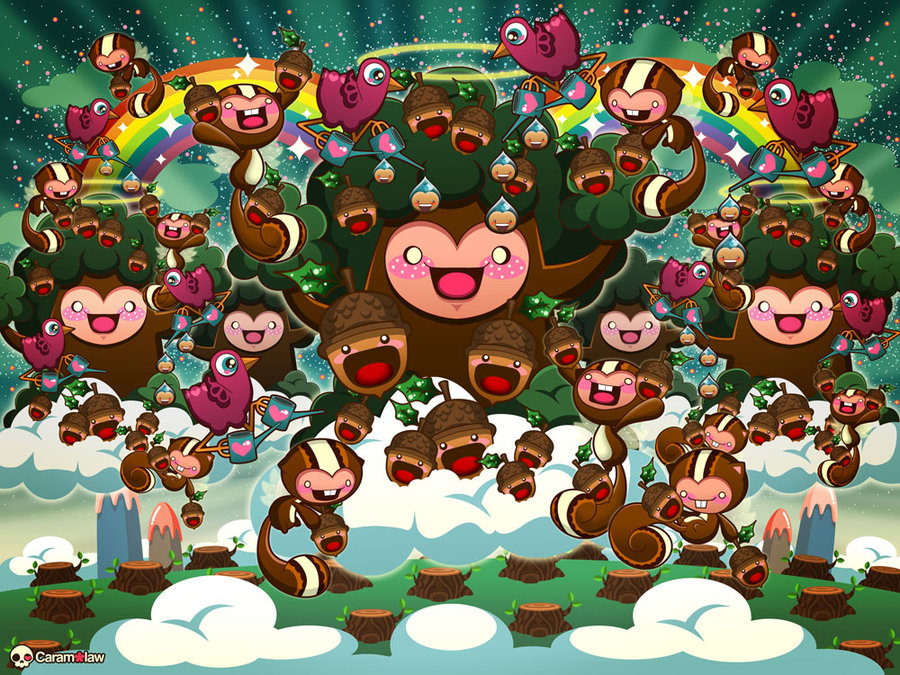 Trees in Heaven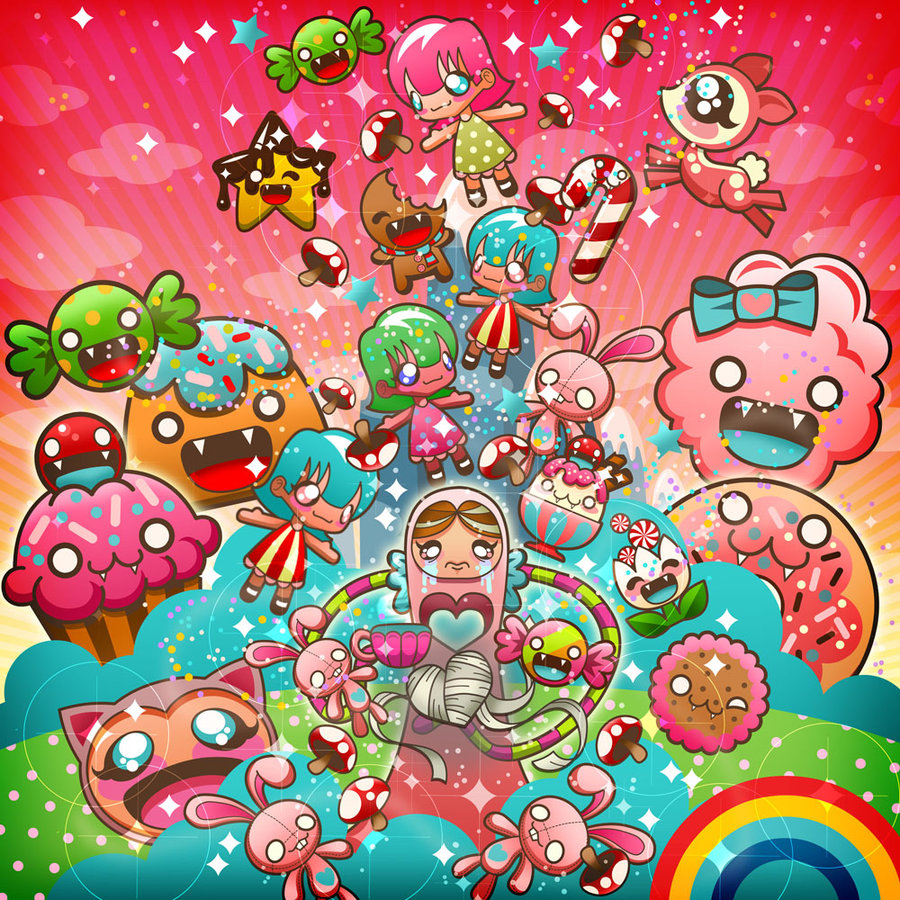 8) Tell us five lessons you believe are really important for every illustrator.
Be humble - be nice to everyone, regardless of whom. It only reflects yourself as a person and an artist. Be open to ideas - share, learn and open up. Meet new people. Talk. Work on collaborations. Its through experiences like these that you learn more. Travel - See the world. Its so big and its so beautiful. Everything and anything can inspire. Its just how you look at it. Keep trying new things - I know it can be frustrating when you just can't find the style you were looking for. But it takes time. Some earlier, some later. I took 5 years though. But through these 5 years I didn't stop exploring and looking at new mediums. Its fun and you learn lots.
Honestly, I think I only had 4 lessons. :p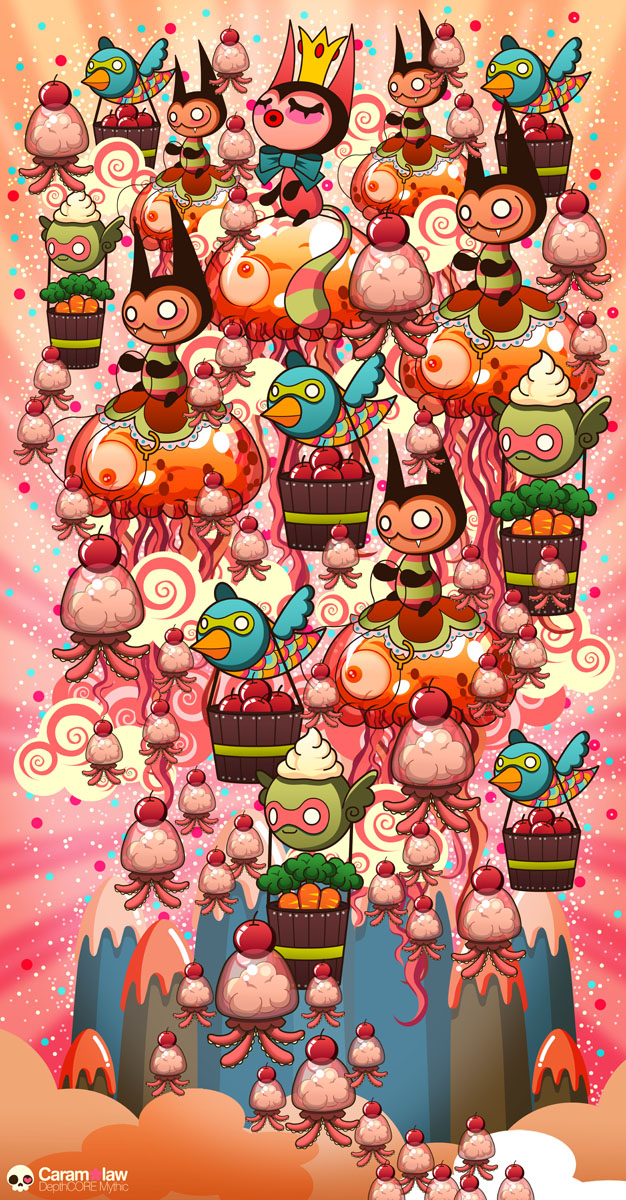 9) Tell us some websites that you like to visit
www.flickr.com/ (don't be surprised, you can actually find lots of good art stuff here!).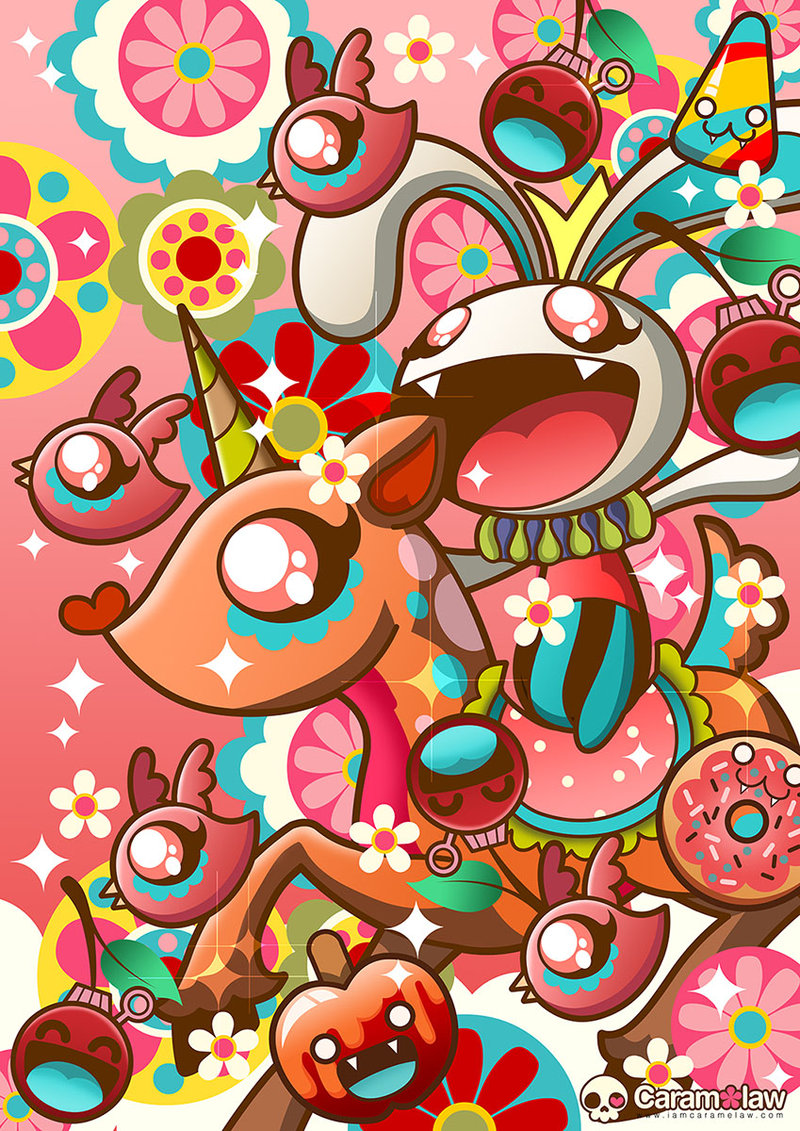 10) Thanks again for your time, please leave a final message for the ones who are starting out on this kind of business.
Never give up. :)