Archan Nair is a really kind person and one of the top notch digital artists nowadays. This is actually our second interview with him, as we always like to know more and more about him and all his knowledge thru this years working on the creative field. Hope this conversation will be useful and enjoyable for you guys.
If you want to know more about Archan, please acess his Website.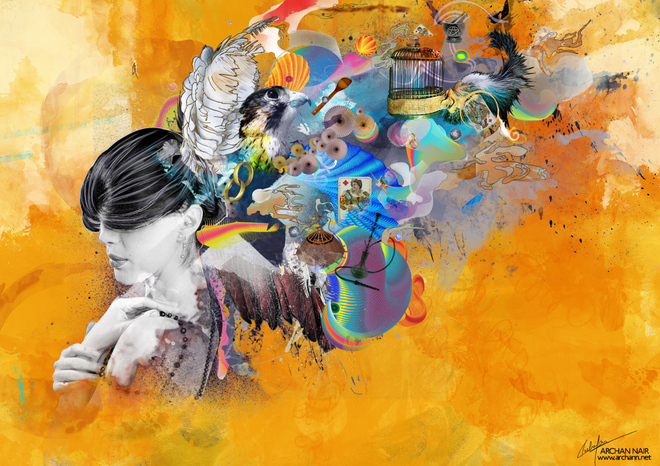 1) First of all I would like to thank you for doing this interview, it's an honor for us to present more about you to our readers. I would like to start asking you about when your interest for digital art and illustration began.
Thank you so much for having me again on abduzeedo and making me a part of this ever growing creative spirit here.The honor is mine .. and I am really glad to be back after a few years and sharing my journey with all the beautiful creators and co-creators.
I began working in the fashion industry around 2002, when I joined my family's apparel manufacturing company with absolutely no formal training. Around Mid 2006 I started dabbling with a bit of photoshop, and was basically having fun everyday.. earlier days it seemed really fun and joy to create, but as I was exploring more, I started becoming really serious with creating and expressing myself through the digital medium. In about a year, I finally decided to pursue my love , to do what I really enjoy from the deepest corner of my heart, and to start my own studio where I could create all the time. It has been an incredible trip since then.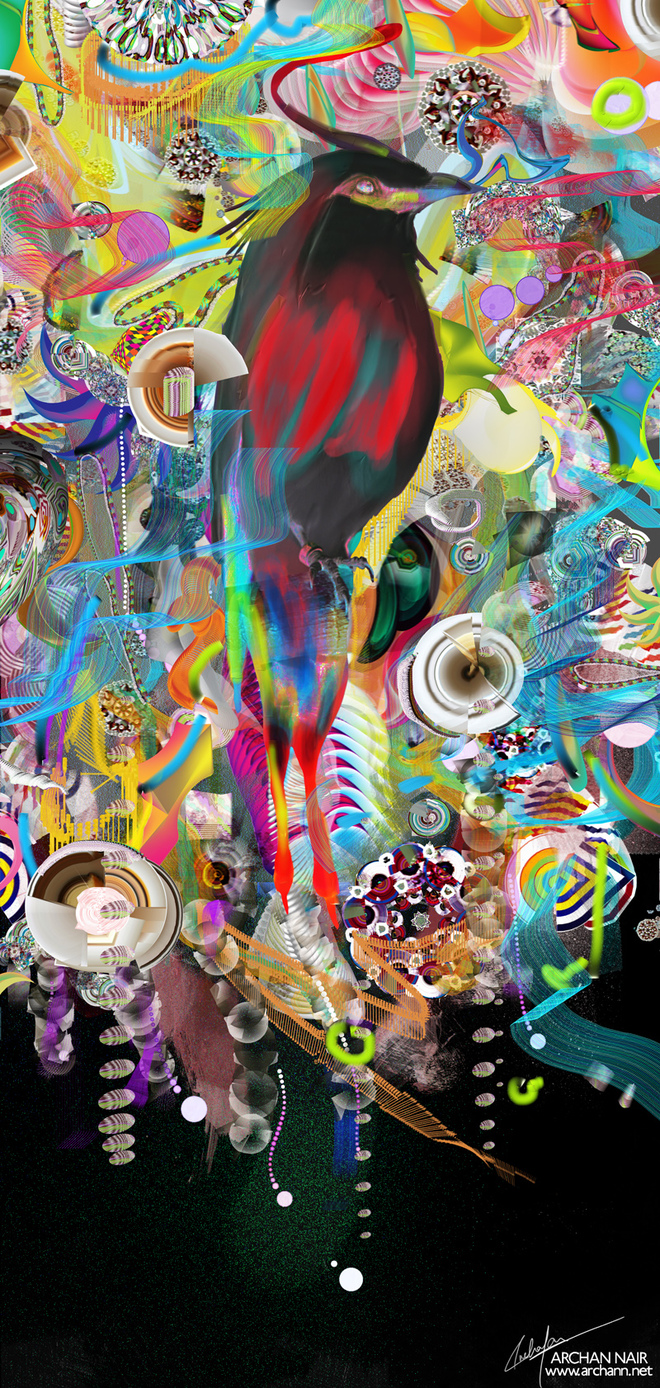 2) Which artists do you use for reference?
I admire a lot of artists, but usually in other fields of art like music or sculpture. I love a lot of visual artists also , but I never use any as reference. I really love artists or creators who are truly original in their style and just do what they love doing. and it really shows in their work.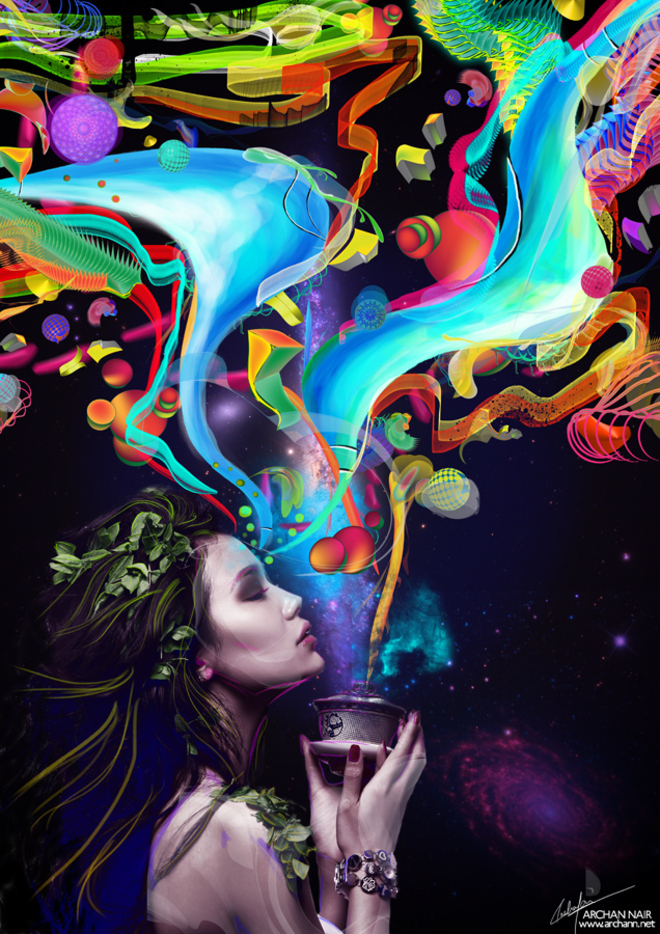 3) People recognize you for doing some really intense and colorful mixed media art, a aesthetic that influenced a lot of designers and art directors on the last 5 years. How did you develop this style and how would you describe it?
I feel that the colours come so naturally to me, and that our culture has a major influence in the way I use my vivid compositions. It is definitely not a conscious effort, but it seems to be embedded deep within me.My inspirations comes from everything around me, life as usual. Conversations, music, movies, realizations, anything which could really inspire me at a particular moment would motivate me to express myself through that channel , and while expressing them on a manasic plane I translate them through vibrant love.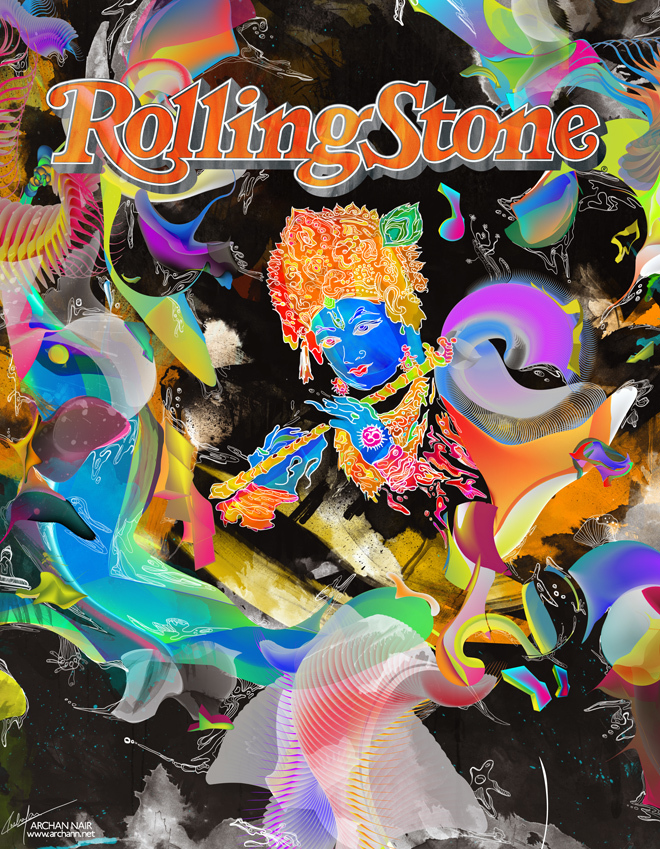 4) Describe us a bit of your creative process.
I love experimenting. and I get bored very easily .. so I always need new ways to innovate and create. When I am creating my subconscious always reminds me of how much more can I explore.. I usually would start an artwork by beginning with water colours to create a base, and then paint digitally. Print the artwork on a canvas and use acrylic paints, pens and markers for line art drawings, 3D objects or even scraps , and experiment with traditional and digital medias on and off the entire process , even images or anything which I would connect with during the creation of the artwork, until I feel I am ready.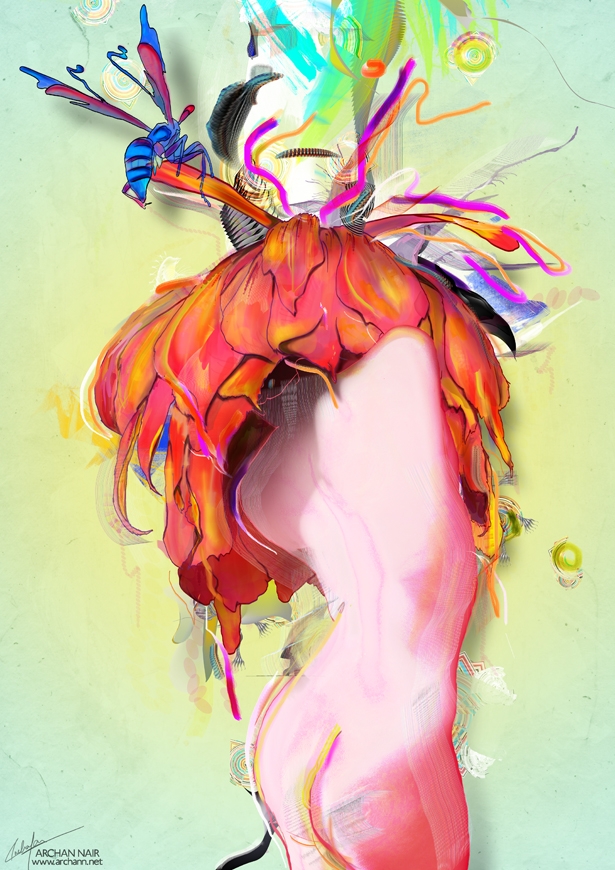 5)You latest artworks seem to have a great influence of traditional illustration, more specific from watercolors and some abstract paintings. Do you use to mix this medias? What you think about mastering traditional methods?
Oh yes absolutely. I love working with different medias. As I have progressed in this journey over the last few years, I have started loving different mediums of expressing myself and trying to merge them into 1 composition, that is really exciting me now. I am not sure about mastering, as I feel no one can master anything, as every process is infinite and never-ending, so even those we term as masters are still learning and doing new things too.
I feel that no matter which media we create on, we should just love creating , irrespective of the media.. and if someone is inclined towards a particular genre, he or she should try it out.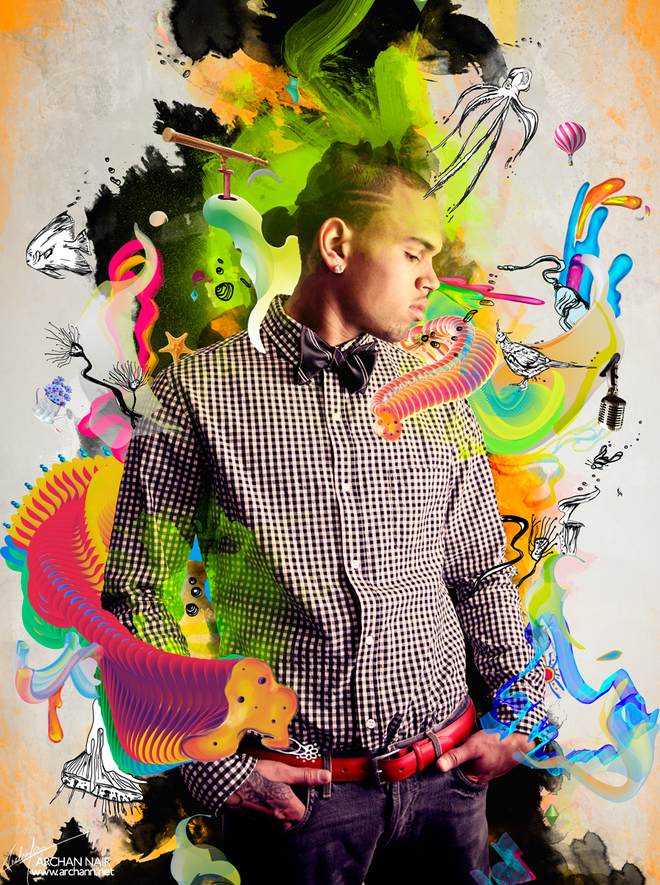 6) How do you describe your daily routine?
Sure. Well, I have no timetable as I don't follow time anymore, so I am creating all the time. I wake up early mornings usually and create , Love tingling my senses with great food. love dining out, watching movies with the family and friends. Love exploring sound and creating music, trying to spin both the sound and visual energies with each other now and absolutely loving it.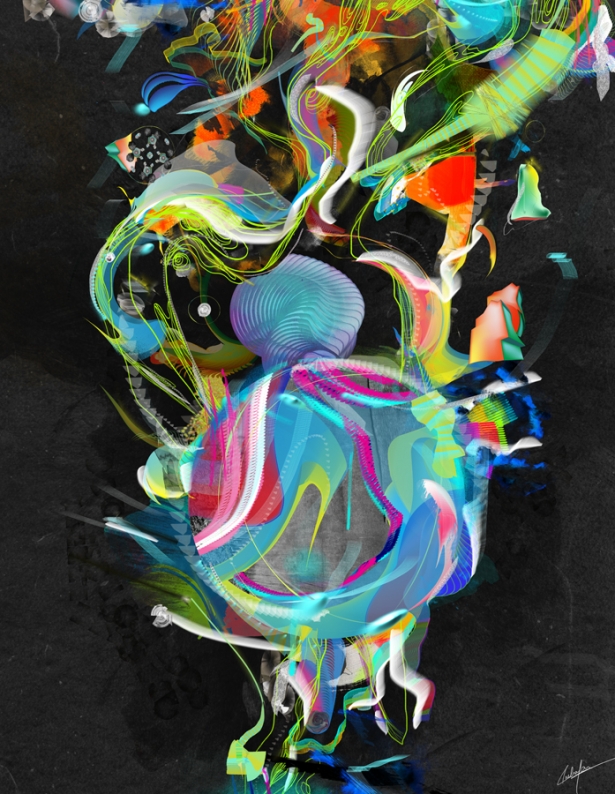 7) Which is your favorite piece so far?
I feel all my works are a true part of my being, my energy and all are my true expressions.. so selecting a piece or a few pieces is really very difficult, as they all have contributed to really connect me with my true self, and still help me grow and find answers everyday. Every one of them are my babies and really really special. I love them all!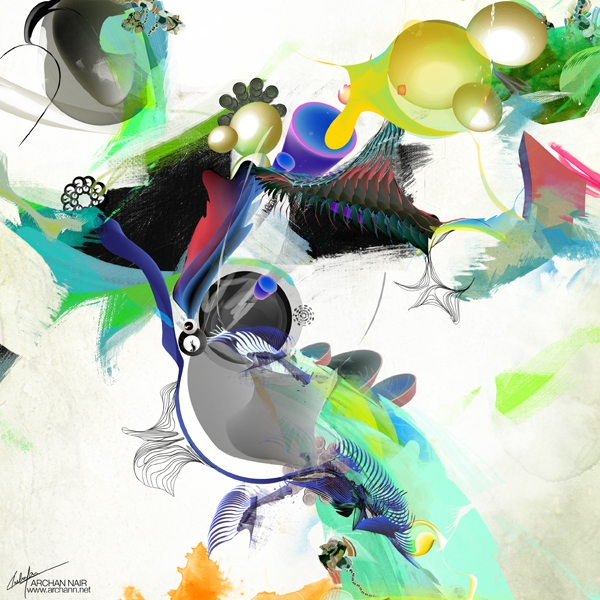 8) Tell us five lessons you believe are really important
- I feel its important to really seek , admire and manifest your own reality. If you love doing something, you must do it without fear and go all out and do it all the time
- Contribute to the planet, by sharing and loving every living element , everything around you, because of which you are in such a beautiful space.
- Be original and do your own style, as that will make you unique and that is how you will find your true calling
- Working on your skills or technique is important, but not everything! Try to pour more love into your work than just focus on the skill part.
- Realizing how gifted we all our in our own special way and really using those gifts in society.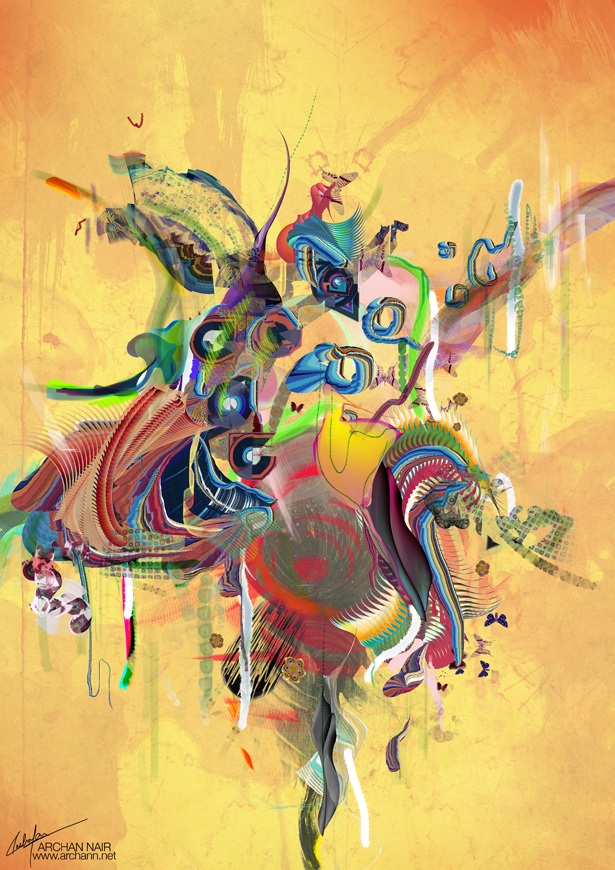 9) Tell us sites that you like to visit
These days I like going into tumblr, I love 1x.com, and I am a tech freak, love customizing my phone so xda developers as well :)
10) Thanks again for your time, please leave a final message for the ones who are starting out on this kind of business.
I feel that success is never about money or fame. Success is about finding your true creative spirit, knowing your gift and sharing your vibration in its purest form with the cosmos. Would love to just share, and say.. be original, love what you create, imagination is the only knowledge and when we listen to our heart, we have access to that knowledge. Thank you so much! :)