Business card is something that represents you or your business when you not there so is very important to have at least a nice business card but these are definitely one of the most creative I have ever seen with great graphic design and crazy ideas for your inspiration.
This is a selection of a research I'm doing my self of really cool and unusual business cards and if you have a cool one or if you know some really nice ones share with us!
Raphael Essoo-Snowdon
The business card of a 3D Modeler/Animator. It couldn't be more creative than having a business card with a 3D design and you able to tear off part of it and pull out 3D glasses from inside and watch the card come alive, it's just wonderful.
Yoga One
This card is awesome, it couldn't be better for a yoga place, brilliant idea and great execution. It's so cool to see the card with the fingers.
"Get Stretchy"
Reactor
Reactor is a Design Agency that came up with a very cool idea for their business card, with cool different designs along with the photo of the two member of the agency, not only that but the photo pops out of the card it's crazy.
Black Napkin
This business card design for Mark Ramadan food blog Black Napkin is insane, created with 200mm thick stainless steel it comes along with a mini fork, knife, and spoon for the emergency times we always have.
Junge Schachtel
Really cool card that comes with a part to tear off like the one on boxes, and after you tear it off you able to see the info of the person. Their website also follow the same base.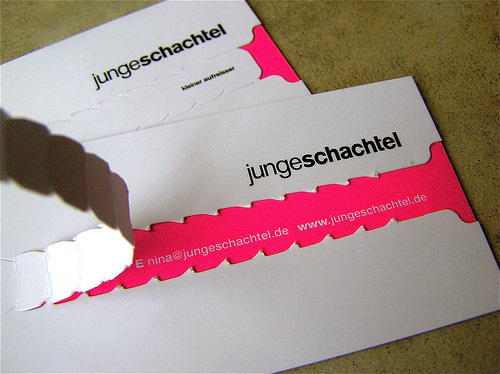 Viewzi
Very simple but still has a little something that stands out more than just a regular, and it's the transparency and the material it's made that makes the card a really cool concept for the online search engine viewzi.
BlackJack
A graphic design agency that made their business card look like a fresh piece of gun, it looks really cool.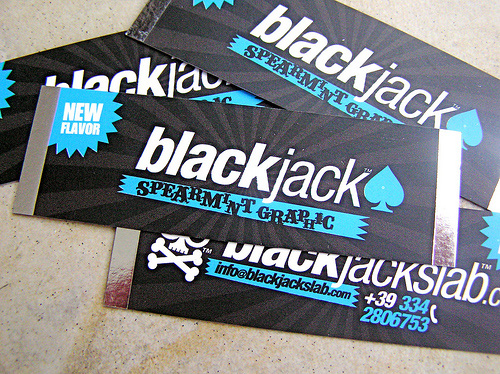 Emerson Taymor
With a 3D business cart that has himself poping out of the card this is definitely awesome,