As we approach the end of the year I always like to take some time to reflect. This year was an important one, not that the others weren't, but living in a new place, a new commute and various other changes on the personal level make this year stand out. I have been trying to manage all of that with Abduzeedo and have been thinking about what the future of Abduzeedo will look like including the new design. The B&O Play - Design for music project created by Robbert Schefman and Ronald Gijezen has a bunch of cool things that I think make for a cool project to be featured and certainly serves as an inspiration for me in my continued endeavor to evolve the site.
This project brings a lot of trends that are very common to the forefront. Horizontal sections with different colors and stunning imagery are just a couple to note. Some points of the layout really caught my attention, the mobile and tablet version feel refined and elegant. At the same time they are part of the system and play quite well with the desktop counterpart. The grid seems to work at that size, but this is something that really bothers me about this type of project, you cannot see how it looks at higher resolutions where there's much more real estate available. That said, the 2 columns with gorgeous imagery always work, especially with minimalist styles.
The design feels authentic and forceful with no tweaks or over-emphasised elements. The design profile is minimalistic and sleek, intended to both complement and enhance the B&O products
Heres a list of things that I quite like:
Imagery and typography: very elegant and refined.
Footer design
Grid system
Tablet and mobile view look great, at least the 2 images shown
Things I am not quite sure:
Design does't look as flexible, especially with big screens.
The horizontal sections seem a bit overkill. Too much change of colors creating a stripe effect.
Some design lack a bit of contrast between imagery and light typography (I like the light typography though)
Anyways, this was just a little critique, something I will probably do more during next year to exercise my writing skills and further expression of my opinions.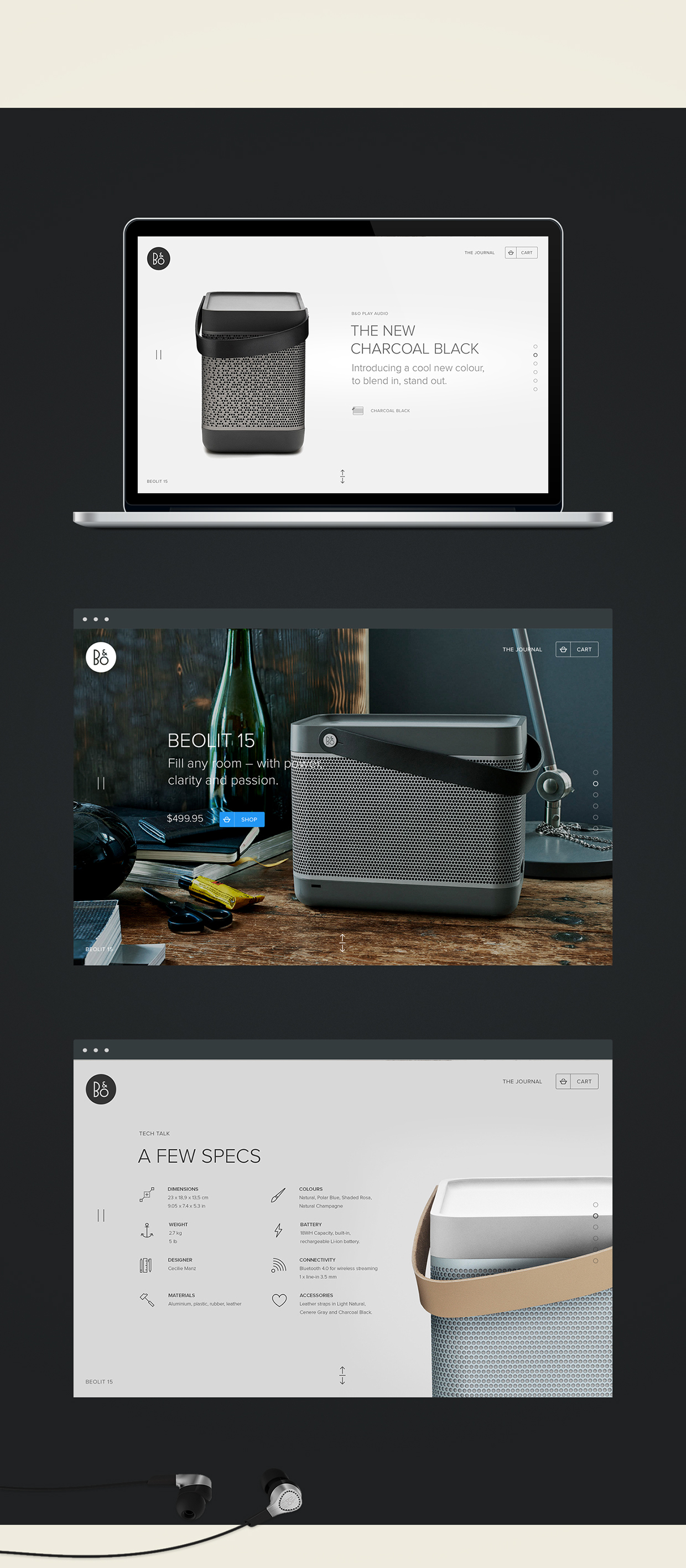 GYM | Get your model - User Experience animation from Ronald Gijezen on Vimeo.
For more information about Robbert Schefman check out http://www.exoape.com/ - and for more information about Ronald Gijezen check out http://www.exoape.com/. All images are reserved to these guys and their amazing work. Make sure to check out the work on Behance.