If you're updated with the digital art world you certainly already know the illustrator and designer Gabz, we featured his artworks several times on Abduzeedo. Today we're lucky and glad to receive this written interview with him, hope you guys enjoy it.
You can see more from Gabz on the following links: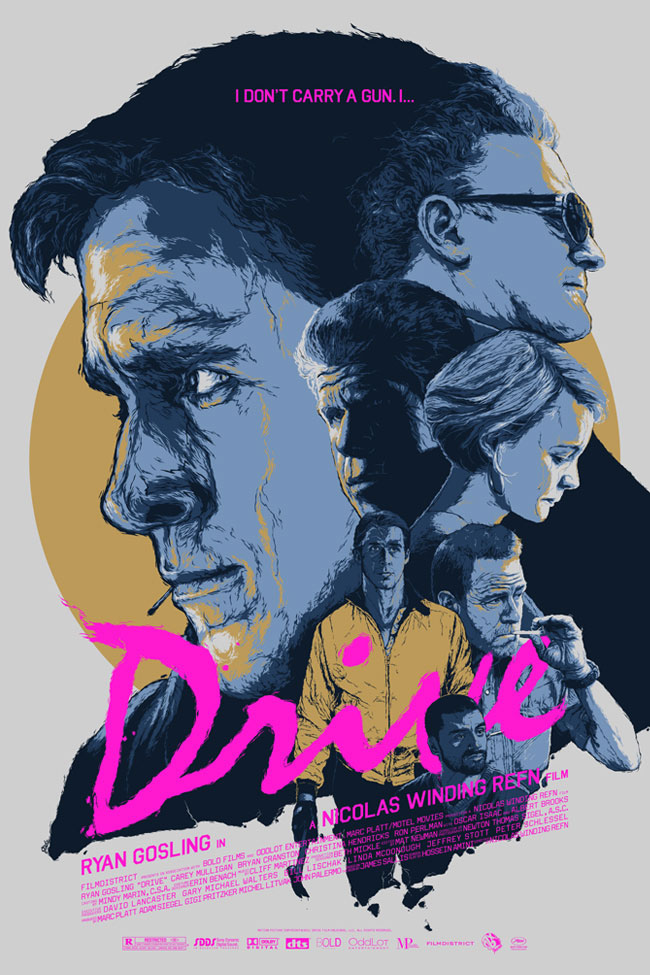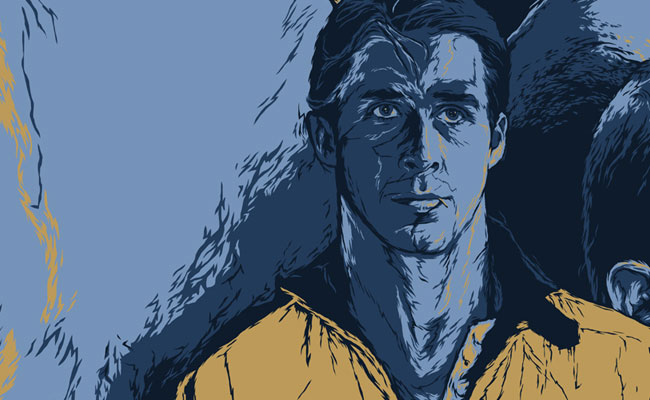 1) First of all I would like to thank you for doing this interview, it's an honor for us to present more about you to our readers. I would like to start asking you about when your interest for illustration and art started?
I'm the one who should thank for the interest in interviewing me. I'm that type of guy, or a geek if you prefer, that always was very much into drawing and basically everything image related, so it's hard to point out a particular moment when it all started... To make things easier, I can say that I started thinking about doing this for the rest of my life somewhere around the end of primary school.
I knew by then I had some unpolished talent and that it wouldn't be smart to waste it. I was very much into comics back then. Well I still am. Later in high school I discovered Renaissance and other all time masters and knew exactly what I wanted to do in future. Then came Academy of Fine Arts in my home town Poznan where I did my first steps in printing techniques such as dry point, linocut, serigraphy among others, and mediums like painting, sculpture, book illustration, poster and so on. I guess you can say "the rest is history":)
2) Which artists do you use as reference?
There is quite a number of artists, designers and finally design studios I follow. I believe one cannot really improve without looking up into people whose work you appreciate and admire. Getting more and more involved in poster print community, I have a huge respect for Martin Ansin's work among many other great artists (Tyler Stout, Jay Shaw and more). His style, compositions and approach to both detail and typography is highly inspiring. Other great illustrators I greatly enjoy are Jesse Auersalo, Von, Mario Hugo, MVM and Alex Trochut to name the few. They are all original in their own way, constantly producing great and inspiring stuff. Hats off to these guys!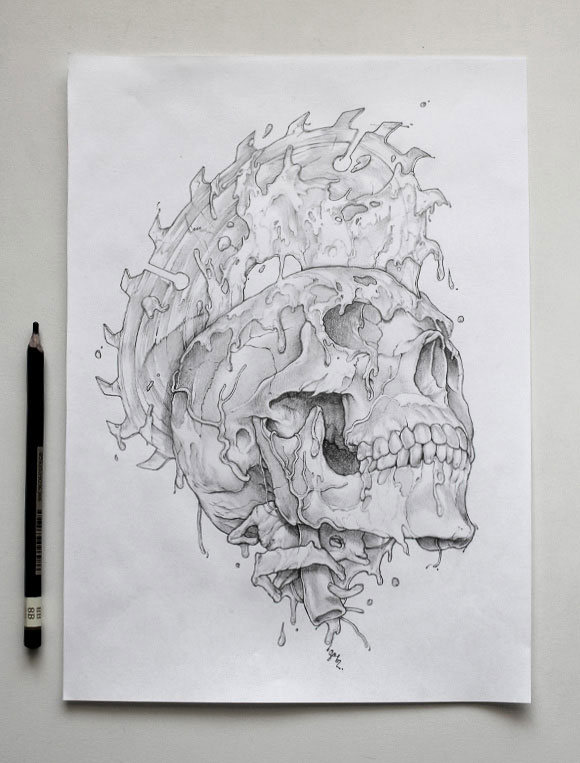 3) Your style is quite influenced by movie posters and realism. How did you develop this style and how would you describe it?
Indeed, I'm very much into realism and figuration in general. If you mean the style I use in the poster prints I produce: it all started with some experiments I did in Illustrator using Pencil Tool. I discovered that spontaneously created shapes over the reverence photograph found on the web, can give some really rich and original effects.
It was in 2008 when I created a personal project titled Vector Movie Posters, which was the first time I have officially used those vector based portraits while creating a series of posters for my favorite movies. Luckily, it got recognized and people seemed to like what I did there. Two years later a gave the project a second go, with the style being more polished and detailed, and the posters much more thought through.
Some time later I have quit using Illustrator and started using Lasso Tool in Photoshop instead, which made creating highly complexed artworks easier and more efficient. Recently I have been developing yet another adjustment to this style by applying dissolved gradients among some simplification to the main line work. I hope I'm moving the right way...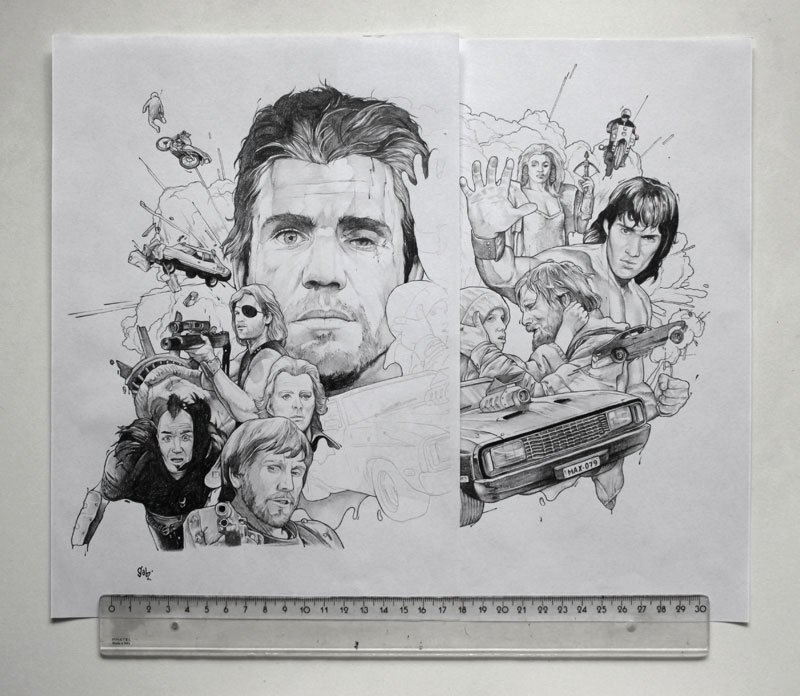 4) Describe us a bit about your creative process while creating a piece.
Collecting some reference pictures and ideas is always a good start. When it is a movie related artwork, I do browse search for images related to the particular title, including main characters and often huge number of screen grabs I find a possible perfect fit for the later artwork. It wouldn't be much though if I didn't make some rough sketches and initial concepts first. They are usually highly simplified and not really worth sharing I'm afraid. I then bring the process to Photoshop where I try to make the digital sketch as attractive and finished-looking as a sketch can be.
Only when I feel the sketch is looking sharp and original I send it to the client for approval and proceed with the finalization. The delivery process depends on the technique, while the pencil based artworks may seem time absorbing, in fact come to life in a week or so, those that are to be screen printed and need a color separation may take up to 3 weeks tops. Final typography treatment always come at the very end, and includes either browsing through the font library and picking a perfect fit or designing a custom font from the scratch. It's the hardest part of creating process for me and I often catch myself on regretting not having spend more time on that or doing stuff differently.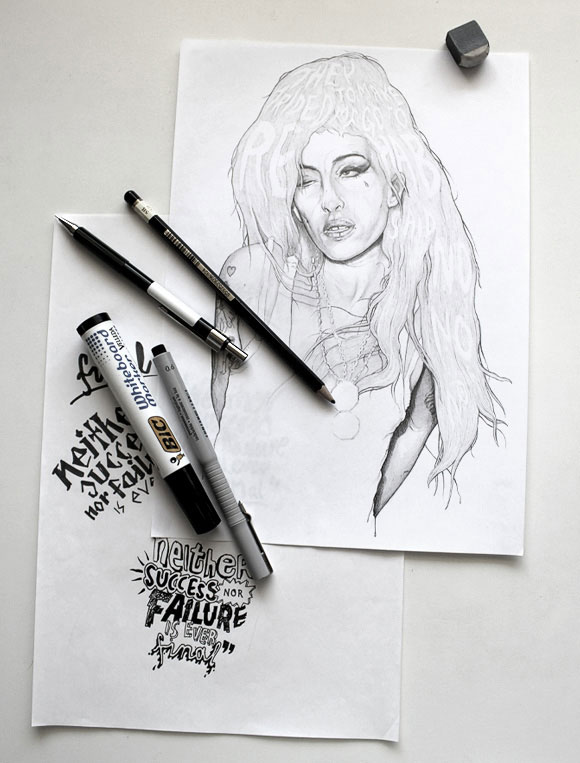 5)What's the best thing about working with illustration and what is the worst?
In illustration only the subject if commissioned and your imagination is the limit. There is nothing else between you an an empty sheet of paper or your screen canvas. You can stick to one or mix styles and mediums. Create abstract or realistic forms, or do both at a time. Create simple or complex compositions, by combining different elements and applying digital objects. Play with plenty of colors, or use a monochromatic palette. I mean what's here to hate?
6) How do you describe your daily routine? Do you have any hobbies?
My daily routine isn't anything special I suppose. I start off by browsing through sites that inspire me. Then I answer all emails and start the work, which includes either sketching or finalizing ongoing projects. With a lunch break in between I work up to 10 hours per day usually, though tight timeline commissions do happen every now and then. If necessary, I don't have any problems with working very long hours.
When the work is done, I try to spend as much time as possible with my wife or my family and friends. Cinema and basically movies are on my priority list, when it comes to what I enjoy doing in a free time. But I also find time for reading and occasional live concerts. Finally, I feel obliged to mention my slight gaming addiction: I highly enjoy playing first person shooter games on PS3.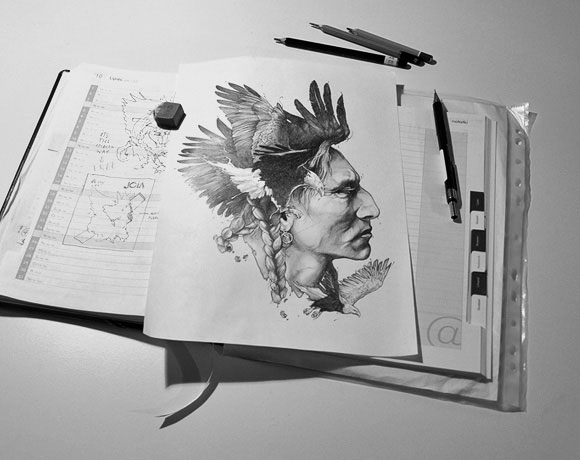 7) You're a multimedia artist, but talking about techniques, what is your favorite so far?
I do operate in various mediums ranging from pencil and acrylic paint for example to fully digital or vector based artworks. But I can easily name two styles that I find most enjoyable for me at this point. First one would be a mix of traditional pencil drawing with digital remastering, including coloring, filters, textures and all sort of other effects applied in Adobe Photoshop.My second favorite style is precisely described above.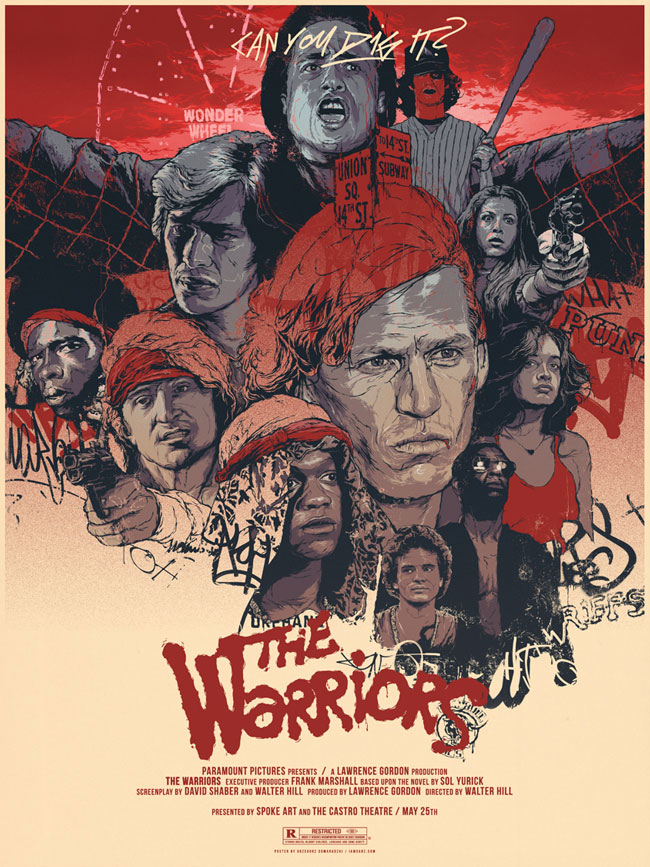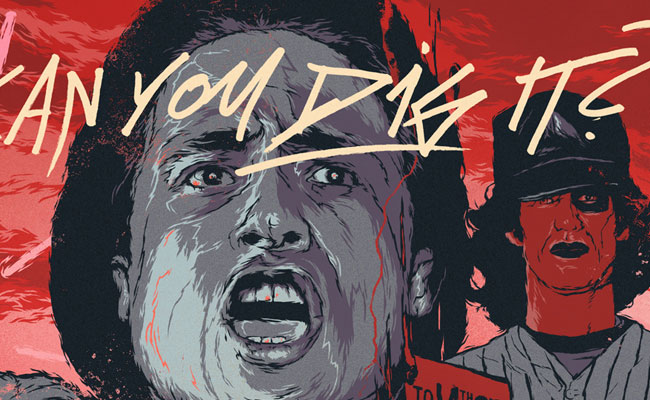 8) Tell us five lessons you believe are really important for every illustrator.
These tips are pretty similar for all creative fields and I know I'm not discovering anything new here. Here goes:
1 - Stay inspired! Follow other peoples work, experiment, learn and improve your skills wether in traditional or digital mediums you're using.
2 - Try working only on the projects that excite you and allow you to improve your skills and push forward. Your work will be just as good as how you feel about doing it.
3 - Don't try to be good at something... try to be the best! Instead of doing a lot of different things unremarkably, stick or find that one or those few that you rock in.
4 - Let the world see you - create a simple and user friendly online portfolio with selection of works that you find best - After all, you want your future clients to see only the works that you are truly proud of!
5 - Work hard. Cause hard work pays off. Period.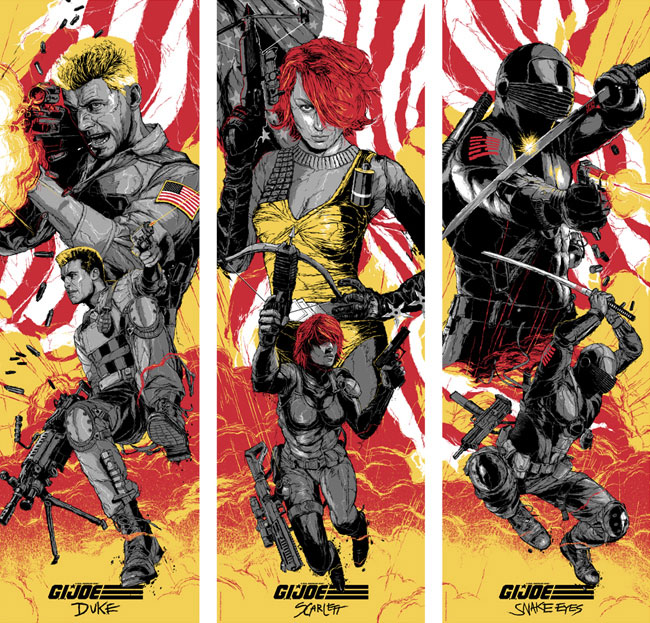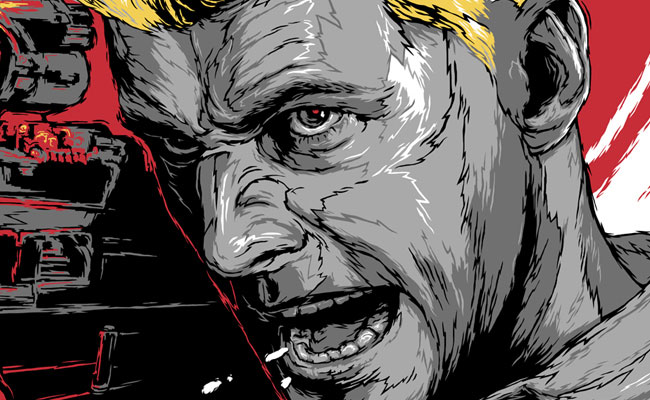 9) Tell us five websites that you like to visit
I visit plenty of sites daily, among those viewed randomly, there are at least a couple I visit everyday:
1 - Ffffound - Site with loads of new images added everyday is a huge inspirational boost.
2 - September Industry - Unfortunately this site is no longer updated as frequently as it was, but it still remains one of my all time favorite when it comes to graphic design inspiration sites! Brilliant selection of projects, studios and graphic designers all around with an easy to find sections on top of that.
3 - It's Nice That - Design blog, with interesting news from design/art community and often great selection of artists to follow.
4 - Expresso Beans - Though in my opinion this site isn't really an example of a strong web design, I still visit this one pretty often: Mainly, to keep up with the newest trends in the so called poster community and of course to know what other artists produce. I have been following some of them for a while now. All members are allowed to comment newest releases, so it's also pretty interesting to know the feedback form art collectors.
5 - Last but not least, one of my favorite agencies Hort. Ok, so I do not visit their site everyday, nor they need any more recognition, but I just love what these guys do and how they manage to combine creative freedom with client guidelines and expectations, and in the end, deliver brave, strong and awesomely executed stuff.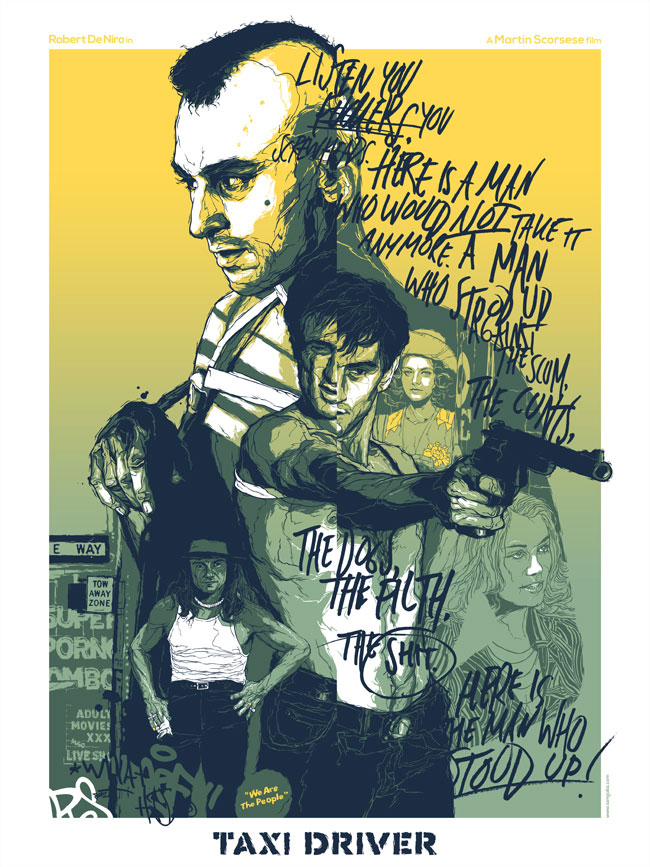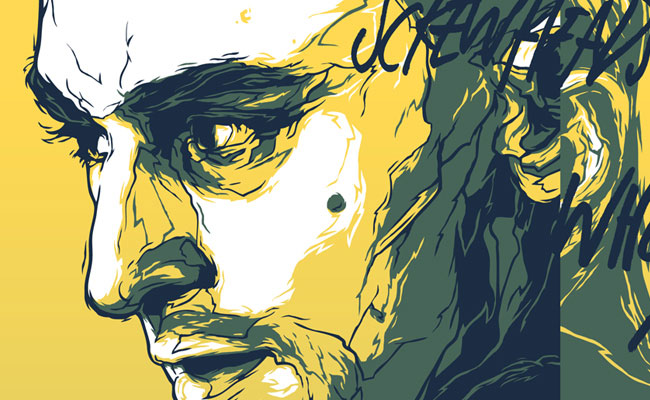 10) Thanks again for your time, please leave a final message for the ones who are starting out on this kind of business.
Summing up: Stay inspired, experiment, always improve, work hard, share your work and good luck!