We already feature the outstanding work of Sara Blake on our blog, we have been watching her evolution during all this years on becoming a great illustrator and today we had the pleasure to make this interview with her. Sara Blake is a designer and illustrator based in New York city, USA, she is also know as ZSO.
You can see more from Sara Blake on the following links: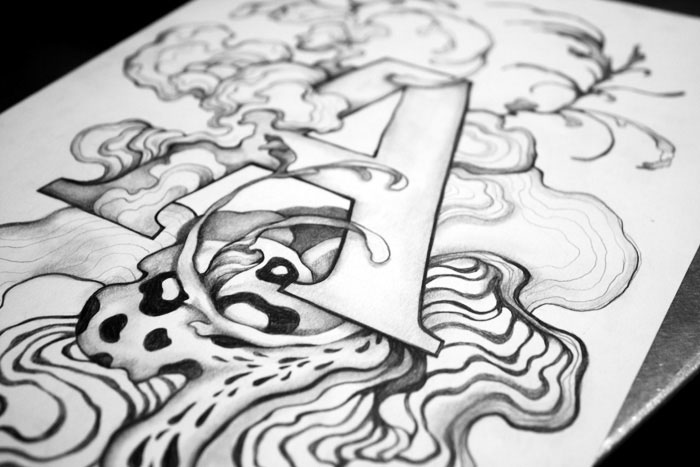 1) First of all I would like to thank you for doing this interview, it's an honor for us to present more about you to our readers. I would like to start asking you about when your interest for illustration and art?
Thanks YOU so much! The honor is all mine. I guess ever since I was a little kid art was my main interest. I was always into playing outside, and getting dirty, and I have always been a big introvert so I liked activities that I could quietly focus on alone. My parents always encouraged me in the arts I think for 2 reasons: they knew that I was already very shy, and I also had eye surgery for a problematic lazy eye. I was very near sighted, and self conscious, and wore an eye patch for about a year, which I think probably made it a little harder to make friends when I was little.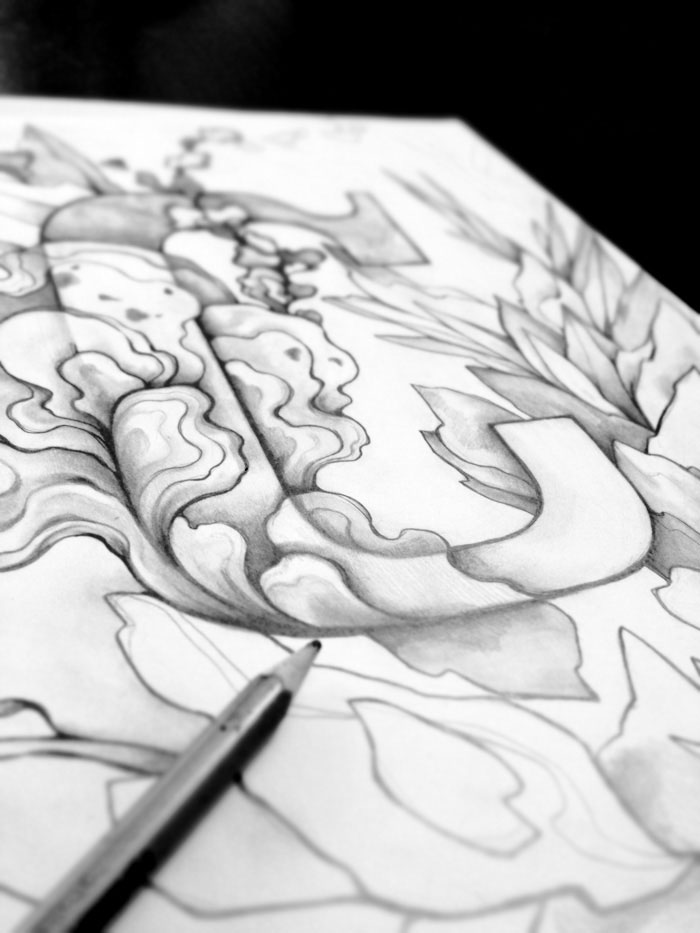 I always just liked making stuff, plain and simple. My parents always put focus on getting a good education, but never on an actual career, so I think I was able to find clarity in what I liked to do but not how to survive off of it. I had no idea how I would actually make a living doing illustration until pretty late in the game. It worked itself out later I guess.
2) Which artists do you use as reference?
Lots of old nature study illustrations from Ernst Haeckel and Alberta Seba, and I also love ukiyo-e artists like Hiroshige and Utamaro. I'm also pretty in love with minhwa Korean folk art. It's so playful and naive. The distortions and abstractions make my heart do somersaults.
3) Your style is quite influenced by watercolors and realism. How did you develop this style and how would you describe it?
It's always really fun for me to hear how others describe and see my work. For me, I actually don't feel like my art is very realistic at all, and I always really struggle when I get a brief asking for realistic representations. Over the the years I've gotten a lot of work doing portraiture where I have to capture a likeness, which is always a challenge. When I first started out I loved drawing girls as a subject matter, and one of the first portraits I ever did in what I consider my style now was of drawing of my sister.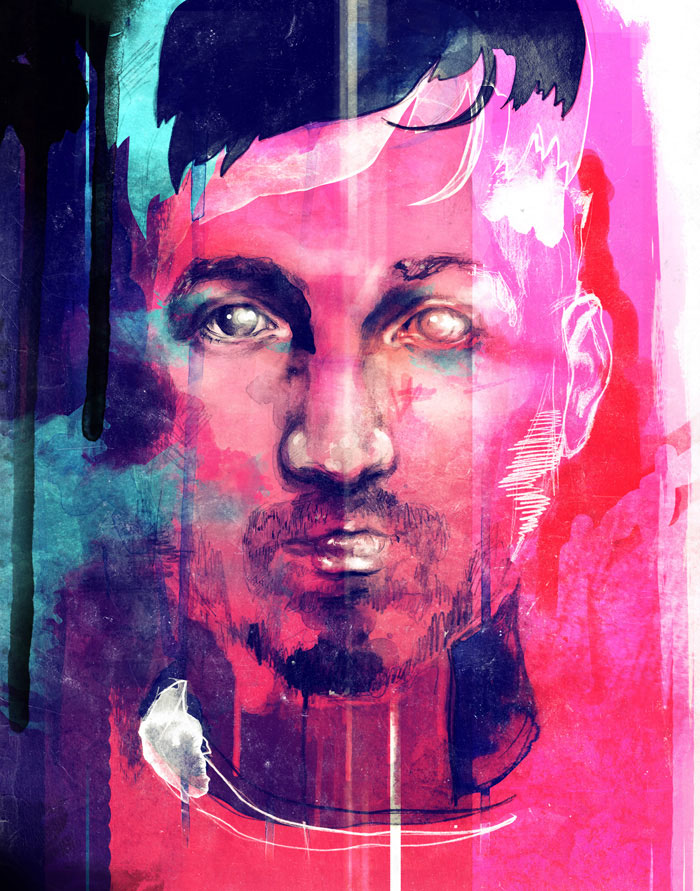 The likeness was close enough, but there was definitely an element of distortion—and the colors I choose are never realistic. The portraits I end up liking the most tend to be the most far from reality. I tend to pick a feature and really blow it out—for instance enlarging the eyes, tightening the mouth, or really abstracting the hair etc. In general I think my visual interests have become more about pattern, color, and texture, than subject matter. I've sort of realized this in the past few years by reflecting on my own personal art collection of other people's work. I have a lot of old folk art and abstract art.
4) Describe us a bit about your creative process while creating a piece.
I tend to start just with blank sheet of paper, a rough idea of subject matter, and some good music, and I work out composition as I go by drawing very lightly and erasing. I generally don't feel a lot of pressure to have something perfect worked out on paper because all my work I then scan and ultimately adjust and color digitally.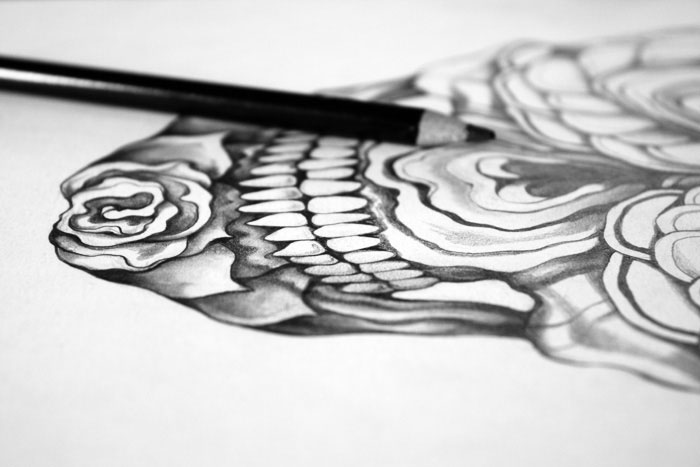 Here I can add a lot of depth and color that can help or rework things that may not have been successful as a pencil drawing alone. I like to document my process the whole way through as much as possible. Sometimes it helps to step away, then come back to look at your steps to tell you if you've gone too far and perhaps need to back up and simplify.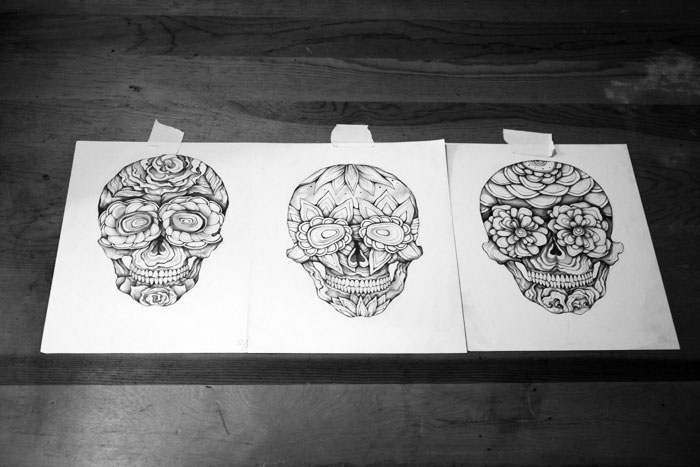 5) What's the best thing about working with illustration and what is the worst?
Best thing is definitely the creative freedom. I've always made a point to have other design work that helps pays my bills and being able to draw what and how I want has become very sacred to me. I believe and have also been taught from my mentors that if you do the kind of work that you want to do, that's the kind of work you end of getting hired to do. Hmmm, a worst part? There isn't a worst part. I love illustration! I guess the worst part would be the inverse of the best part... when you have a job that turns on you, you no longer like the actual work, and you temporarily don't like to do illustration...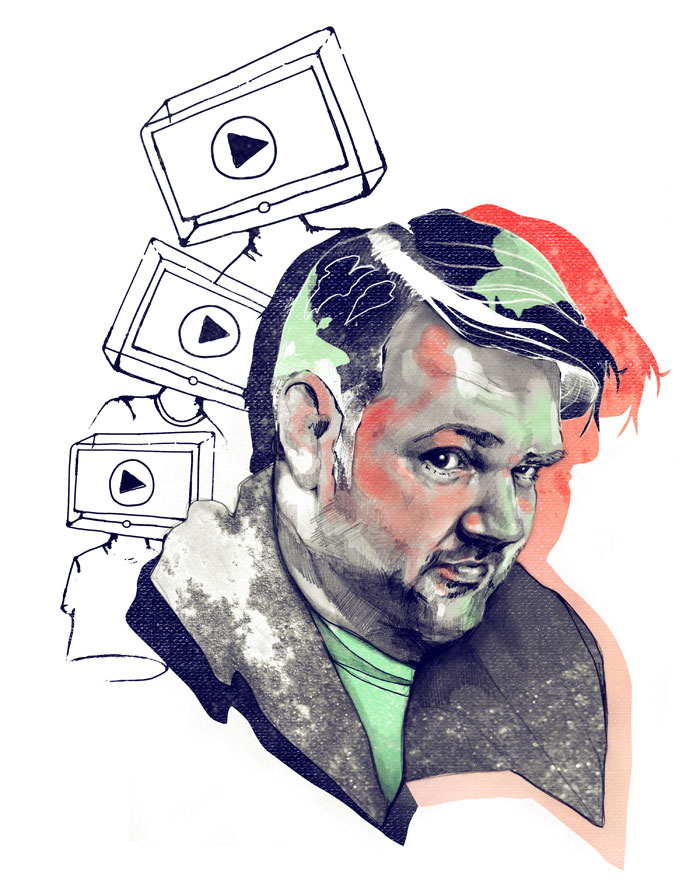 6) How do you describe your daily routine?
I'm definitely a creature of habit and I have a pretty regular schedule. The hours of 9 - 6 I do graphic design for a digital agency I've been with for years, then I take a little break, get in a good workout (running or biking), grab my dinner, and then draw until bed, usually pretty late. I'm the kind of person where the busier I make myself, the more I actually get done. It's "the more you do, the more you do" outlook I guess.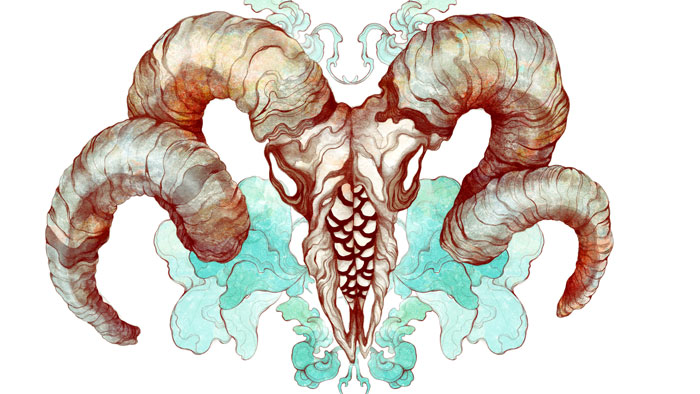 If I don't have a healthy to do list at all times and set of goals, I sort of lose my sense of purpose very quickly. With that said, I think I've also gotten a lot better at relaxing lately. I'm learning that taking breaks is JUST as an important part of the creative process. Naps. Reading books. Meandering strolls. Maybe I'm just getting old, but rest is important!
7) Tell us more about the idea behind ZSO-NYC.
ZSO-NYC is my itty-bitty textile company that so far has only released and sold out of one scarf design, which was released this time last year. I manage the whole thing from the design to the production to the website and sales, so it's been a slow, laborious but also very rewarding project. It started just as a personal experiment to print on fabric to see 1) how my color translated to silk and 2) to see how once my patterns and textures were translated to a movable 3D surface, how it could sort of be reinvented with movement.
It was also an exercise in getting away from commercial illustration, but still creating something that people could consume and interact with. It's still a very small project and I'm currently in the works of launching 3 more designs this year. It's going to have a pretty non-traditional launch which I'm pretty excited about... but I can't reveal much more than that! I also hear that Abduzeedo may be interested in a little ZSO-NYC scarf giveaway for the next release, so stay tuned about that!
8) Tell us five lessons you believe are really important for every illustrator.
1) If you can let go of fear of failure, you are free.
2) Separate the kind of work you want to do from the need to make money.
3) Explore the world. Inspiration is hiding everywhere.
4) Sleep enough (I didn't learn this until pretty late, but now I'm loving it)
5) Collaborate with your peers.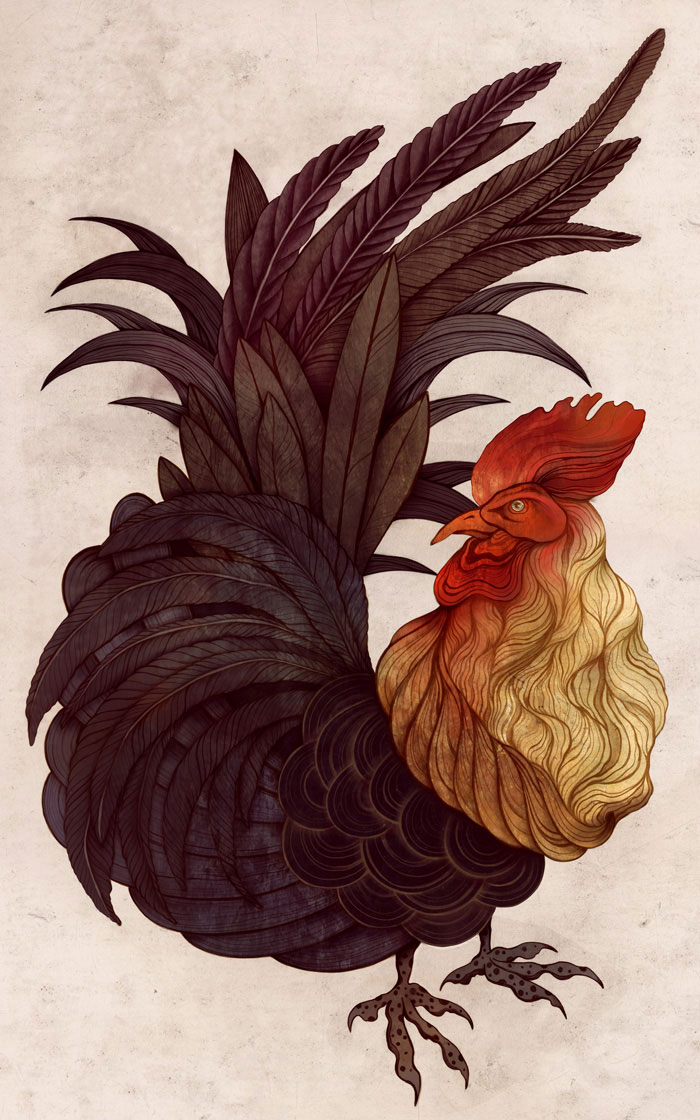 9) Tell us five websites that you like to visit
NY Times, Craigslist, Gus the Fox, The Fox is Black (two very different site with fox names hahaha!), Pinterest (I'm obsessed with Pinterest!!!) and then I like to keep tabs on a few artists who keep great blogs like Pat Perry, Teagan White, and Darren Booth, among many others.
10) Thanks again for your time, please leave a final message for the ones who are starting out on this kind of business.
Do and make what you love, period. Work hard, work long hours, and make a lot of work because it's all about practice, and also don't get discouraged because illustration is a tough, inconsistent business. If you're not doing it because you love it, it might not be for you. I never thought everyone had to love their job—after all, they call it work for a reason—but I think illustration is definitely one of those careers you have to be in love with! Wake up with stars in your eyes and butterflies in your stomach!