A new year has just begun and with it a series of resolutions, plans and expectations. Abduzeedo has grown up over the past seven years, passing through several phases of maturity, from the beginning of the web 2.0 to the mobile first and massification of sharing content. Through the years our biggest goal was to share everything that inspired us in the creative industry. We tried to balance the content across disparate areas covering design, architecture, photography and typography to name only a few. We also learned a ton throughout the process and I believe that was one of the reasons that kept us motivated during our journey.
To celebrate 2014 we are excited to unveil a brand new design. Since the launch of our last design in 2013 we noticed some issues especially in terms of design, simple details that caused a lot of headache for us, things like:
Big images as heroes are beautiful, but with the web it's very difficult to have an aspect ratio that preserves the image in the many different crops based on screen resolutions.
We ran into situations that the hero whereby the hero was taking over the whole screen pushing the content too far down in the fold.
The most important thing for us is making sure that Abduzeedo is easy to browse, the previous layout didn't condone a seamless browsing experience that we were satisfied with.
The new design
The design principle that drove the new design was simplicity and reduction. To achieve that we have focused on:
Organizing the content in order to have the latest posts featured and not just a hero image.
Make sure the advertising spots were present from the beginning of our design efforts. This was really important because the ads are the biggest constraint in terms of design. They take up a lot of important real state but they are critical for keeping the blog running.
Hide what could be hidden. The navigation got really simple that way.
Remove the superfluous.
Reincarnated features: Love posts.
We also decided to bring back some old features. Now you can create an Abduzeedo account and "love" posts. The posts you "love" will be available in your profile's page making it easier for you to find old posts that were useful or inspiring for you.
The "love" feature is also our first attempt in trying to open the blog to more people. Our goal is to allow users to post in the future.
Back to design: Typography
In terms of typography, we introduced a new typeface for headers, sub-headers, titles and featured information. We chose Varela Rounded because its beautiful form matches our symbols.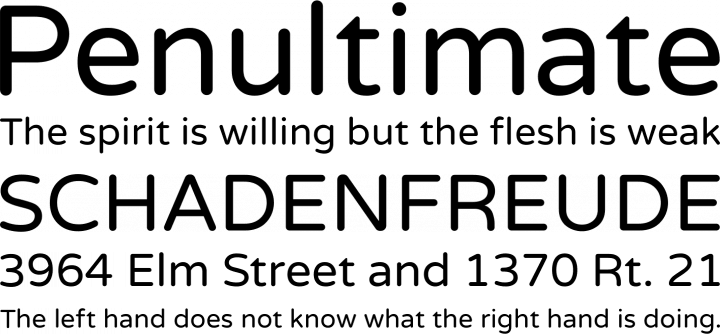 The body content is still the super versatile Source Sans Pro.
Colors
In terms of colors, we kept our philosophy of content first. Abduzeedo is almost a photo gallery, our content is made of 90% images and 10% text.
The images are most of the times very colorful and they deserve the first plane, so we reduced our color palette to pretty much black, white, and 50 percent black and yellow for the accent color for links over black.
Transitions and responsiveness
Abduzeedo now works much better on different screens, resolutions and platforms. Our main goal was to ensure new content was perceived and featured as new. It was also important to keep this featured content above the fold. If you peruse on a tablet this will be apparent.
For mobile, we are introducing a sidebar navigation with a sliding transition. It's a very common pattern but it aligns really well with our design principles of simplicity and reductions. We are aware that it might cause some issues in terms of discoverability but we strongly believe our users will learn and get used to it pretty quickly.
Outcome
What you see now is the outcome of these ideas. We still have a lot ideas in terms of surfacing old content that is still very useful and current. Good examples are our series of posts featuring logos that we curated very carefully over the past seven years.
We will keep improving this design, especially the minor details that make the difference in terms of well-crafted design. We believe the design is ready for launch but we are aware of some issues that you might encounter. We hope to hear from you about them and also your feedback in terms of usability and your overall experience.
Happy new year and let's make 2014 the year of well-crafted design.