Interview with GR170
Abduzeedo is a creative reference website and we are proud to present artists, designers and other creatives from all areas you can imagine. Today we're glad to present this interview with the muralist GR170, one of the spanish members of the Mixed Media collective.
You can see more from GR170 on the following links:
First of all I would like to thank you for doing this interview, it's an honor for us to present more about you to our readers. I would like to start asking you about when your interest for graffiti and street art?
Thank you for the support it's always nice to have good feedback and sorry for my english... My friends and I started painting graffiti in the Barcelona's boom of the 2000th, the streets of the city were full of murals and big graffiti pieces, people come all over the world to paint, we wanted to be part of it but we're away from the city center and at that time we're just learning. It was just about having fun and trying to spray cool things as the big boys in the neighborhood.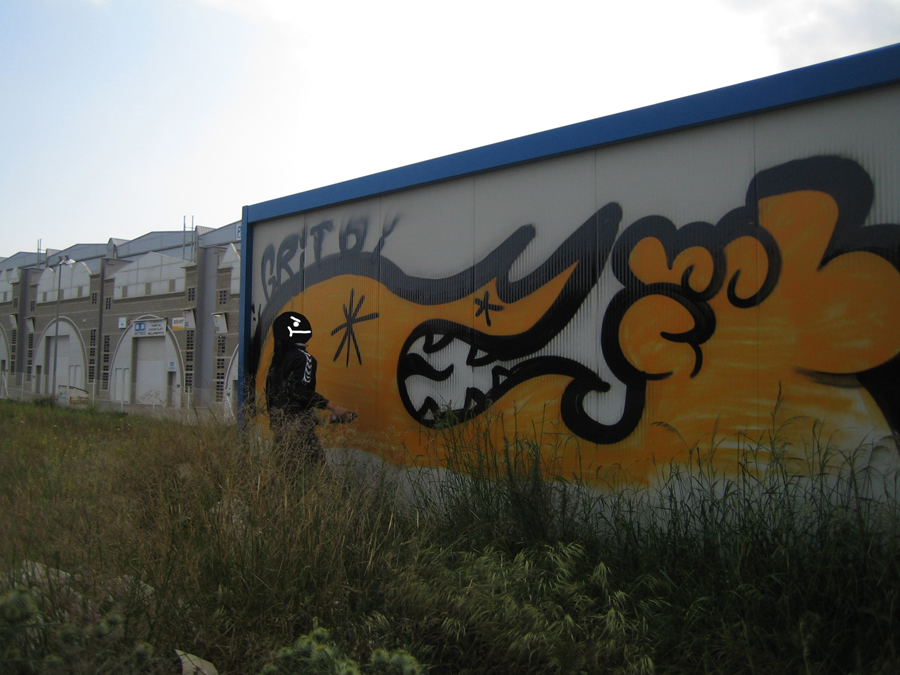 GR170 earlier artwork.
Which artists do you use as reference?
Nowadays with all the internet information overdose it's too easy to get lots of references, I try not to abuse of this because it can be dangerous. Usually I like easy and clear things, I like people without a great technique and that have his own resources to explain something. The most important influence is my friends around me, the motivation during the paintings it's the biggest support. Painting alone is pretty much boring and harder…
Your style is quite influenced by cartoons and childish illustration. How did you develop this style and how would you describe it?
I don't know how to describe my style, I just do what I feel to do. I cannot do anything else, that is what comes out of my head.
Describe us a bit about your creative process while creating a piece.
First of all you have to find a nice spot, we spend a lot of time searching for new walls, abandoned factories, highway bridges or any place the police can't disturb you. I used to recycle a lot of plastic or latex paint, so when I find a good wall I would have enough paint to do it all over. I look into my skechbook and try to adapt the idea into the spot. After this, it's just painting for some hours and take a photo.
What's the best thing about working with Street Art and what is the worst?
I'm not sure about doing Street art, I don't feel confortable with the street art label, I prefer to say I'm doing murals. I'm aware that my murals are not graffiti. But I feel near to the graffiti movement, have good friends that are writer and I like to write my name in the walls too. I have a lot of respect for the lettering and for the graffiti culture. But I'm not an orthodox and graffiti started in 1970 decade so the evolution of the tecniques and concepts are inevitable. So for me the worst thing are the people, galleries or artists taking advantage of the street painting.
The best thing is the people I meet all these years. It's really nice to know and to paint near people you used to admire!
How do you describe your daily routine? Do you have any hobbies?
From monday to friday I use to wake up with my girlfriend alarm clock, take a walk in the park with the dog, draw something or work in the computer.
In the weekend I try to paint as much I can, this is like a religion to me…
We've seen a boom on street art and graffiti on the last 5 years, tells us your opinion about it.
Obviously something is happening, lots of big walls festivals, graffiti blogs all over the web, street artists selling for millions. I guess in a few years we will see what will stay and what go on. Time will tell.
Tell us five lessons you believe are really important for every artist.
Just some words: Know, work, overcome, resist and never give up!
Tell us five websites that you like to visit
maximumclatellot.blogspot.com.es/
facebook.com/internationalriot/
Thanks again for your time, please leave a final message for the ones who are starting out on this kind of business.
Just do what you want and have fun! Thanks again to you for the support!